5 improvements needed for Texas to win the 2023 Big 12 title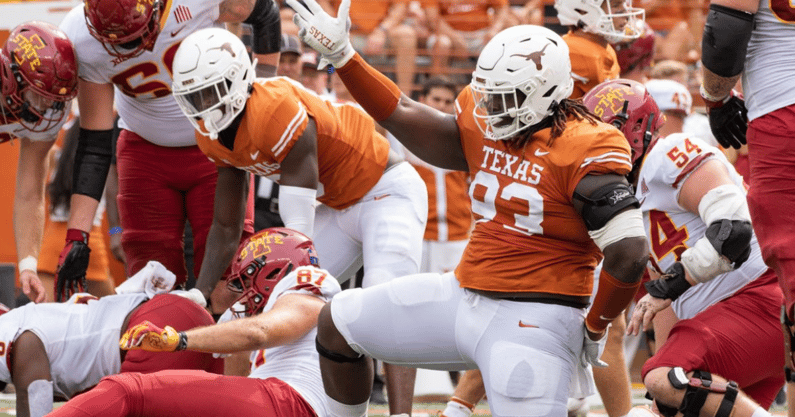 If you're a Texas fan it's only natural to have watched Saturday's Big 12 title game between No. 4 TCU and No. 10 Kansas State with a small sense of 'what could have been?'
[Get a FREE 7-day trial of Inside Texas Plus!]
The game itself would have been hard pressed to deliver more entertainment value as leads were exchanged and TCU made its customary comeback to push the game into overtime. Kansas State ended TCU's perfect season, though the Horned Frogs still have legitimate playoff hopes depending on how the rankings break on Sunday.
While TCU handled Texas better than any team on the Longhorns' schedule, Texas was able to defeat Kansas State in Manhattan. Texas' road win over the eventual Big 12 champs went for naught because the Horns couldn't do the same in Lubbock or Stillwater. But just as the Big 12 was up for grabs for numerous schools this season, it will be next season, too. There's even a decent chance Texas will enter the season as the favorite.
Before kickoff next year, Texas, like every other team, will have numerous issues to resolve. Fortunately for Texas, each of these issues has a good chance of being resolved positively.
1. Quarterback play
In my opinion, this is easily the greatest question heading into next season. Both Quinn Ewers' immense arm talent and struggles shared the spotlight in his redshirt freshman year. This offseason, under Steve Sarkisian's tutelage, he'll need to mature from talented passer to consistent quarterback. He doesn't need to be great next season, he just needs to play consistently well. If you want an example, Will Howard just led Kansas State to the Big 12 title. Sark can ill-afford to have poor quarterback play for his third consecutive season. Backup quarterback is also a question mark but true freshman Maalik Murphy turned some heads in practice this year. Beyond the talent, what you like about him is he'll be competing to start, not to backup Ewers. Of course Arch Manning enrolls in January.
Sark might not have a good quarterback, but he has three talented ones.
2. Offensive line
Fans are justified to be excited by the direction of the offensive line but next year is an entirely different season than this one. Other than Kelvin Banks at left tackle and maybe Jake Majors at center, there will be wide open competition. Texas is guaranteed to play some inexperienced players next season, but how many remains to be seen.
The O-line needs to play well early in the season to assist a passing game in need of consistency as well as the young, yet talented running backs.
3. Replacing defensive starters
Assuming T'Vondre Sweat returns, that is a massive development. It basically guarantees Texas will have a good interior defensive line despite the losses of Keondre Coburn and Moro Ojomo. In general, Texas will return a strong defensive nucleus.
But questions do abound, notably who will replace DeMarvion Overshown at linebacker and steady Anthony Cook at safety? Texas already has solid options at its disposal, but between the portal and the 2023 class it will have more.
I'm very bullish on the coaches either upgrading defensive departees or at least holding serve, save perhaps the loss of Overshown, but who those exact replacements are remains unclear. It's early, though, and Texas will add some quality players. Bank on it.
4. Finishing plays on defense
They were so close to forcing more turnovers, so close to creating more sacks, so close to getting off the field on 3rd and 4th downs. Fans should be ecstatic over the clear improvements made by the Texas defense but there's another level to unlock.
Improved ability to 'make the play' should occur through a combination of more experience, an uptick in baseline talent (especially on the edges), and a reversal of fortune. Good and bad bounces in football tend to balance out over time provided you create opportunities and hustle, which the defense did this season.
5. Consistency across four quarters
Consistency should continue to improve naturally with more player development, but inconsistent play between 1st and 2nd halves was a holdover theme from Sark's first season. This ties into the passing game, of course, but it also ties into play calling and scheming. Sark was once again great at drawing receivers open while Texas quarterbacks were once again poor at completing throws to them. Sark was too slow to respond to his preferences not working and for a stretch Texas' offense became far too predictable and reliant on the running game. More focus on the intermediate passing game would help relieve pressure. To that end, Texas needs to add a reliable receiver or two to the equation.
Sark's goal of complementary football over four quarters was buoyed more by the defense than the offense this season.
***
For a while now I've considered 2022 The Year Before The Year. For that to be correct, Texas will need to address the issues outlined above and some more, like leadership on the offensive side of the ball. The exciting thing is, if Sark is able to solve No. 1, it almost assures UT will control its Big 12 title destiny up until the final whistle.