A look at expected early enrollees in Texas' 2023 class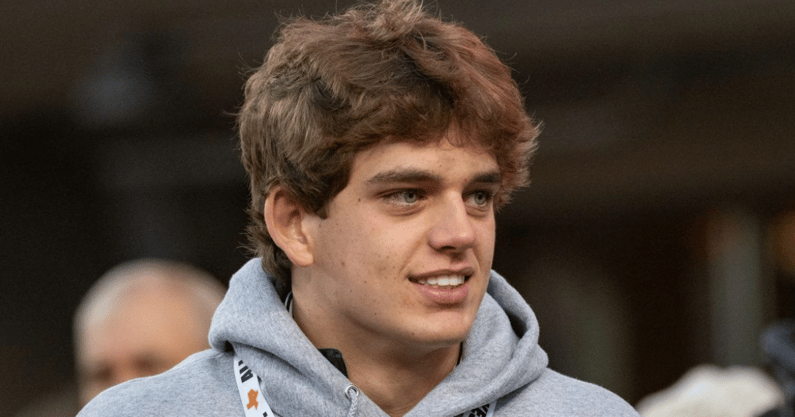 Texas currently has the No. 5 class in the On3 Consensus rankings with a healthy average rating of 92.816. While fans begin to wonder what new portal additions will be in Austin for the spring, Texas is set to have a whopping 12 of 21 current commits on campus in January. So, the new portal additions won't be the only new faces roaming the halls of Moncrief.
[Get a FREE 7-day trial of Inside Texas Plus!]
Let's take a look at each early enrollee followed by a little commentary on early expectations.
Arch Manning, QB, New Orleans (La.) Isidore Newman: Expectations are always too high for high school freshmen. Now throw the most famous last name in football into the mix along with one of the highest ratings ever given to a high school prospect and expectations become even more unrealistic. Fortunately for Arch Manning, though, Texas already has a starter at quarterback which should allow him a redshirt year to develop and learn the system.
Cedric Baxter Jr., RB, Orlando (Fla.) Edgewater: Baxter will not be redshirting as he arrives with the fanfare of another Cedric B. two decades before him. Gone are Bijan Robinson and Roschon Johnson, so again, expectations will likely be unfair to the freshman, but he has the talent to deliver as part of a platoon behind an offensive line that will only get better. Baxter will return to Austin in December before enrolling in January.
Johntay Cook II, WR, DeSoto (Texas): Cook's explosive route running is going to translate immediately but he'll need to put in the customary work to get on the same page with Ewers, the playbook, and defensive coverages. He'll have to prove to be a willing blocker. None of that is a concern, it's just all part of the process and a good reminder of the value of enrolling early.
Jaydon Chatman, OL, Killeen (Texas) Harker Heights, Connor Stroh, IOL, Frisco (Texas) Wakeland, Andre Cojoe, IOL, Mansfield (Texas) Timberview, Payton Kirkland, OT/IOL, Orlando (Fla.) Dr. Phillips: These guys have differing traits but they're all similar in they won't be forced onto the field until they're ready, barring injury. As we've stated on numerous occasions, this class is ideal for following the 2022 class. There is a lot of upside for Kyle Flood to maximize, and judging by Christian Jones' growth this year, Flood is going to get a lot out of this group. Unlike that 2022 class, the vast majority of Flood's signees will enroll early. We saw how that benefitted Cole Hutson. Trevor Goosby will be the lone non-early enrollee of the freshman O-line, but he's also the most likely to follow in the footsteps of Kelvin Banks at left tackle. He'll have plenty of time to catch up with his classmates.
Sydir Mitchell, DL, Oradell (N.J.) Bergen Catholic: Easily one of the most important players in the class. Mitchell is a mountain of a young man who will be a fast responder to S&C workouts. Like the mammoth O-linemen in the class he'll get a big jump on his development. With the departures of Keondre Coburn and Moro Ojomo, there will be snaps available for Mitchell to earn as a true freshman. Mitchell will be back in Austin one more time before he enrolls.
Colton Vasek, EDGE, Austin (Texas) Westlake: He's a different type of player than Justice Finkley, but I think Vasek plays with a similar 'grown man' attitude. That could help him get on the field as a freshman similar to Finkley. Physically, he's further along than his former high school teammate, Ethan Burke, who played some as a freshman despite not enrolling early. Like Mitchell, Vasek will be a quick responder to S&C.
Derion Gullette, EDGE/LB, Teague (Texas): Gullette tore his ACL last summer and missed his senior season. It goes without saying how arriving early expedites the developmental process for players, but it should also help Gullette's efforts to rehabilitate his knee. Gullette's goal will be to regain the movement ability that made him one of the most freakishly athletic defenders in the country.
Liona Lefau, LB, Kahuku (Hawaii): He might be one of the most slept on players in the entire country. Lefau is already more physically mature than most high school linebackers and also comes with a great mental evaluation. He's another true freshman who could see snaps with a good spring and summer.
Malik Muhammad, CB, Dallas (Texas) South Oak Cliff: I view Muhammad similarly to Cook, just on the other side of the ball. He'll have the best coverage traits in the program the day he arrives on campus, but he'll still need to learn the playbook, coverage techniques, and how to diagnose route combinations. Like with Cook, none of that is a concern, but there is a process from transitioning from talented high school player to good college player.
Texas hopes to finish the class strong and if the staff could add standout linebacker Anthony Hill from Denton (Texas) Ryan, he would be yet another early enrollee at a position with immediate playing time available.