Bijan Robinson's tough running answers any lingering questions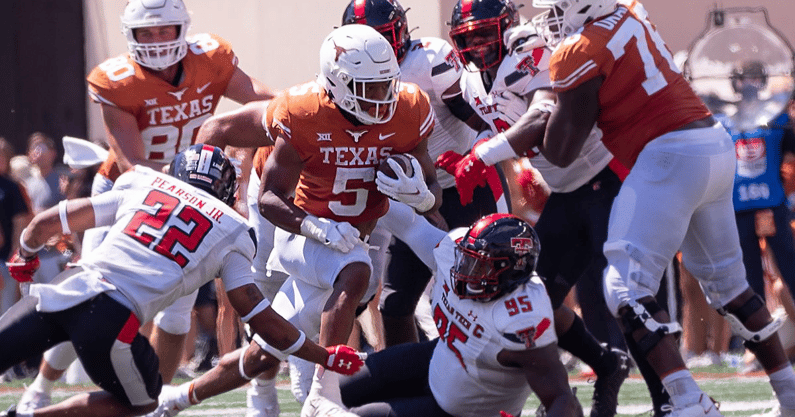 Highlights from Bijan Robinson's senior year at Salpointe Catholic in Tucson, Ariz. capture what makes Texas' sophomore running back a special player. He jukes. He cuts. He makes ridiculous catches, all with a smile on his face.
What those highlights did not show was an answer to the lingering question on his scouting report: how does the five-star back handle contact?
It was a question held by Inside Texas in its evaluation of Robinson, and one left unanswered for WeAreSC's Scott Schrader during his visit to Tucson several seasons ago as a result of Robinson constantly running around defenders.
Robinson's character and ability made assuming he would handle it well a safe proposition, but it remained an assumption until he actually ran against players trying to bring him to the ground.
During Robinson's freshman season, he displayed a tendency for running tough. But previous head coach Tom Herman deployed a running back committee as opposed to nominating a lead back. That tendency was not consistently tested in 2020 the way it is this year with Robinson amassing around 20 touches per game.
In 2021, Robinson is making the same jukes, cuts, and moves on defenders he did in 2020. But he is also fighting through contact and answering the lone unknown about him as a prospect.
Texas head coach Steve Sarkisian has compared Robinson to some of the best offensive players he has coached. What he has seen from Robinson in how he responds to contact has impressed the Longhorns head man.
Sarkisian said during several of Robinson's runs versus Texas Tech, he displayed a unique ability to absorb contact from defenders and continue on his way, using Red Raider defenders to ricochet his body and remain upright.
"Not many people can do that with the balance and body control that's needed to do it," Sarkisian said Monday.
Playing through contact was an adjustment for Robinson when he arrived at Texas. He did not enroll early as part of the 2020 class, reaching Austin in June of last year. His first practice later in the summer included an eye-opening experience at the hands of Texas defensive tackle Moro Ojomo.
Ojomo was the first player to tackle Robinson in practice, and the play where No. 98 corralled No. 5 let Robinson know what he was going up against.
"It was just like, 'man, this is college football,'" Robinson said Monday. "He's the one that gave me that first lick in practice, then when it happened I was like 'okay, I've just got to get used to it' and keep on going from there."
He continued: "Just that bang-bang contact, it only grows in college football. Last year when I had to go against that in practice, I saw a lot of different things that I could have gotten better at skill set wise and a lot of different moves I need to put in my game to defeat those tackles. When I saw that, it was just me learning how to maneuver my way past contact and learning how to break tackles at the right time."
"Now we're delivering the blows through contact," Robinson said.
Before he became a challenge for opponents to bring down 20 times per game, he made life difficult for Longhorn defensive players during preseason camp. The electric carries and cuts grab plenty of eyes, but the punishing runs are felt by those trying to tackle him.
"That's really an underrated part of his game I think, breaking tackles," Texas linebacker Luke Brockermeyer said Monday. "He has incredible balance so when you hit him, if you're not wrapping up or running your feet through the tackle, he's bouncing off that. It may not look (like) it, but he's hard to bring down."
How has Robinson become effective at running through contact? He explained several coaching points from Texas running backs coach Stan Drayton, saying the Longhorn ball-carriers do drills to emphasize running through contact and maintaining balance. They also learn how to defeat tackles from different angles.
"We emphasize throughout the week a lot, making sure that when a defender comes you know how to set them up, get their weak shoulder, and just cut them loose whenever they do try to approach you," Robinson said.
Coaching can only go so far. Responsibility falls on the player when it comes time to apply what is practiced Monday through Friday to games on Saturdays. It is one thing to know how to play through contact. It is another to play through contact, over and over and over.
In 2021, Robinson has taken Drayton's lessons to the field and to opponents. According to PFF College, 255 of Robinson's 436 rushing yards through four games have come after contact. Several of his seven total touchdowns have required facing off with a defender and battling him one-on-one for the yardage, including a goal-line score versus Arkansas.
With his play this year, Robinson is answering any outstanding questions with his outstanding play. He is considered one of the top backs in the nation and is beginning to draw hype few players at Texas have reasonably received in the past decade.
 "He's playing at a high level," Sarkisian said.
Not a high pad level, though. Robinson is delivering blows and feels good doing it despite the increased workload. He averages 6.2 yards per carry and is feeling great doing it.
"With this workload I'm still just traveling and making everything work to the best of my ability," Robinson said, with a smile of course. "I'm going good."
Discuss Texas Longhorns football on Inside Texas Members Only!