Column: Don't move the Red River Shootout (and thank you CDC for not wanting to do so)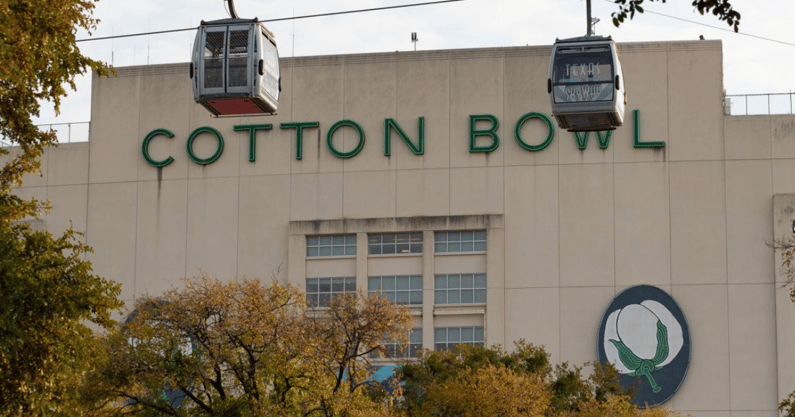 If you're like me, you circle your calendar for a trip to the Fair Park in Dallas every year about a week into October. Luckily, you and I will be able to do that for at least the next three years for when Texas plays Oklahoma, and into the foreseeable future if Texas athletic director Chris Del Conte has anything to say about it. Or else, he may not be the Texas athletics director.
[Get Inside Texas Plus until the start of the 2023 season for $29.99!]
"Well, the contract is for the next three years, then we'll be in the process of renewing that contract," Del Conte said Monday about the location of the Red River Shootout during a virtual town hall meeting. "I'd like to stay employed with you all for as long as possible, so if I change that I'd be unemployed. I love the state fair. I love the whole game."
In reality, Del Conte is on nothing approaching a hot seat. But his desire to keep the Longhorns' primary rivalry matchup in its traditional home is music to many Texas fan's ears, and mine as well.
I always go back to words about the game from legendary Michigan football coach Bo Schembechler. After a career with 13 Big 10 titles and 234 wins, Schembechler entered the broadcast booth for ABC.
Steve Ross, a friend of Inside Texas and countless other Longhorns, wrote about the allure of the Red River Shootout to the esteemed Midwestern outsider in 2019 citing an article from Dan Jenkins. Much of what Schembechler noted, even as someone who took part in another storied college football rivalry, holds true.
When Bo Schembechler resigned at Michigan, ABC persuaded him to work a few football games as a color analyst. Schembechler never really warmed to the job, but he did have one request: he wanted to work a Texas-OU game. Bo had never even seen the contest on TV, since Michigan played Michigan State on the 2nd Saturday in October as well.

Schembechler came to Austin mid-week to study for the game. He heard from just about everyone how unique the Texas-OU rivalry was. He nodded and smiled a smile that said in essence, "Listen, you're talking to a man who got his master's from Ohio State and coached on the Michigan sideline for 20 years — I know a unique rivalry when I see one."

Then he got to Dallas.

Schembechler helped call the telecast of Texas' 34-24 win over the Sooners in 1992, as Peter Gardere solidified his mythic place in UT history by starting in his 4th straight win over the Sooners. In the press elevator on the way down after the game Schembechler made a remarkable statement:

"That was as intense a college football game as I have ever seen."

Someone brought up Michigan vs. Ohio State and Schembechler quickly stated that the Big 10 contest was as bitter and intense a rivalry as they come.

"The difference," he said, "is the setting. I mean it's great to go into Columbus and shut up the home crowd when you walk out a winner, but this, this is amazing with the stadium split in half. Every play creates an emotional frenzy on both sides. And then you have the State Fair going on right outside the stadium."
There's truly nothing like the scene in the Cotton Bowl when it's split between faithful donning burnt orange or crimson. Though there have been calls from a vocal minority to move the game across town to AT&T Stadium, those calls have never been followed up with concrete action.
With good reason.
The 2018 Big 12 Championship serves as good evidence that a matchup in Jerry World would detract from the overall experience of the Red River Shootout. Even with that conference title game carrying higher stakes and remaining a close contest throughout, I never got the sense that the environment was anything approaching what the matchup's normal setting provides, especially on the heels of the 2018 thriller that ended with Cameron Dicker's game-winner.
While other Big 12 Championships may have been raucous with Oklahoma, Baylor, Iowa State, Oklahoma State, TCU, or Kansas State fans in attendance, there's only one rightful place for the regular season matchup between the Longhorns and the Sooners, and that's at 1300 Robert Cullum Blvd. with over 90,000 of your closest friends.
CDC agrees. "I have no plans at all of moving the game," Del Conte said.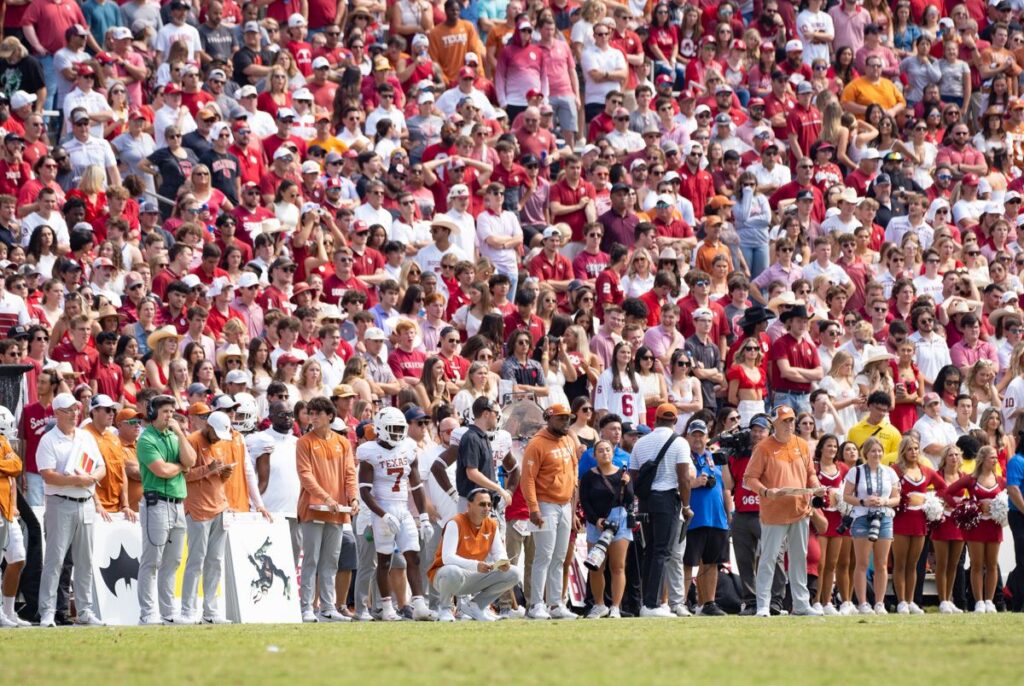 Plus, in just over a year, there will be SEC logos on the playing surface of "the House that Doak Walker built." With that massive change for both athletic departments in mind, there was one slight alteration Del Conte wanted to try to make a reality when it comes to the Red River Shootout.
"One of the things I did talk to the Southeastern Conference about is I'd love to move that game to 2:30 p.m.," Del Conte said. "ABC, 2:30, wouldn't that be awesome?"
[Sign up NOW for the Inside Texas newsletter for Texas Longhorns daily updates and breaking news in your inbox!]
Texas vs. Oklahoma in 2022, a 49-0 blowout in favor of the Longhorns, drew 3.36 million viewers and a 1.8 rating on ABC during its 11 a.m. timeslot. That trailed the Michigan Wolverines' trip to Bloomington, Ind. to play the Indiana Hoosiers in the same window, which drew 4.01 million viewers and a 2.3 rating on Fox.
Both those numbers were behind other afternoon and primetime matchups scheduled that week. Auburn's trip to Georgia received the coveted 2:30 p.m. timeslot on CBS and garnered a 2.3 rating with 4.24 million viewers. Ohio State's trip to East Lansing, Mich. to face the Michigan State Spartans saw 4.44 million sets of eyes tune in with a 2.4 rating.
All those trailed one of the select few SEC on CBS primetime matchups of the year, when Alabama eked out a win in Tuscaloosa versus Texas A&M. 7.15 million viewers, myself included, tuned in to see the Aggies falter against the Tide at the whistle. The game earned a 3.9 rating, the highest of the weekend, according to SportsMediaWatch.com.
If the morning game on terrestrial network ABC between storied rivals who entered at 3-2 could draw that rating, who's to say that won't end up drawing Auburn-Georgia like numbers in the 2:30 p.m. timeslot when both schools are a part of the SEC (and operating at an elevated level)?
There is some precedent for the game kicking during the afternoon, considering the 2017 contest between eventual Heisman winner Baker Mayfield and the playoff-bound Sooners and freshman Longhorn signal-caller Sam Ehlinger kicked at 2:30 p.m.
If it worked then, it'll work when both programs wear SEC patches on their jerseys. Also, the afternoon setting at the Cotton Bowl will be something special.
There's another constant as far as the Red River Shootout goes, at least in the next few years: the price. Del Conte announced Monday the cost of entry for the game until 2025 will be $200. That's no doubt a sizable fee, more than I paid as a student, but for the experience provided by the State Fair of Texas, the Cotton Bowl, and the game itself, there's no better value in college football.
And before you start complaining about bathrooms or concessions, I'll just say those are table stakes with a 93-year-old stadium. If that's a surprise, that's on you. However, Del Conte made it sound like UT, OU, and interested parties want to deliver upgrades to make the venerable old dump that is the Cotton Bowl a bit of a more welcoming environment.
"I'm actually meeting within the next month to get my wish list of what we'd like to have," Del Conte said Monday.
Alterations that improve the experience at the Cotton Bowl are more than welcome. If you're a Texas fan, that experience includes wins in Dallas versus the longtime rival Sooners. It seems evident that Steve Sarkisian is working toward that.
However, Del Conte is spot on in not wanting to move the game from the game's longtime setting. Everything related to that day makes it the best work day of the year for me, and I would change very little about it.
There's no need to change the location of the game, and luckily Del Conte sees things the same way as I do.