Finding solutions for Sarkisian's glaring program issues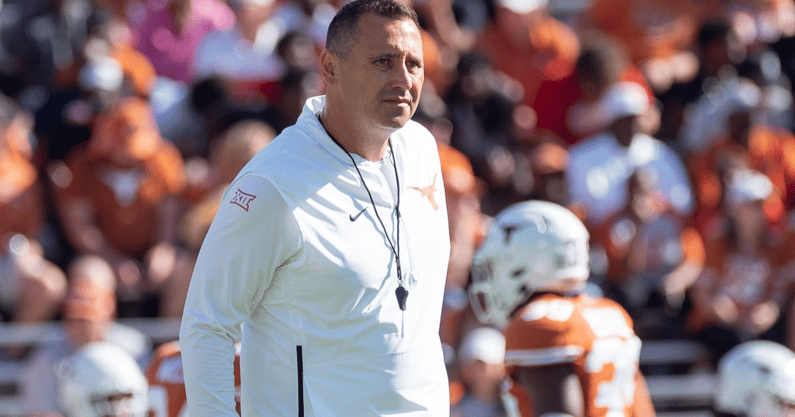 When a team enters the final week of the season at 4-7, it's evidence that several areas need improvement. When a Texas Longhorns team enters the final week of the season 4-7 and on a six-game losing streak, glaring issues are present.
Where?
"It's hard to say one," Texas head coach Steve Sarkisian said Monday.
[Subscribe to Inside Texas right now and get 50% off an annual or monthly membership!]
Sarkisian offered three areas that stood out to him as most glaring.
"One, we've got to find a way, whether it's through scheme or personnel, to generate a better pass rush," Sarkisian said. "I just don't think where we're at, in this day and age of college football with people throwing the ball around, we've got to find a way to do that."
The Longhorns rank No. 98 in the country and No. 7 in the Big 12 in sacks with 19 during the 11 game season. Kansas State, who heads to town this Friday, is third in the conference with 29, while Oklahoma State leads the conference and nation with 42 takedowns of the quarterback.
As Sarkisian mentioned, the solution to Texas' pass rush woes needs to be two-pronged. The Longhorns defense under Pete Kwiatkowski has deployed multiple fronts this year, sometimes in a three-man front and other times in a four-man front.
In any case, no look provided by the Longhorn defense has been able to make the quarterback uncomfortable. Much of that falls on the defensive front Kwiatkowski focuses on.
Sarkisian attempted to bolster that part of the roster ahead of the season. He brought in Ben Davis, Ovie Oghoufo, and Ray Thornton as transfers. Those three are responsible for 4.5 of the 19 Longhorn sacks.
He also added several edge rushers via the high school ranks in order to remedy the lack of rushers due to Texas recruiting to a three-down system for several cycles.
Those attempted solutions have not worked out on the field this season. Texas ranks No. 115 in PFF College's pass rush ratings. The coverage is ranked No. 56, not bad but not good considering Texas' personnel.
Something's got to give. Does that mean Sarkisian replacing assistants and even going so far as to implement a fourth defensive system in four seasons?
That remains to be seen, but defensive linemen are on the way to address the second prong. Seven are committed to the Longhorns right now. Justice Finkley and J'Mond Tapp are most likely to contribute early on the edge, while Aaron Bryant and Kristopher Ross could make a difference early on the interior.
Whether those players will be able to join current Horns like Alfred Collins, Moro Ojomo, and Byron Murphy on 2022 line and make an impact is something that won't be determined for months.
A scheme change? That's something which will become apparent in the coming weeks.
"I think two, we've got to improve our depth on the offensive line," Sarkisian said. "Only signing two offensive linemen in last year's class, knowing what's to come, that area is one of need."
Barring unforeseen entry into the transfer portal or the NFL Draft, tackle Christian Jones, tackle Andrej Karic, guard Junior Angilau, and center Jake Majors should return to Texas. Guard Hayden Conner, center Logan Parr, and swing guard/tackle Isaiah Hookfin also should come back.
Angilau and Majors are the surest bets to hold onto their spots heading into 2022. Outside that duo?
Jones and Karic have switched off at tackle during the last part of the season and have not been as consistent as offensive line coach Kyle Flood would prefer. Conner has played some in a backup role after injuries to others ahead of him on the depth chart. Parr and Hookfin have combined to play in seven games over the past two years with all the action in mop-up duty.
All that is to say, the offensive line enters 2022 without many proven players.
That lack of depth would explain why Texas remains viable candidates for high-end high school prospects like Oregon commits Kelvin Banks and Cam Williams, Kam Dewberry, and Devon Campbell.
Of course, Texas will scour the portal for O-linemen who would jump at the chance to start or contribute for a Power 5 program, whether they were previously at a Power 5 program or are looking to step up from the Group of 5 or FCS levels.
Either way, Texas will look through every avenue available to add to Flood's room after adding only Conner and Max Merrill in the 2020 cycle.
"The third area is we've got to get healthy," Sarkisian said.
Luckily for him, time and medical science can help this area of the program.
The other two glaring issues? He'll have to be far more proactive in finding those solutions.