How Ja'Tavion Sanders can dominate in 2023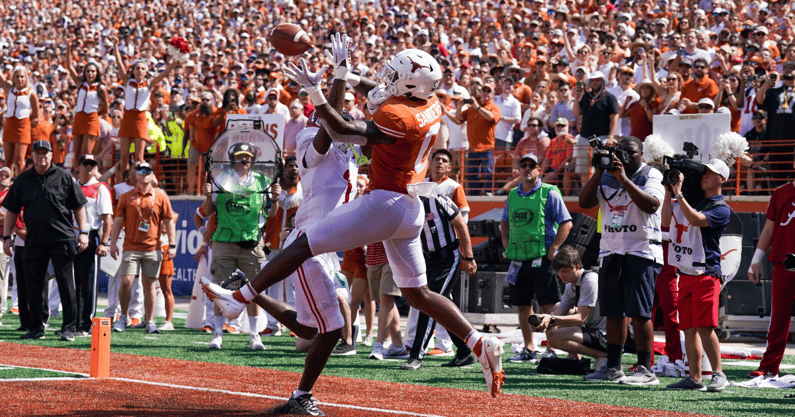 For Ja'Tavion Sanders to have a big 2022 season was a bit unexpected early in the offseason. He'd spent 2021 redshirting and learning to block properly so he could replace Cade Brewer as the H-back tight end in 12 personnel sets and perhaps play as an inline tight end as Jared Wiley had done. When he showed up at spring practices Sanders had improved by such leaps and bounds as a blocker he was able to seize the role of primary tight end who'd be on the field the full-time whether Texas was in 11 (one running back, one tight end) or 12 personnel (one running back, two tight ends).
[Get SIX MONTHS of Inside Texas Plus for only $29.99!]
Even as Andrej Karic and Jahleel Billingsley were added to the formula in the fall, Sanders was safely established as the main guy. He was the team's second leading receiver with 54 catches for 613 yards and five touchdowns, finishing fairly close behind Xavier Worthy (60 catches, 760 yards, nine touchdowns).
Heading into 2023 where Texas figures to be more of a spread team than a 12 personnel, bludgeon-ball squad aiming to set up Bijan Robinson, Sanders has a chance to be a dominant piece.
Sanders' 2022 season
Texas had a few key ways to feed Sanders the ball in 2022 but many of them weren't necessarily standard-fare for a modern tight end.
One of effective tools Steve Sarkisian employed was the "zone-arrow" RPO, a play designed to work off inside zone and feign a zone-read or split zone play before releasing the tight end into the flat.
It's basically 1/2 of "Ezekiel's wheel" without the wheel route. Of course Texas also regularly incorporated Sanders on Ezekiel's wheel as well, including it's first appearance when they hit him on the wheel for a touchdown against ULM.
Checkdowns into the flat were a component of Sanders' involvement, like they would be for most tight ends. Unlike many teams, Texas also had some nasty, misdirection screens for him which showed off his quickness.
Texas would also flex him out wide, sometimes as the far field receiver to allow other guys to come inside and work from the slot, other times isolated in the boundary like an X receiver.
Flexing Sanders out to throw him fades was wildly effective at Denton Ryan but less so at Texas against teams with cornerbacks well drilled in contesting fades from the Big 12's many big perimeter targets. He didn't exactly get star treatment from the officials most of the time either.
Where Sanders was very quickly effective was in the typical tight end deployment, running vertical routes up the seams.
This is where Sanders could see his production skyrocket in 2023.
[Subscribe to the ON TEXAS FOOTBALL YouTube channel for daily videos from Inside Texas!]
Working the seams in 2023
The biggest challenge facing every receiver Texas receiver over the last three years has been the lack of opportunities to work from the slot. The world is an open, wonderful place to a good receiver aligned in the slot. You've got a two-way go in front of you, linebackers trying to cover any quick movements and timed routes inside instead of cornerbacks, no press coverage, and most of your deep routes allow you to turn and track the ball coming in from an angle. It's pretty common in college football to periodically move even the best outside receivers into the slot to take advantage of the opportunities inside.
Texas has had a ton of guys who could do good work from the slot over the last few years but opportunities have been limited. For one, they've lacked true outside receivers to hold down the fort on the perimeter. For another, they've leaned heavily into 12 personnel formations and run plays in order to emphasize Bijan which don't feature a slot.
JT Sanders is near the top of the list of potentially dominant inside targets. He's a nightmare matchup as an inline tight end or flexed into the slot, but his opportunities from those alignments were limited in 2022.
This changes in 2023 with the addition of AD Mitchell and the possible return of Isaiah Neyor. With those guys playing wide along with Worthy and taking up the attention of cornerbacks, along with the increased use of 11 personnel, Sanders will be freed up to attack the seams much more aggressively.
To revisit the 4-verticals play above, which happens to be a favorite concept of Quinn Ewers…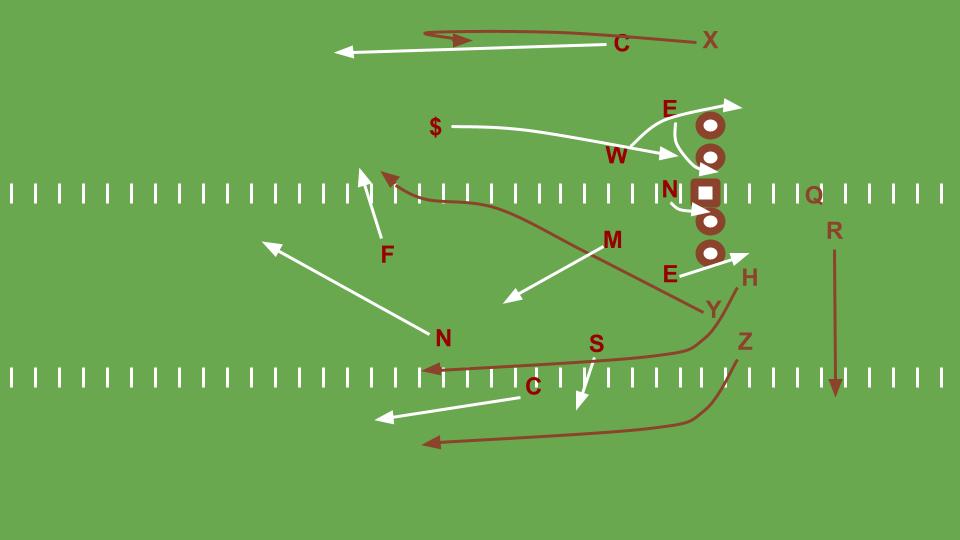 With all the receivers bunched up to the field side and the running back running a swing route to the wide side, there's a lot for defenders to quickly process in order to match up on all of the routes. As it happens they caught Oklahoma in a fire zone blitz on this play and responsibility for carrying Sanders up the seam fell to Mike linebacker David Ugwoegbu, who will be playing Edge for the Houston Cougars next season. Suffice to say, it went poorly.
Sanders is a big, quick, and soft-handed target running routes up the seams and Ewers loves to find him there. He has potential as a goal line target outside but utilizing his quickness and hands inside against linebackers is a more natural deployment. If teams want to focus their coverage on taking away dangerous receivers and routes on the perimeter and keep linebackers in the box to defend running plays, Sanders is set up to feast running routes against those linebackers inside.