Arkansas submits Texas; Three stats that underscore 40-21 loss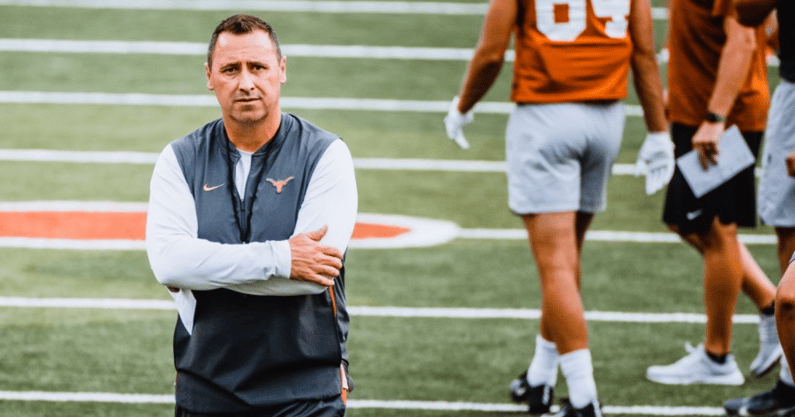 In my pre-game prediction, I theorized Arkansas was dangerous in the same way that a Heel Hook or Toe Hold submission are dangerous in an MMA fight. Essentially that they were a respectable opponent, but if Texas handled business they should be able to separate in the second half and start to flex their muscles.
Welp. That's about how tonight looked and felt.
The Horns were physically dominated on both sides of the trenches and plenty of players looked like they tapped out of the action.
Here are three stats for your rage-posting or wallowing pleasure. God that was brutal.
Arkansas ran for 340 yards on 45 carries
The Hogs averaged 7.5 yards per carry, and had SIX ball carriers average 6 or more yards per carry. All 6 of those same ball carriers had a rush for at least 19 yards as well.
I'll use some more advanced metrics below but this rush defense statistic is as damning as it is simple to understand. The Texas defensive line got consistently whipped against an OL that isn't all that good.
EPA Report: Arkansas 14.51 Texas -10.28
https://gameonpaper.com/cfb/game/401282057

I gave a brief breakdown of Expected Points Added in my Wednesday piece. However, it doesn't take a data analyst to realize that being negative ten in an "expected points" metric is bad news. A negative play earns negative points so as the negative plays stacked up for the Horns so did our abysmal EPA.
Cameron Dicker's punt miscue (-2.75 EPA), Hudson Card's fumble (-4.46 EPA), and KJ Jefferson's 2nd & 11 45 yard bomb while up 16-7 (3.26 EPA) were the turning points of the game according to Absolute EPA.
Arkansas QB KJ Jefferson's passing EPA was -4.95, meaning Arkansas would be expected to lose 5 points for every 20 times he put the ball in the air. Unfortunately, baby Briles realized there was no need for the "Shoot" and just decided to "Veer" 45 times with relative ease.
Bijan Robinson- 0 Targets in the passing game
A week after catching 4 passes for 73 yards and a touchdown, Texas didn't attempt to get the best player the ball in the passing game.
Bijan instead spent most of the night fighting off tacklers in the backfield before muscling or spinning his way to 2-3 yard gains against light boxes.
Going forward the staff has to find ways of getting Robinson the ball in open space or getting the QBs to check down to him more often.