Five-Star OL Devon Campbell No Longer a Longshot for USC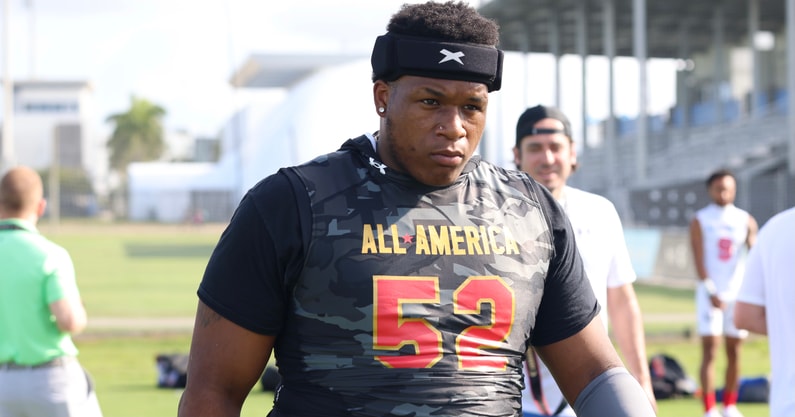 I'll admit I figured it would be a longshot at best for USC when the Trojans offered 5-Star Arlington (TX) Offensive Tackle Devon Campbell‍ on February 3.
Although I knew Bryan Carrington had agreed to join the USC staff as an Offensive Analyst by the time they offered Campbell, I didn't fully understand the impact he'd have on recruiting. Especially the immediate impact he'd have with USC prospects from Texas. 
New offensive line coach Clay McGuire had been on the job for about two weeks, but he hit recruiting hard for the Trojans the day he was hired. And he's continued to be a huge asset with recruiting since January 19, but Carrington had a previous relationship not only with Campbell, but with the staff at Arlington Bowie….including Campbell's uncle and Bowie assistant coach Devon Campbell.
So when Campbell released his original list of Top Schools, it was no surprise USC made the cut.
The recruiting effort of the Trojan staff led to Campbell and family taking an Official Visit to USC June 4-6. The visit went surprisingly well per several sources, including one who said, "The visit went really really great, I think we can get him." 
Another source added, "He'll definitely be back for another visit later this year."
So it was again no surprise when USC made Campbell's latest Final 5 cut.
We're told USC is the top choice for a Campbell's family. While his family isn't choosing for Devon or pressuring him in any way, it's vital to get family onboard if you're the only school 1,500 miles from home. Mission accomplished with that.
As far as getting Campbell, who's interest in USC is much higher than folks in Texas, back to USC for another visit?
"Yes , I will definitely be back at USC again this year," said Campbell. "I'm actually going back to USC the 24th of September for my birthday. So, we're gonna catch a game out there at The Coli. My family will be visiting with me."
I spoke to Campbell Thursday afternoon when the Bowie walk thru wrapped up.
SCOTT SCHRADER AND DEVON CAMPBELL Q&A:
SS: You have 30+ Offers and you could choose several schools far closer to home than USC. In fact, you could drive to every school in your top five (Texas, OU, LSU, Alabama) except USC. What's kept USC in a strong spot with you?
DC: "When I went down there for my visit, it really felt like home to me. It felt like I was in Texas still. I really connected with Courtland Ford and he's from Cedar Hill. So, he comes from up the street and he hosted. It really felt like I was at home In Texas. They gave me good vibes like family,,Ike they got me."
SS: Did you know Courtland before he went to USC?
DC: "No, I actually met him at USC and didn't actually know he was from Cedar Hill. He was the one who hosted me. He and Coach V (Viane Talamaivao)."
SS: Is it important for you to see how USC performs this season?
DC: "Yes sir. It will help know whether they need my help and whether they can help me become a better player."
SS: Do you feel like USC needs you?
DC: They definitely make me feel like I'm a very big priority for the team. That I could come in as a true freshman, get on the field and help the team out in a big way."
SS: What position is USC talking about you playing should you end up there?
DC: "They're either going to keep me at tackle or move me inside. Either way, it doesn't matter as long as I'm helping the team and my career. I'll do whatever I'm needed to do."
SS: Who is your go-to person at USC? Who do you look forward to talking to or texting each week?
DC: "Coach Viane (Talamaivao), that's who I really hit up most. But I also hit up Jaxson Dart and I talk to him all the time. I also talk a lot with Coach (Clay) Helton and Coach (Clay) McGuire. I really talk with just about everybody and that's why it feels like home to me. It's about more than football with those guys."
SS: Tell me about Coach Viane?
DC: "He makes it seem like he's not even a coach to me, he's more like a friend or a home boy to me. That's the vibe he gave me, so like I said, they make me feel like family for real."