Freshman Safety Zion Branch Suffers 'Lower Extremity' Injury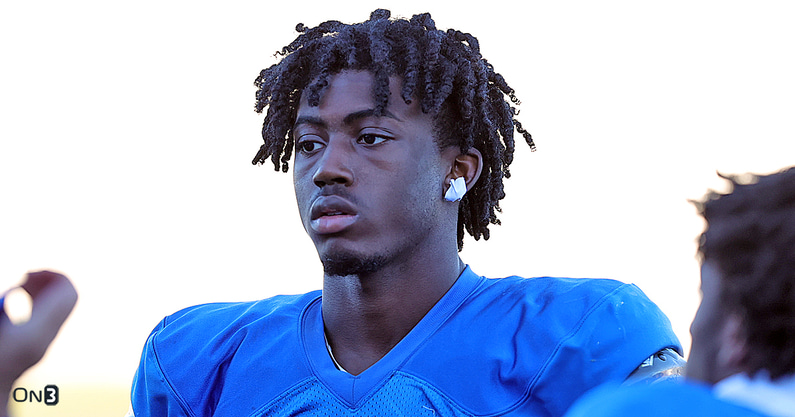 Safety Zion Branch was one of the key pieces of USC's 2022 recruiting class. USC beat out Ohio State and other national programs for the four-star safety and No. 60 overall prospect. But Trojan will likely need to wait a bit to see him on the field in cardinal and gold. Head coach Lincoln Riley announced late Wednesday night that Branch suffered a "lower extremity" injury during summer workouts earlier in the week.
"Zion sustained a lower extremity injury during an offseason workout on Monday," Riley said in a statement posted to Twitter by the USC Football account.
No timetable was given for a potential return.
"I'm confident he will attack the rehab process with full force and a strong mindset," Riley continued in his statement. "Zion has been extremely impressive during our summer workouts and has shown us that he is primed for a tremendous career at USC. We look forward to having him back on the field."
Branch arrived on campus on June 4 as part of USC's freshman move in day. He'd been participating in summer conditioning and even served as a recruiting host to younger brother Zachariah Branch when the five-star receiver took his official visit to USC earlier this month.
Branch Injury Impact
Branch is part of a very small group of 2022 high school signees for the Trojans. But he was definitely one who could have pushed for playing time as a true freshman, even if it was just on special teams.
At 6-foot-3 and 200 pounds, Branch possesses a very solid frame at the safety spot. But beyond that, his instincts and physical ability could make him a future star for the Trojans.
USC has a number of options at safety this season, including returning starters in Calen Bullock and Xavion Alford. The Trojans also brought in Bryson Shaw from Ohio State via the transfer portal. Shaw was a consistent starter for the Buckeyes last season and will likely be in the mix for playing time with the Trojans in his first year at USC. Those three seem likely to be the first ones up when fall camp rolls around, but spring injuries kept this position wide open throughout camp.
The Trojans also moved cornerback Latrell McCutchin around to all five defensive back spots this spring. Another transfer from Oklahoma, McCuthin's length makes him a very versatile player in the secondary.
Anthony Beavers, Xamarion Gordon and Briton Allen are also returning options at the two safety spots.