Offensive Tackle Bobby Haskins is Healthy and Ready to Compete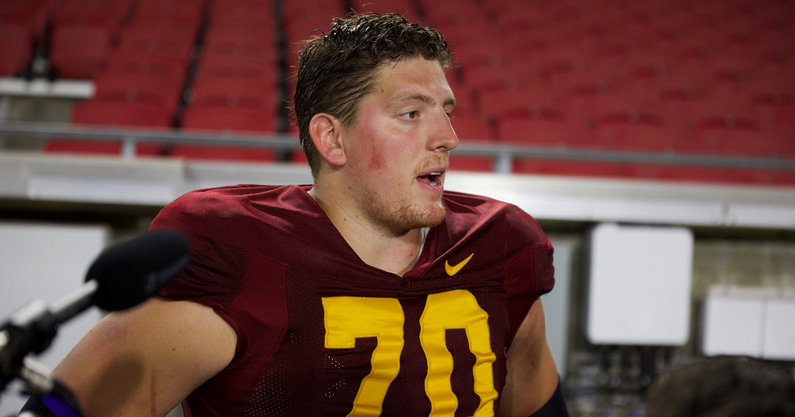 Bobby Haskins announced his commitment to USC as a transfer from Virginia relatively early this offseason. He was one of the first transfers picked up by the Trojans under head coach Lincoln Riley and he made the commitment without USC even having an offensive line coach in place.
But it's taken a long time for Haskins to be able to show what he can do while wearing a USC uniform. Haskins played through an ankle injury last season with the Cavaliers and had an operation to fix it after the final game. Haskins worked through rehab with the staff at Virginia and also picked it up with the trainers at USC. He sat out all of spring ball, but said he's now 100% healthy.
Haskins knew what the recovery timeline looked like. But that didn't make it any easier to sit on the sidelines and watch his new teammates go to work on the practice field this spring.
"It was hard to just watch," Haskins said. "I want to be out there. Sitting on the sidelines, you kind of get that little itch where you're bummed you're not out there. But I'm really, really lucky to be back in camp healthy and working with the guys."
Haskins missed out on the chance to assert himself in the lineup this spring. Now, he'll need to work quickly in order to earn a starting spot at left tackle. Returning starter Courtland Ford, however, won't be supplanted easily. But all Haskins wants is a shot to compete.
"All you can ever ask for in life is an opportunity to compete," Haskins said. "And that's what I have. And I'm really excited about it."
Four practices into fall camp, Haskins admitted there's a bit of a learning curve with the scheme when he's working in a live setting compared to taking mental reps on the sideline.
"It's one thing to study the playbook in the classroom," Haskins said. "It's another thing to do it when you're heart's beating and you're tired. So I'm really fortunate to be able to get some live reps. I'd say that's the biggest thing I missed out in spring is getting those live reps in the heat of the moment with everything going on. [The] defense making checks and all that sort of thing."
The Experience Haskins Brings is a Big Benefit
Haskins started 20 games and saw action in 25 others during his four-year career at Virginia. This is a very experienced line at the center and guard positions. But the returning tackles are lacking compared to that amount of playing time.
His familiarity with the game at this level is clearly shining through. Riley said there's "no question" that Haskins' experience is helping him overcome whatever struggles might have existed from missing all of spring ball.
"You can tell after missing all that time that he's played a lot of ball," Riley said. "He's getting close to 100% physically and it hasn't taken him long to settle in. It would be a lot more noticeable if it wasn't such an experienced player, for sure."
Riley added that Haskins will be "right there in the mix" for playing time at offensive tackle this season. That's certainly been the assumption ever since Haskins announced his commitment to the Trojans.
Picking the Trojans Out of the Portal
Haskins announcing that commitment to USC without the Trojans having an offensive line coach in place was definitely notable when it happened. But he said Riley gave him all the assurance he needed to sign off on USC.
"When coach Riley called me, we had a very candid conversation," Haskins said. "I really felt like I could trust him…And I just came out to visit, loved the staff and kind of fell in love with the program and really wanted to be a part of what everyone's doing here."
Haskins remembers a call with offensive line coach Josh Henson the day he was hired. He said it lasted around half an hour.
"I never really doubted it," Haskins said. "When you're going somewhere for your last year, you've got to trust it. That's something coach talked about from the very first meeting we had as a team. Speed of Trust. We don't have time to second-guess and put one toe in the water. We've got to dive in headfirst. That's what I did."
Director of Football Sports Performance Bennie Wylie has had a positive impact for USC with recruits. Wylie also helped shape Haskins' decision to come to USC. Haskins said he wanted to add some upper body mass and Wylie helped him outline goals to hit this offseason.
Haskins is now at 305 pounds, up from the 295 he played at last season.
"Anchoring, I feel a little stronger," Haskins said. "In the run game, I feel like I've got a little more pop."