Takeaways from college football depth charts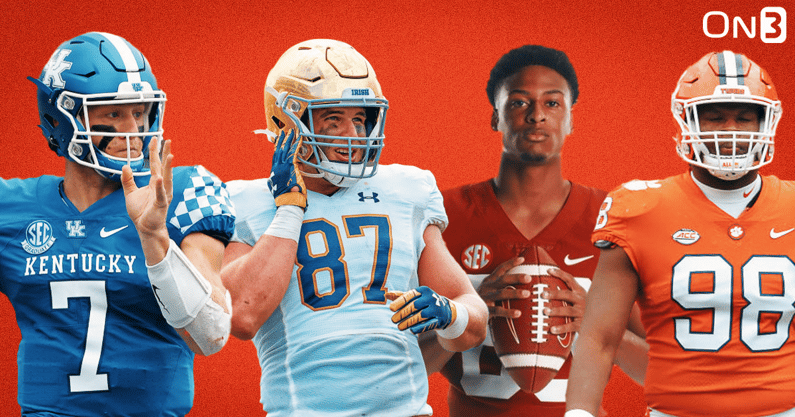 The Monday before week one of the college football season is better known as "Depth Chart Day." This is a weird, quasi-holiday among college football media and diehards. It's when most college programs release a depth chart.
This year was no different, even though we saw some depth charts trickle in a few days later. As is typically the case, some top-ranked teams abstained from releasing an official depth chart including Ohio State, Georgia, Texas A&M and Oregon, among others. With that said, here are some of my takeaways after combing through most of the released depth charts.
Freshmen making waves at Alabama
Preseason No. 1 Alabama's depth chart featured two true freshman listed as a starter or co-starter – wide receiver Kobe Prentice (starter at H) and defensive lineman Jaheim Oatis (co-starter at nose guard).
Prentice has been the talk of fall camp, drawing praise from Bryce Young and Nick Saban. Alabama has a new-look receiver corps with Jameson Williams and John Metchie off to the NFL. Prentice has a different skill set than both, but has talent on par with Alabama's recent run of top receivers. The Calera (Ala.) High product finished as the No. 38 overall prospect and No. 5 wide receiver for On3 in the 2022 cycle. We thought Prentice had some of, if not the best on-field change of direction in what was a very strong cycle at the position. He cuts at full speed and is dangerous after the catch. The top-end speed checked out with a 10.81 second mark in the 100 meters and repeated sub 4.4 second 40-yard dashes at college camps. Prentice is a smaller receiver who will probably spend most of his time in the slot, but his ball skills are strong relative to his size. He may remind some Alabama fans of Jaylen Waddle in that regard. The production checks out as well – Prentice totaled 1,229 yards and 19 touchdowns as a senior at Calera. The in-state product was initially committed to Maryland and was a standout at Alabama's camp in the summer prior to his senior season. Given how impressive he's looked thus far – as a summer enrollee – it's safe to say Kobe Prentice has a chance to go down as one of the best camp evaluations in the 2022 cycle.
Jaheim Oatis is drawing similar praise on the defensive side. The big nose tackle has undergone an amazing weight loss since enrolling in Tuscaloosa. Oatis shared he was up to 416 pounds and was down 74 pounds to 342 over the summer. The Columbia (Miss.) native was always a twitchy, disruptive athlete at the high school level despite needing to trim down and reshape his body to maximize his talent. He appears to have done that, in less than a year on campus. Oatis is extremely difficult for offensive linemen to block due to his combination of size, play strength and quickness.
Aside from Prentice and Oatis, I found the Timothy Smith listed as a starter at defensive end and Jaylen Moody as the starting WILL linebacker as notable. Smith was an On3 Consensus Top 50 prospect in the 2020 cycle and had a huge senior season. Nick Saban has gushed (by his standards) about 6-foot-4, 304-pounder's play in camp. Could we see Smith make a leap in his third year on campus? Moody has been a special teams ace for Alabama for years and has become a bit of a fan favorite. He's had the opportunity to transfer and would've already been starting at most Power 5 programs. The Conway (S.C.) product is a physical striker and has made plays whenever given the opportunity.
Clemson's defense is loaded
New Clemson defensive coordinator Wes Goodwin inherits an embarrassment of talent in his first season as an on-field assistant. He spent the prior four seasons as a senior defensive assistant for the Tigers.
Much of Clemson's top talent on defense stems from their No. 3 ranked 2020 recruiting class. Former five-stars Bryan Bresee and Myles Murphy are entering their third years on campus and headline a deep and talented front. Trenton Simpson was another On3 Consensus five-star in the 2020 class and could be the top linebacker taken in next year's NFL Draft. Simpson is joined in the linebacker corps by Barrett Carter and Jeremiah Trotter Jr. two blue-chippers from the 2021 cycle. Carter is an athletic, instinctive player who excels in space. Trotter is the son of former All-Pro linebacker Jeremiah Trotter Sr. and was a tackling machine at the high school level.
The secondary is headlined by sophomore safety Andrew Mukuba, who was a freshman All-American in 2021. If there is an unknown with this unit, it's the speed at cornerback. Still, it's hard to see too many discernible holes in what is one of the more talented units in college football. It's also worth noting that all of these players are homegrown talents who were recruited by the Tigers out of high school.
Questions remain about Clemson's offense as we enter the season. With that said, the unit should be improved. Perhaps most importantly, Clemson's quarterback room looks to be in a better situation. DJ Uiagalelei will look to rebound after a disappointing sophomore season. True freshman Cade Klubnik is the backup and enters as a high-floor, college-ready prospect. True freshman Blake Miller is listed as a starter at right tackle and looks to be a talent upgrade. I'll be watching to see if freshmen wide receivers Adam Randall and Antonio Williams get in the rotation early in the season. Both have the talent to surpass others by the end of the year if given the opportunity, in my opinion. Randall was impressing in the spring prior to sustaining a torn ACL. He's remarkably already back to practice and should be able to play in September. Randall was the most physically-developed receiver we saw in the 2022 cycle. Williams had a case as the best route runner in 2022 and could provide a boost in the slot.
Mayer, OL need to carry Notre Dame offense early on
Notre Dame's defense is one of the more experienced units in the nation. The Irish return a bunch of seasoned players on that side of the ball for Marcus Freeman's first fall as head coach. Ultimately, the ceiling of the 2022 team will hinge on the offense. On paper, Notre Dame will need the offensive line and star tight end Michael Mayer to carry things, at least early on. The former five-star caught 71 passes for 840 yards and seven touchdowns as a sophomore in 2021. With less experience and depth at receiver (could Lorenzo Styles step into a role as the top wideout?) , those numbers should increase. Mayer provides a highly reliable target for first-year starting quarterback Tyler Buchner – who prior to last season had played just one year of varsity high school football.
Harry Hiestand is back as the offensive line coach after a strong prior run coaching the position in South Bend from 2012 to 2017. The offensive front should be the strength of the unit along with tight end. Hiestand inherits a pair of talented second-year tackles in Joe Alt (LT) and Blake Fisher (RT). Fisher began last season as the starting left tackle before sustaining a season-ending injury. Alt stepped in and ended up as a freshman All-American. Now, the Irish have two young talents they should feel good about on both sides of the line. The interior is bolstered by three experienced upperclassmen, headlined by Jarrett Patterson at left guard.
Michigan depth chart stocked with upperclassmen
Jim Harbaugh has been notorious for not releasing depth charts during his time in Ann Arbor. Much to everyone's surprise, he dropped the entire depth chart while appearing on a podcast over the weekend. While the plan to start Cade McNamara in week one and J.J. McCarthy in week two caught all the headlines, the age and returning experience on the two deep also stood out.
All but two of the starting 22 are upperclassmen. Sophomore linebacker Junior Colson was a freshman All-American last season and is slated to start at WILL, while sophomore Rod Moore is the starting free safety. There are more graduates (6) than juniors (5) in the starting lineup. With that said, there is some youth within the two deep. With that said, there is some youth within the two deep. True freshman Mason Graham is listed as the first 3-technique (when Michigan goes into a four-man front). Former five-star corner WIll Johnson is also on the second team.
Other SEC depth chart takeaways
In-state flavor on South Carolina's defense: Much has been made about South Carolina's offensive skill additions via the transfer portal. I was struck by the number of in-state products along the Gamecock defense. Five of the six defensive linemen on the two deep are from the Palmetto State. Four of those five were blue-chip prospects out of high school. Zacch Pickens and Jordan Burch were five-stars, while Alex Huntley and Tonka Hemingway were four-star prospects. The secondary is headlined by Cam Smith at Nickel, another who played his high school football in South Carolina. Smith and Pickens are the Gamecocks' top two NFL Draft prospects heading into the year.
Levis surrounded by new faces: Speaking of the NFL Draft, few have received more positive off-season buzz than Kentucky quarterback Will Levis. The Penn State transfer had a good first season in Lexington and has impressed with his arm talent and athleticism. While Levis is back for Kentucky, the Wildcats have a new offensive coordinator and wide receivers. It will be interesting to see how Levis and the Kentucky offense fare with the new additions. Liam Cohen left to become the offensive coordinator for the Los Angeles Rams. Mark Stoops replaced Cohen with NFL assistant Rich Scangarello, who has an offensive pedigree similar to Cohen's. Along with the new coordinator, the Wildcats list not one, but two true freshman receivers as starters. Dane Key was in for the spring and drew steady praise. He was considered a likely starter for most of the off-season. Key is joined by fellow class of 2022 member Barion Brown, who is more of a surprise starter. Brown was one of the jewels of Kentucky's 2022 recruiting class that ranked No. 18 in the On3 Consensus Team Recruiting Rankings. The Nashville native is one of the more dynamic true freshman receivers after the catch and doubled as a track star at the high school level. Brown is also listed as the starting return man for the Wildcats.
Continuity at Mississippi State: There's a ton of continuity on both sides of the ball in Starkville. Defensive coordinator Zach Arnett is back as are a bunch of players with starting experience. Will Rogers enters his third year in Mike Leach's Air Raid. He'll be the first quarterback that Leach has signed out of high school to start three straight years since Graham Harrell at Texas Tech. On defense, State boasts a pair of tall, long corners in Emmanuel Forbes and Decamerion Richardson – both who ranked as four-star prospects in the 2020 cycle. Forbes has played a ton of football in Starkville thus far. Richardson was a top athlete at the position in high school with some impressive track results to go with his 6-foot-2 frame.
Pittman's plan at Arkansas: Arkansas enters year year three of the Sam Pittman era with its best roster in years. They also return both Kendal Briles and Barry Odom as the coordinators. The Hogs bring back quarterback KJ Jefferson, a deep running back room and an experienced offensive line. There's a few transfers at wide receiver, including Jadon Haselwood (Oklahoma), but I'd also watch out for second-year pass-catchers Ketron Jackson and Jaedon Wilson. Arkansas also has one of the more dynamic backup quarterbacks in Malik Hornsby, were Jefferson to miss time. On defense, the front may be a bit of a question, but the back end looks solid with former five-star and Alabama transfer Drew Sanders joining Bumper Pool at linebacker. Jalen Catalon was one of the nation's top safeties prior to a season-ending injury last fall. He's back and should fortify Barry Odom's secondary.
Newcomers filling big shoes on defense
Utah had one of the top linebacker corps in 2021, led by Devin Lloyd who is now with the Jacksonville Jaguars. The Utes have two new names slated to start in Florida transfer Mohamoud Diabate and true freshman Lander Barton. The latter finished as a five-star prospect for On3 following a sensational showing at the All-American Bowl in San Antonio. The 6-foot-4, 230-pounder brings an advanced combination of size and athleticism in space. I would expect Barton to become a star during his career at Utah.
Oklahoma State finished with a top five defense last fall. Defensive coordinator Jim Knowles is now at Ohio State and star linebacker Malcolm Rodriguez is with the Detroit Lions. Derek Mason is the new defensive coordinator in Stillwater. While the 2022 defense lacks some experience, I think the group could actually be more talented overall. Xavier Benson was On3's No. 1 JUCO prospect in 2022 and is penciled in as a starter at linebacker. The one-time starter at Texas Tech is highly athletic and has the skill set to play in space against spread offenses. Kendal Daniels was one of the more highly-rated prospects to sign with the Cowboys in recent years and is listed as a starting safety after redshirting as a true freshman in 2021. Oklahoma State also boasts one of the deeper pass rushing groups in the Big 12 with 2021 freshman All-American Collin Oliver, Trace Ford, Tyler Lacy and Brock Martin.
Checking Big Ten offensive lines
I'm always eager to see how things shake out along the offensive line with Big 10 programs, specifically Wisconsin and Iowa given both programs' recent track records at the position.
The Badgers should have another strong front, led by left tackle Jack Nelson and center Joe Tippmann. Both are third year players and have NFL futures. Nelson will be particularly interesting to watch. It's not a very deep draft at offensive tackle and the former five-star could make a move. The tightest competition was at right tackle, with redshirt freshman Riley Mahlman edging out former five-star Logan Brown. Wisconsin actually has two former five-stars listed as backups in Brown and Nolan Rucci. Brown has been unable to crack the starting lineup entering his fourth season in Madison.
At Iowa, Mason Richman returns at left tackle and looks like one of the higher upside players at the position nationally. Richman was an athletic defensive lineman as a high school prospect and made the conversion to offensive tackle at Iowa. The same could be said for Logan Jones, who is replacing Tyler Linderbaum at center. Like Linderbaum, Jones came to Iowa as a defensive lineman before converting to center – his highest upside position. Former freshman All-American Connor Colby is also back for the Hawkeye front.
Five offenses I'll be watching
Houston: The Cougars have the makings of one of the more explosive units in the Group of Five, along with Fresno State. Clayton Tune is back at quarterback and looked impressive at the Manning Passing Academy over the summer. He'll have a bevy of targets led by Tank Dell, who has All-American potential. The former JUCO receiver finished 2021 with 1,329 yards and 12 touchdowns. Dell is joined by some talented new additions. True freshman Matthew Golden was the top offensive prospect to sign with the Cougars in a decade and ranked No. 125 in the On300. Golden is listed as a starter alongside USC transfer Joseph Manjack. The Cougars also landed Cody Jackson as a transfer from Oklahoma. I think Houston could be in play for a double-digit if not undefeated regular season if the defense is close to as good as it was in 2021.
Stanford: I feel like we say this every year, but it's put up or shut up time for David Shaw's offense at Stanford. The Cardinal return a legitimate NFL prospect at quarterback in Tanner McKee along with its most experienced offensive line unit in several seasons. EJ Smith is a talented all-purpose running back who has received some off-season buzz. The tight end room also has some talent. Stanford's offense ranked 101st in yards per play last season. There's no excuse for anything less than considerable improvement.
Iowa State: Iowa State has to replace Breece Hall, Charlie Kolar and Brock Purdy on offense. While it's probably unrealistic to expect overall improvement, I do think Hunter Dekkers certainly offers more long-term upside than Purdy at quarterback. The third-year signal caller is a big-armed, physical player and is more gifted than Purdy. Also keep an eye out for second year receiver Jaylin Noel.
Louisville: The Cardinals should have one of the better offenses in the ACC. I'm especially looking forward to watching their run game. Quarterback Malik Cunningham finished 2021 on a high note, throwing for nearly 3,000 yards while eclipsing the 1,000 yard mark on the ground. Tennessee transfer Tiyon Evans joins Cunningham in the backfield and brings a big-play element to the running back spot. It will be fun to see how Scott Satterfield schemes the run game given the talent in the backfield.
Washington: New Washington head coach Kalen an DeBoer has been one of college football's top offensive coaches over the past several seasons, in my opinion. DeBoer takes over a Washington team that had a ghastly offense in 2021. That's not for lack of talent. Third-year receivers Jalen McMillan and Rome Odunze were blue-chip prospects in the 2020 cycle with strong production and athletic markers. Can DeBoer and staff unlock McMillan and Odunze? Michael Penix Jr. got the nod as the starting quarterback over in-state former blue-chippers Dylan Morris and Sam Huard due in part to his understanding of DeBoer's scheme. That familiarity could allow for the offense to hit the ground running.