New faces in new places: Setting 2022 expectations for Power 5 head coaches in Year 1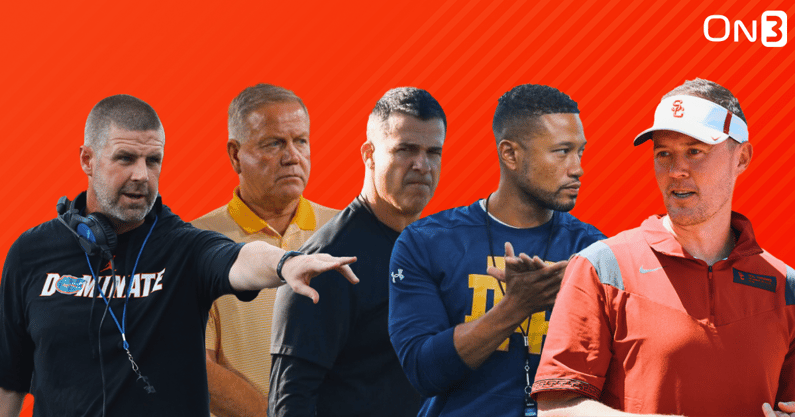 After one of the busiest offseason coaching carousels in college football history, it's almost time for more than 29 head coaches to make their debuts with their new programs. 
Optimism is always soaring in late August because everyone is still 0-0, but what should the Year 1 expectations be for Lincoln Riley at USC and Mario Cristobal at Miami? And how might they differ from the likes of Joey McGuire at Texas Tech and Tony Elliott at Virginia?
Several coaches inherited the bones of a program strong enough to win now, but many others are starting without more than one limb, and it could be tough sledding in 2022. 
So here's a look at reasonable expectations for the 13 new head coaches in the Power 5, plus Marcus Freeman at Notre Dame.
Mike Elko, Duke
The well-regarded former Texas A&M defensive coordinator is no stranger to football at elite academic institutions, playing and coaching at Penn and also working at Notre Dame (2017) and Wake Forest (2014-16). But Duke is among the hardest jobs in the country, and Elko is a first-time head coach looking to resurrect a program that fell off a cliff during the final few seasons under David Cutcliffe. Considering the program's current futility, a Year 1 win total isn't what's most important for Duke. Elko's initial priority is to fix a Blue Devils defense that allowed over 500 yards a game in 2021, and 45 points or more over the final six games of the season.
Billy Napier, Florida
Napier's ultimate goal is to have the Gators competing for the SEC Championships again, but this fall is all about a culture reset in Gainesville. Florida's schedule is loaded with landmines (opener vs. Top 10 Utah, road trips to Texas A&M, Florida State) and an-already thin roster has been hit hard with notable injuries during fall camp. Anthony Richardson could be the perfect bulldozing quarterback for Napier's run-heavy scheme, but the Gators have holes at receiver, linebacker and defensive tackle. Still, not making a bowl game would be a big disappointment (particularly compared to Napier's predecessors at UF) but anything north of seven wins in the regular season would be a strong sign of program's potential under new leadership. 
Brian Kelly, LSU
Kelly left Notre Dame for the sole purpose of winning an elusive national championship, but the Tigers aren't expected to compete for a title in 2022. LSU has high-end talent, but little depth this fall. This offseason, Kelly took a defribluator to a roster that had less than 40 scholarship players at the end of 2021, adding more than 35 fresh faces to the roster. With uncertainty at quarterback (Jayden Daniels vs. Garrett Nussmeier), a bad offensive line and a tough schedule, anything north of eight wins — something Kelly did in Year 1 at Notre Dame, Cincy and Grand Valley State — would be a solid start for BK in Baton Rouge. 
Mario Cristobal, Miami
 It took a little while for Cristobal to find his footing back home in South Florida, but after settling in on Josh Gattis and Kevin Steele as coordinators, it's been all systems go for the Hurricanes this offseason. Miami is chalked with optimism with Cristobal now in charge, but with that comes pressure. The former Miami alum is one of the few new coaches expected to win immediately in Year 1. Miami won five of its last six games last season, but still chose to fire Manny Diaz. It returns one of the top quarterbacks in the ACC in Tyler Van Dyke, and the a rising roster full of experienced sophomores and juniors setup to compete for a conference title. A divisional crown in a bad ACC Coastal (only Miami, North Carolina and Pitt even project as bowl teams in 2022) is not an outlandish expectation for Cristobal in his first season in Coral Gables. 
Marcus Freeman, Notre Dame
The Irish wasted no time promoting their 36-year-old defensive coordinator after Brian Kelly left for LSU. Thus far, Freeman has proven why so many people believed he was a budding coaching star, signing the No. 6 recruiting class, per On3, and building a Top 5 group for 2023. But Freeman lost his lone game as head coach in the Fiesta Bowl last year, and he opens Year 1 with a showdown against his alma mater Ohio State. The Irish are in an odd spot in 2022 — a Top 10 team with an exciting new head coach, but a program few expect to compete for the College Football Playoff. With a very likely loss in the opener, Freeman's leadership will be tested early, as the Notre Dame must then navigate a tricky schedule that includes Clemson, Boston College and road trips to USC, BYU and North Carolina. 
Brent Venables, Oklahoma
The Sooners have been butt-hurt all offseason about seeing Lincoln Riley jump to USC, but they landed a seamless fit in Venables. The former OU/Clemson defensive coordinator brought in Jeff Lebby to keep the offense humming, and if healthy, ex-UCF quarterback Dillion Gabriel isn't a bad Caleb Williams  replacement. As evidenced by their 9-win preseason O/U, the Sooners are projected to recede to the pack in the Big 12 this fall. Instead of being the favorite to win the conference, Oklahoma is simply among contenders with Baylor, Oklahoma State and Texas. So if Venables does deliver a conference championship in Year 1, the first-time head coach will have arguably exceeded expectations at a program that's mostly only known winning. 
Dan Lanning, Oregon
The former Georgia defensive coordinator hired an all-star staff with the Ducks, and Mario Cristobal left Lanning with a strong roster, too. Oregon (as of publishing) hasn't sorted out its quarterback battle between Auburn transfer Bo Nix and former top recruit Ty Thompson, but the rest of the roster is ready to win now. We'll see about Lanning's decision to tab first-time playcaller Kenny Dillingham to lead his offense. While Lanning's head coaching debut against Georgia is brutal, the rest of the Pac-12 schedule is set for the Ducks to compete with Utah and USC for a conference title. Lincoln Riley (as noted below) took up most of the offseason oxygen but Lanning could be the bigger Year 1 winner in 2022, especially if he has the Ducks flirting with a CFB Playoff spot come November. 
Lincoln Riley, USC
 After making the $100 million move to leave Oklahoma for USC, Riley — by Trojans fans, alumni and the rest of the college football — is expected to win now in Los Angeles. He brought star quarterback Caleb Williams and a host of other transfers with him to USC, too — which only ups the ante. But while USC has garnered the most offshore bets to make the playoff, per reports, let's not forget USC was 4-8 last season and got housed by rival UCLA. The Trojans are guaranteed to score a billion points this fall, but they might allow a zillion. Their defense remains littered with holes. A Pac-12 Championship isn't out of the question, especially since the schedule is favorable outside an October trip to Utah. A 9-10-win regular season would be solid with their roster in Year 1.
Sonny Dykes, TCU
The Horned Frogs needed a fresh voice after playing out the strings on the Gary Patterson era last season. After 21 years in Dallas, Patterson, who built TCU into a formidable program from nothing, seemed to lose the seams of the team, as the Horned Frogs didn't play with a ton of effort in 2021 — somehow managing to beat Baylor but dropped six of their final seven games. They didn't look far for a new coach, plucking Dykes from SMU. Patterson left the former Louisiana Tech and Cal head coach some offensive firepower, including intriguing quarterbacks Chandler Morris and Max Duggan. Offense has never been an issue for Dykes' teams either, but defense was rarely a strength for the Mustangs or Bears, which is concerning considering TCU ranked near the bottom of the Big 12 in multiple categories last season. Still, six wins and a bowl game is a very doable goal for Dykes and the Horned Frogs in 2022, though. 
Joey McGuire, Texas Tech
McGuire was the first Power 5 head coach off the market last cycle, as the former Baylor assistant actually left his position late last season to accept the TTU gig. The longtime successful Texas high school head coach has quickly flexed his ties in the state, leading to an immediate uptick in recruiting. So now the question is if McGuire can turn the early off-the-field good vibes in Lubbock to immediate on-field results in Year 1. The Red Raiders' roster actually isn't in dire straits (former Oregon QB Tyler Shough was recently named the team's starter), but a non-conference slate that includes Houston — perhaps the best Group of 5 team in the country this season — and NC State — a potential 10-win team — means anything more than just making a bowl game is probably too much to ask. With the way McGuire and his Texas-heavy staff is recruiting right now, that'll suffice. 
Tony Elliot, Virginia
Elliott interviewed for a number of jobs in the last few years, but the longtime Clemson offensive coordinator finally pounced for an ACC head coaching gig. Bronco Mendenhall did admirably with the Cavaliers but he left the program in an odd spot. The roster has a real stars and scrubs feel to it. Elliott has a stud in quarterback Brennan Armstrong, and UVA returns a loaded set of playmakers at receiver. But can they block? Will they be able to stop the run? For Virginia to make any noise in an open ACC Coastal in Year 1, Elliott will have to cobble together at least a functional offensive line — now without an expected grad transfer starter from Georgetown, who went back to DC — and fix a defense that allowed 32 points per game in 2021 and hemorrhaged explosive plays. That seems like a lot to ask in Year 1. A win for Elliott, who was 89-9 as Dabo Swinney's play-caller with the Tigers, would be eclipsing UVA's recent back-to-back .500 seasons.  
Brent Pry, Virginia Tech
The Hokies' alum returns to a Va. Tech program that lacks in talent, depth and juice in 2022. Ousted head coach Justin Fuente did Pry little favors in Year 1, leaving the first-time head coach a bottom-half ACC roster depleted by poor development, transfer portal departures and NFL graduations. VT's offensive line is projected among the worst in the conference and the defense has few known quantities outside of linebacker Dax Hollifield and a secondary with several veteran corners. Pry brought in former Marshall quarterback Grant Wells to spark an offense that ranked next-to-last in the ACC in 2021. Just making a bowl game would be a boon for Pry and a wayward program in 2022. 
Kalen Deboer, Washington
The Huskies' new head coach inherited a program that completely cratered in 2021, entering the year a Top 20 team but finishing 4-8 and seeing Jimmy Lake fired midseason. Deboer is now Washington's third coach in four years after Chris Peterson's abrupt retirement in 2019. An offensive guru as a head coach at Sioux Falls, where he won three NIAI Championships, and Fresno State, his latest stop where the Bulldogs stuff the stat sheet with quarterback Jake Haener, Deboer's latest challenge is bringing life to a unit that averaged just 21.8 points per game last season — among the worst for all Power 5 programs. Haener opted to stay at Fresno State, but Deboer did grab former Indiana quarterback Michael Penix Jr. from the portal. Last season's disaster looks like an aberration, as Washington returns lots of starting experience (both on the roster and via transfers. The defense doesn't have its usual NFL talent but the offense should be better under Deboer. Flipping the win total in Year 1 and being competitive in the Pac-12 is a fair baseline.
Jake Dickert, Washington State
Dickert was promoted from interim head coach to the full-time job this offseason after deftly navigating a tumultuous year in 2021 that saw his former boss Nick Rolovich and multiple assistants get fired midseason for failing to meet the state's COVID-19 vaccine mandate for state employees. The Cougars' defensive coordinator brought a calming cultural presence at a chaotic time for WVU, which was already dealing with Mike Leach bolting for Mississippi State just a year prior. Under Dickert, the Cougars went 3-3, including 3-1 in the Pac-12 with a blowout win in the Apple Cup over in-state rival Washington. With the backing of alumni, the administration and the current roster, Dickert earned the promotion and now is looking to make the Cougars one of the most fun teams in the nation to watch in 2022. With the package deal of FCS Incarnate Word offensive coordinator Eric Morris and quarterback Cameron Ward, who had 71 touchdowns the last two seasons, the Cougars are expected to have one of the most prolific offenses in the country this fall. Their defense returns a lot of experience and is expected to hold up fairly well in the Pac-12, too. While a Week 2 trip to Madison to play Wisconsin is tough, the rest of the schedule sets up for Dickert to win around seven games and take the Cougars bowling.