How the recruiting industry nailed the 2023 NFL Draft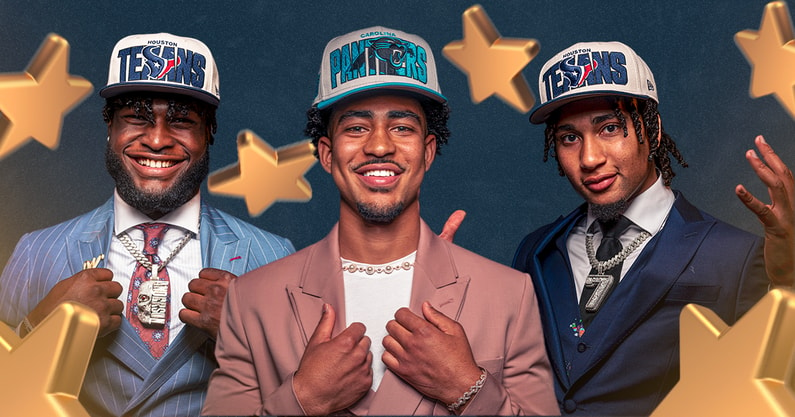 A historic number of former five-star and blue-chip prospects were taken early in last weekend's NFL Draft. The 2023 NFL Draft had the highest five-star draft rate (81.3%) in the internet recruiting era – dating back to around 2000. 11 of the first 31 picks were five-star prospects in the On3 Industry Ranking, which includes the rankings of all primary recruiting media services. That total ties the record for most former five-stars in the first round despite one fewer pick (the Miami Dolphins forfeited their selection).
The bulk of former five-stars and blue-chip prospects came from the 2020 recruiting cycle. I worked at 247Sports at the time and was on the Rankings Council, which was chaired by current Vanderbilt football General Manager, Barton Simmons. Along with key contributions from Director of Recruiting Steve Wiltfong and several regional analysts, we assembled the most accurate set of football prospect rankings in the internet recruiting era.
Our rankings outperformed the industry and other outlets by a considerable margin. We had 13 former five-stars taken in the first round, with several other massive outliers going as early selections. Our top-ranked quarterback (Bryce Young), running back (Bijan Robinson), second-ranked receiver (Jaxon Smith-Njigba), top offensive tackle (Paris Johnson Jr.), top interior offensive lineman (Peter Skoronski), top two EDGE prospects (Will Anderson and Myles Murphy) and top defensive lineman (Bryan Bresee) all went in the first round. This differed from the industry, as Robinson (2nd), Johnson (2nd), Skoronski (2nd) and Anderson (2nd) were not at the top of their respective positions in the On3 Industry Ranking.
Ironing out the process
A number of factors played into this development.
The goals and benchmarks were clearly defined

. Our rankings are judged against the NFL Draft, which is the only other time in a football player's career where they are quantitatively sorted in an exhaustive manner.

Our process and critical factors were dialed in. Study of backgrounds and attributes of recent top draft picks helped inform what we'd look for in highly-rated prospects.
Prioritization of verified size and athletic data. We made an overt effort to emphasize using available data to provide key context within the rankings process.
Increased in-person and video exposure.

We had incredible in-person exposure to hundreds of prospects on the regional camp circuit, at the Elite11/The Opening Finals and at the All-American Bowl and Under Armour All-America Game. The 2019 season also saw a growing number of high school games streamed online and broadcast on television. For example, I watched at least 10 full games from

Bryce Young

's senior season.

2020 was our first full cycle working as a team. Communication and exchange of actionable information amongst each other and from coaching and media sources proved valuable.
By the time January 2020 rolled around, we felt very confident in the rankings and thought they had a great chance of being the best yet. The factors detailed above led to a level of conviction that made us not shy to be different from the rest of the industry. Many of the prospects we took a stand on turned out to be high draft picks.
The Bryce Young bulls-eye
Bryce Young became just the fourth player ranked No. 1 by a major recruiting company to be taken with the first pick (by the Carolina Panthers) in the past 20 years. It's happened in 13% of the ranking sets dating back to 2001 (all coming since 2011) and is the equivalent of a bulls-eye in our business. We were the only outlet to rank Bryce Young as the No. 1 prospect.
There's been 60 ranking sets by major recruiting companies dating to 2001. Just eight of those 60 have had the No. 1 prospect taken 1st in the NFL Draft. Young joins Jadeveon Clowney (2011- 247Sports, Rivals, ESPN, Scout), Myles Garrett (2014- 247Sports) and Trevor Lawrence (2018- 247Sports, Rivals).
Young had the best combination of feel, field vision and reactive quickness I've seen from a high school quarterback prospect. I saw Young throw hundreds of balls both in person at the Elite 11 and Opening Finals and at the All-American Bowl and in games on Friday nights. He was consistently great in every setting, but really stood out 11-on-11 football against a pass rush. The game just moved so slow for him in those live situations.
I was an advocate for Young as the top quarterback in the cycle for the majority, if not all of the process. There was healthy debate in the final rankings meetings. Every angle was covered. After all, Young is a huge outlier from a size perspective. In terms of true playing weight, he is the lightest first round quarterback in decades. It didn't hurt that similarly-sized Kyler Murray had just been the number one pick. We also talked about how Joe Burrow was tracking as the upcoming No. 1 pick and felt Young had a similar feel for the game and ability to be a dominant college player.
In the end, the decision was unanimous. There was full agreement that Young would be our No. 1 overall prospect. Simply put, he made it easy for us, which should ideally be the case when you're talking about a No. 1 overall prospect.
5-star outliers in the top 3
Young was followed by Ohio State quarterback CJ Stroud and Alabama teammate Will Anderson who were drafted by the Texans at No. 2 and 3, respectively.
Both were relative late risers in the rankings. Stroud was a five-star outlier for us, with his next highest ranking being No. 51. He was not an On3 Industry Ranking five-star. Anderson finished inside our top five with his next-highest ranking being No. 17.
Stroud's rise from under-the-radar recruit to bona fide star has been well-documented. He entered the off-season prior to his senior year as a three-star with a handful of Power 5 offers. A first-year starter as a junior, Stroud had a solid, but largely unnoticeable season. He caught our attention on the spring camp circuit and began to blow up at the Elite 11 Finals, winning MVP. Stroud fully exploded as a senior, more than doubling his production year-over-year and putting together some fantastic video – particularly as a passer – in the process. He went on to become highly coveted by several top programs before signing with Ohio State.
I wrote this after seeing Stroud all week at the All-American Bowl: "Stroud's rapid ascent continued in San Antonio. There was little if any drop-off from Young and (D.J.) Uiagalelei to Stroud. The Rancho Cucamonga (Calif.) product is a natural passer with the ability to locate the ball with zip and touch to all levels of the field. Stroud didn't run much at the high school level, but he showed some better than average mobility over the course of the week."
While Stroud's rise was more gradual in part due to multiple in-person evaluations, Anderson turned in an absolutely eye-popping week at the All-American Bowl – our first opportunity to see him in a neutral setting.
Here's what I wrote about his week: "Alabama signee Will Anderson might be the biggest riser from either (national all-star) game. We already liked the 6-foot-3, 230-pounder a bunch heading into the week, strictly off his phenomenal senior video. Having yet to see him in person, there was a bit of an unknown, which was quickly erased. Anderson would've been a riser had he just lived up to what he put on video, but he exceeded my expectations. The Georgia native checked in with 34 inch arms (longer than most of the offensive linemen in attendance) and dominated practice from the jump. Anderson was the best edge player I saw at either event. His first-step quickness and burst was expected but the speed to power and explosion on contact was startling. He regularly stunned offensive linemen with the pop in his hands and finished plays at perhaps the highest rate of anyone. The play speed and effort level were also outstanding. That effort transferred over to the game, where Anderson continued to be highly disruptive. He also drew rave reviews from the coaching staff for his attitude and willingness to learn."
In the cases of Stroud and Anderson, what we saw on film as seniors and in person turned out to be highly predictive to the type of college football players and draft picks they'd ultimately become. While both were huge hits relative to other rankings, I wish we would've had them even higher.
More big hits
We had several more big hits outside of the top three picks.
The first four offensive linemen drafted – Paris Johnson (Arizona Cardinals' No. 6 pick), Darnell Wright (Chicago Bears' No. 10 pick), Peter Skoronski (Tennessee Titans' No. 11 pick) and Broderick Jones (Pittsburgh Steelers' No. 14 pick) – were former five-stars.
Paris Johnson was tabbed as a top ten prospect early in the cycle, the future Ohio State tackle was more of an upside play than a finished product. Johnson was further along as a run blocker early in his high school career and showed encouraging physicality and play strength. His 35+ inch arms, foot quickness (4.53 second shuttle) and explosive athleticism (32.5-inch vertical) pointed to a high developmental upside as a pass protector even though he had some ups and downs against top EDGE prospects.
As a five-star whose next highest ranking was No. 150, Peter Skoronski was our biggest hit along the offensive line in the 2023 NFL Draft. The bulk of the evaluation hinged on his film, which was outstanding. Skoronski was athletic, strong, coordinated and highly technical. He had positive indicators (great shot put and NFL genes) but we mainly thought he had the best film of all 2020 offensive linemen. Seeing Skoronski at the All-American Bowl was the final check before making the five-star call. He went on to be a three-year starter at left tackle for Northwestern and one of college football's best players prior to going in the first round.
We were the highest on Philadelphia Eagles' No. 9 pick Jalen Carter. He burst on the national scene in the spring prior to his senior season. Carter was primarily used as a H-back up to that point and was new to defensive line. There was a buzz about him and a bunch of college coaches showed up to his spring game. Our colleague Luke Stampini was there and raved about Carter's performance. The coaches in attendance were amazed by what they saw. After watching the spring video and digging into his athletic background (we learned that he was an above-the-rim basketball player), we opted to make him a top 20 prospect, in a move that some questioned at the time. It turned out to not be high enough. He would go on to have a great senior season and have the best performance among defensive linemen at the Under Armour All-America Game.
Jaxon Smith-Njigba (Seattle Seahawks' pick No. 20) was a personal favorite at wide receiver in the 2020 cycle. He was the best wide receiver in all of high school football on Friday nights that fall, posting preposterous production against top competition in Texas. The combination of route-running, change of direction and ball skills were among the best I've seen from a high school prospect.
Here's what I wrote about Smith-Njigba at the time: "His burst off the line, ability to separate within different levels of his routes while also winning at the catch point with the ability to make acrobatic adjustments in-air. Smith-Njigba runs with outstanding body lean with his shoulders over his feet, making it tough for defensive backs to get a read on his intent. The pace within his routes is exceptional. He also had some of, if not the most reliable hands I saw during the week. For my money, he is currently the most skilled wide receiver in the 2020 cycle and looks to be the most ready to contribute next season. There isn't a discernible weakness to Smith-Njigba's game and he's up there with Calvin Ridley as one of the most polished receivers I've seen in an all-star setting.
We were much higher on Detroit Lions No. 12 pick Jahmyr Gibbs than the rest of the industry, ranking him as a top 50 prospect. Gibbs entered his senior season as a three-star prospect and quickly jumped on our radar. Our colleague Rusty Mansell was at Gibbs' senior season opener and provided live updates from what was a record-breaking 420-yard and eight touchdown performance. Gibbs went on to have a massive senior season. We invited him to the All-American Bowl where he flashed a high-end burst and advanced receiving skills – both that would lead to his early draft status. I wrote "We felt Jahmyr Gibbs was quite good entering the week, but the Georgia Tech commit is very possibly better than thought."
We ranked Washington Commanders' No. 16 pick, cornerback Emmanuel Forbes (Mississippi State) about 100 spots higher than the next outlet. Forbes was and still is very skinny. He was 6-foot-1, 150-pounds in high school. We loved his coverage instincts on film. The ball production (12 INT his final two seasons) was elite. We also saw some upside as a bouncy, three-sport athlete. Forbes was our top prospect from the state of Mississippi for much of the cycle (Texas A&M's McKinnley Jackson ended up higher) and will likely be the highest-drafted player from the Magnolia State's in the 2020 group.
Barton Simmons absolutely nailed the evaluation of Minnesota Vikings No. 23 pick Jordan Addison. A multi-position star, Addison didn't rank in the top 300 for another outlet. He played all over the field for his high school program and was not a national recruit in terms of interest from college programs, but Barton saw aspects to Addison's game that quickly manifested once he got to college. He would go on to win the Biletnikoff Award as a sophomore at Pittsburgh before transferring to USC.
Other notable Day Two picks that we were highest on include tight end Michael Mayer (Notre Dame), EDGE BJ Ojulari (LSU), interior offensive lineman Joe Tippmann (Wisconsin), safety Brian Branch (Alabama), cornerback Cam Smith (South Carolina), running back Zach Charbonnet (Michigan/UCLA), defensive lineman Tuli Tuipulotu (USC), cornerback Tyrique Stevenson (Georgia/Miami), wide receiver Jalin Hyatt (Tennessee) and running back Devon Achane (Texas A&M).
Non blue-chippers come from off the radar
Even though there were a historic number of five-stars and blue-chip prospects taken in the first-round, we still saw several former three-stars and unranked prospects go with early picks.
Every pick in the first-round was from a Power 5 program, a rarity in the NFL Draft. Some of those picks took circuitous routes paths to the Power 5, which is an increasing trend for high draft-picks who aren't former blue-chips. They tend come from far off the radar due to extenuating circumstances.
Seattle Seahawks' No. 5 pick Devon Witherspoon did not sign as a high school prospect. He was enrolled at Hutchinson Community College when he received a late SAT score, making him eligible. Witherspoon immediately enrolled at Illinois. Based on how talented he looked as a high school senior, I feel Witherspoon would've been a very safe bet to end up at a blue blood program had he been recruited out of Hutchinson. In recently going back and watching his high school video, it's apparent he was an easy national talent, despite being late to football.
Buffalo Bills' No. 25 pick Dalton Kincaid was a basketball-first athlete who played one year of high school football and enrolled at University of San Diego – a non-scholarship FCS program prior to transferring to Utah.
Kansas City Chiefs' No. 31 pick Felix Anudike-Uzomah was reportedly dropped by North Dakota State and considering attending Missouri as a regular student prior to receiving a late offer from Kansas State.
Several more stories like this account for day two picks. We saw a number of transfers from Group of Five programs, former junior college prospects and two FCS players who played 9-man football in high school drafted in the second and third rounds.
Misses and regrets
For as many hits as we had, I've spent more time thinking about things we'd do differently.
Indianapolis Colts' No. 4 pick Anthony Richardson was not an easy evaluation as a high school prospect. He was not overly productive as a junior and showed some flashes early on as a senior, but missed half of the season with a shoulder injury. Even though he wasn't a dominant player, we should've done a better job of recognizing and weighing his incredibly rare physical tools. Richardson was 6-foot-4, 225 pounds with a 10.5-inch hand. He ran a verified 4.50-second 40-yard dash and showed a very strong arm in neutral settings.
It may be nitpicking, but I wish we would've had Jalen Carter and Broderick Jones higher. I wrote Carter was the best defensive lineman at Under Armour and wished we would've had him ranked accordingly. Granted, there are some measurements and athletic testing data we didn't have available at the time that would've helped. With Jones, we were right in making Paris Johnson the top tackle, but the Georgia signee should've been closer behind, off of upside if nothing else.
Packers' No. 13 pick Lukas Van Ness (Iowa) did not have a bunch of positive indicators – there weren't verified measurables, above average production or a a notable multi-sport background. Still his film was good enough to be ranked higher, even if he didn't scream no-brainer four-star prospect.
Unlike Van Ness, Jets' No. 15 pick Will McDonald (Iowa State) had a ton of indicators as a high school prospect and was exactly what we look for in a high upside, developmental four-star EDGE prospect. McDonald had elite length with a 34.9-inch arm. Though he was late to football, he had strong film and production. McDonald was a twitchy, loose athlete who made a bunch of plays behind the line of scrimmage. He was a very good basketball player, averaging 18.3 points and 12.8 rebounds per game. He also was a standout in track both in the shot put and high jump.
An unranked four-star, New England Patriots' No. 17 pick Christian Gonzalez (Colorado/Oregon) was a late bloomer, perhaps due to his later birthday. Gonzalez ended up as one of the bigger, more athletic defensive backs in the cycle and saw a marked improvement from his junior testing numbers to senior season track results. Though the track marks came after the final rankings, the senior film and ball production were strong.
Tampa Bay Bucs' No. 19 pick Calijah Kancey was a good player with good film, but was a marginal athlete in high school with a limited frame. Kancey made considerable strides at Pittsburgh and left as one of the more athletic defensive linemen in the draft class. Still, he is a massive size outlier with the shortest wing-span from a drafted (let alone first-round) defensive lineman in a decade.
I would've liked to have Los Angeles Chargers' first-round pick Quentin Johnston (TCU) ranked higher. We were the first outlet to rank him as a blue-chip prospect, but ended up not having him the highest. That happens sometimes in the rankings process, but Johnston had notable upside.
Though he had the highest three-star rating, New York Giants' first-rounder Deonte Banks (Maryland) had the measurables, film and production of a four-star prospect.
Jacksonville Jaguars' first-rounder Anton Harrison (Oklahoma) was a naturally coordinated and aggressive offensive tackle who needed some development. He certainly looked to be more athletic in games than in combine settings. Harrison had good senior film and was solid at Under Armour. In hindsight, we (mostly me) were probably too harsh on his underclassman camp showings, but still ranked him as a four-star.
Carolina Panthers' pick Jonathan Mingo (Ole Miss) and Detroit Lions' pick Sam LaPorta (Iowa) were two early Day Two selections who should've been bumped after big senior seasons. Mingo was a four-star all day on film. He was a big, physically-developed receiver with the ability to pull from defenders in the open field. The combination of size and athleticism was highly translatable. He finished with 1,451 receiving yards and 14 touchdowns. LaPorta wasn't close to the four-star radar but should've been. It takes about 30 seconds of watching his senior film to see a highly skilled pass-catcher. LaPorta was a fluid, refined and highly coordinated receiver on the outside. He dominated the competition as a two-way player, catching 68 passes for 1,387 yards and 20 touchdowns and picking off seven passes on defense.
Billy Napier's Louisiana staff tried to tell anyone who would listen that O'Cyrus Torrence (Louisiana/Florida) was the top prospect in their 2019 recruiting class. Sure, Torrence was not and still is not a good athlete, but had some compensatory traits with a huge frame and play strength that were worthy of a higher ranking.
Lasting takeaways
In looking back at the recruiting rankings of players taken in the 2023 NFL Draft, a few themes emerge.
Trust what you're seeing late in the cycle. There is an inclination in recruiting media (and among some college coaches) to hold on to early underclassman evaluations. The recruiting calendar has become increasingly expedited. Early evaluations are essentially a very loose projection and difficult for some to shake. In reality, what a prospect does as a senior and in a post-season all-star game (often less than a week before they enroll in college) are usually far more predictive than what they looked like as a 10th grader. This may not be as easy when you aren't able to see the prospects in person. Jack Campbell (Iowa), Joe Tippmann (Wisconsin), Tuli Tuipolotu (USC) and Luke Musgrave (Oregon State) were four high draft picks who received huge four-star bumps as seniors due to strong seasons and film.
Bet on ascending prospects. Most of our big rankings hits had the look of an ascending player as a senior. Late evaluations may not coincide with conventional wisdom both in media and amongst college programs and require some conviction. There are countless examples from this group with CJ Stroud, Will Anderson, Jalen Carter, Jahmyr Gibbs and Jaxon Smith-Njigba being a few. Conversely, former five-stars and blue-chip prospects who go undrafted or are taken later than their ranking would suggest are almost never ascending prospects late in the process.
I was struck by the disparity in high draft picks between both big all-star games: the All-American Bowl and the Under Armour All-America Game. The All-American Bowl had 11 first-rounders (7 of the top 12) to Under Armour's five. As the selection parter for the All-American Bowl, we tried to fill the roster with ascending prospects who we wanted to evaluate in person. Think Anderson, Skoronski and Gibbs. Many of those were not headliners or going to be at the top of a press release, but have been massive hits. While those type prospects may not be household names as recruits, they were household names as college football players and high draft picks.
Positional value is real. Every draft is different, but when it comes to projecting first-rounders, not all positions are made equal. We ranked Michael Mayer as a five-star and No. 2 tight end in the 2020 cycle. He more than lived up to that ranking on the college football field as one of the best tight ends to ever play at Notre Dame. Mayer is an extremely low-risk prospect with a high floor, but ended up going in the second round. Jaxon Smith-Njigba is a similar type as a wide receiver and went at No. 20. Additionally, one linebacker and zero safeties went in the first round, while teams were reaching on offensive tackles and EDGEs late.
Hold the rankings accountable throughout the process. Football is a developmental sport. There's a bunch of projection involved. With that said, many of the biggest hits were bets on established, stable players who showed up and performed on Friday nights and in neutral settings. There was very little volatility with prospects like Young, Stroud, Bijan Robinson, Skoronski and Smith-Njigba. In hindsight, Bryan Bresee (arm length) and Myles Murphy (arm length, small hands) did not have prototypical measurables across the board, but both still ended up as first-round picks. The draft results from that steady group are night-and-day different from their highly-ranked peers who showed volatility as high school prospects.