#MeansMoreMailbag: SEC East predictions, potential 5-stars in Tennessee's 2023 class, Arch Manning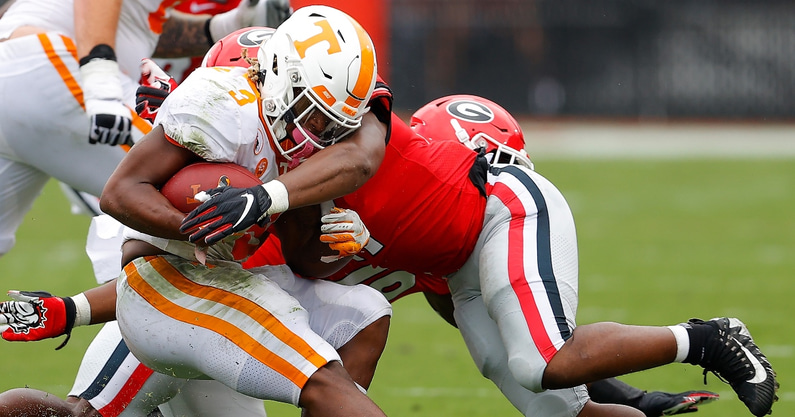 It's time to debut the #MeansMoreMailbag where each week I'll answer your SEC questions. Be sure to fill up the mailbox via a DM or comment on Twitter @JesseReSimonton, email [email protected] or using #MeansMoreMailbag.
On to the questions…
Georgia is the favorite to win the east but who do you see finishing second? Seems like it's wide open. – Jackson
SEC East predictions? – Brooks
We received multiple variations of this question, so I'll combine a couple and knock them out together. 
While the Georgia Bulldogs are the clear frontrunners to win the SEC East for the fifth time in six seasons, who finishes behind UGA is a total tossup right now. 
ESPN's preseason FPI projections have Kentucky coming in at No. 2 with an 8-4 record. But the predictions have Tennessee (7-5), Florida (7-5) and South Carolina (6-6) with houses all in the same neighborhood. And right now, that's what we're looking at here: Taste preferences. 
One house (school) may have a bigger and better master bedroom but another has a spiffier kitchen. 
It's only May, but my early lean is Tennessee to finish No. 2 in the SEC East in 2022. I think the Vols must beat Florida at the end of the September to make this prediction come to fruition, especially with their schedule compared to UK's. 
I understand the hype around Will Levis and the 'Cats, but they had better offensive and defensive lines in 2021 — and still lost to the Vols. 
You can make an argument for South Carolina or Florida with an outside shot at finishing second, but their cases have more obvious holes. 
How I currently see the SEC East shaking out:
Georgia
Tennessee
Kentucky
Florida 
South Carolina
Missouri
Vanderbilt
It seemed like college football was headed towards just becoming a Fox backed Super B1G vs the expanded ESPN backed SEC. Now there's rumblings about a resurgent USC and possibly Miami. What else needs to happen to preserve the regional diversity of the sport?
– Billingsley 
Nothing like some resurgent rumblings! Welcome to the college football offseason! 
As for your question: We might still be headed toward your Fox (Big 10) vs. ESPN (SEC) showdown — regardless of what happens at USC or Miami. 
All the upcoming media rights deals (with the Big 10 up first and set for a blockbuster agreement come the end of the month) are the central component to the sport's future. 
Expanding the College Football Playoffs is most folks' natural answer to your concern about preserving regional diversity within the sport. Now, I am not a fan of an expanded playoff because I believe that it would sully sports' greatest regular season, but it would keep more conferences and schools in the conversation. 
Notice I didn't say it would change championship outcomes. The same handful of schools would still win the title every year, and an expanded playoff only strengthens their stronghold on the sport. 
So would the sport's regional diversity really be preserved with expansion? Kinda?
As SEC commissioner Greg Sankey said recently, a 12-team model would at least be more "equitable, and engage fanbases differently."
It's one of the reasons why the SEC originally voted in favor of the expanded 12-team playoff proposal despite "thriving" in current four-team model.
But ultimately, not much would change much for Group of 5 conferences like the Sun Belt, Mountain West or AAC. Would MACtion suddenly become more relevant with expanded playoffs? No.
It won't happen by 2026 (at least I don't think so) but what's best for the health of the sport is if the major power brokers eventually form their own super league and play for a championship, and the schools on the outside looking in (Group of 5 + remaining ACC, Pac-12, etc. stragglers) have their own playoff. There can still be non-conference games between Memphis and Ole Miss, but they simply wouldn't be competing for the same trophy at the end of the season. 
How many 5-star prospects will Tennessee get in this class?
– Davis
With 5-star Cali quarterback Nico Iamaleava already in the boat, Tennessee has a chance to sign its best recruiting class in a decade.
Iamaleava has pied piper qualities, and his mere presence on the Vols' 2023 commit list has lots of other blue-chip prospects excited about the future on Rocky Top. Add in Tennessee's aggressive and forward-thinking Spyre Sports NIL Collective and suddenly the Vols are a popular team for 5-stars like IMG Academy teammates Carnell Tate and offensive tackle Francis Mauigoa. They're also heavily in the mix for guys who could become 5-stars like pass rushers Chandavian Bradley and Vic Burley.
It's early, but I bet the Vols land at least two 5-stars in the 2023 class — Iamaleava and someone else.
That may not sound like much given all the Nico Mania, but that would be as many 5-star signees Tennessee has had in its last five classes combined. 
You wrote that Missouri should target Gerry Bohanon in the transfer portal but he just picked USF. So what do the Tigers do now at quarterback?
– Harrison 
Eli Drinkwitz clearly wants to upgrade Mizzou's quarterback room before the 2022 season — both for depth and competition purposes — but after Bohanon opted to transfer to South Florida instead, Drinkwitz might be out of suitable options. 
The Tigers essentially had two scholarship quarterbacks splitting reps this spring (Brady Cook and Tyler Macon), with 4-star freshman Sam Horn not set to arrive in the fall. 
So Drinkwitz recruited transfer quarterbacks Bohanon, the former Baylor quarterback who helped led the Bears to the Big 12 title last season, Jayden Daniels and JT Daniels.
He went 0-for-3. 
Now what?
There's really no attractive options remaining in the transfer portal. The well-travelled Grant Gunnell (formerly at Arizona and Memphis) could've at least been an arm added to the room, but he's no longer an option either. For now, the Tigers look like they'll have to roll with Cook and Macon battling it out this fall.
There was hope that Horn could enter the mix once he arrived on campus, but suddenly there's a question as to whether he'll even play college football. A two-sport star, Horn has been linked as a potential 2nd or 3rd round pick in the upcoming MLB Draft.
Just last week, Drinkwitz just landed 2023 4-star quarterback Gabarri Johnson, which many saw as a high-upside insurance plan should Horn never make it to campus. 
The Tigers have a lot of things right on their roster entering 2022, but quarterback remains a glaring uncertainty entering the fall.
Come on, tell us where is Arch Manning is going? 
– Chris 
That's a question for On3's esteemed recruiting analyst Chad Simmons, but even his prediction in the On3 Recruiting Prediction Machine might be a little cloudy right now on the 5-star quarterback.
Truly, who knows? Texas has lots of juice but three SEC schools — Georgia, Florida, and Alabama are all potential landing spots for the No. 1 player in the country.