Weekend visit preview: Arch Manning tour begins, key recruits at UF, PSU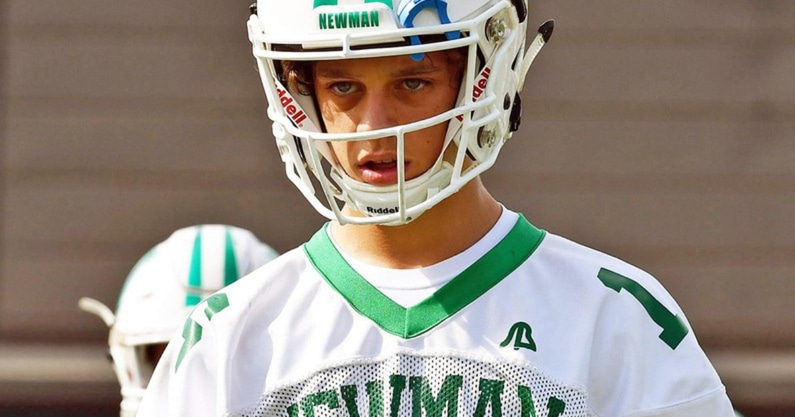 Both Florida and Penn State are expected to host massive visit weekends, but the eyes of the college football recruiting world will be on Athens. That's where No. 1 junior recruit Arch Manning will take an unofficial visit to Georgia.
On3 previews the top recruiting trips scheduled for the weekend and breaks down the most important visits.
Arch Manning fall 2021 tour begins
Isidore (Louisiana) Newman five-star quarterback Arch Manning is planning visits to Georgia, Alabama, Clemson, Texas and Ole Miss this fall.
The five-star nephew of NFL greats Peyton and Eli Manning is planning to visit Georgia first on Saturday for the Bulldogs' matchup with South Carolina.
The uncommitted Manning then plans on visiting Alabama for the Tide's game against Eli's alma mater Ole Miss on Oct. 2. Two weeks later, Manning will visit Texas for the Longhorns' matchup with Oklahoma State on Oct. 16.
The 6-foot-4, 215-pound Manning will visit Ole Miss the following week for the Rebels' matchup with LSU on Oct. 23. Ole Miss, the alma mater of Eli Manning and Arch's father, Cooper, will be retiring Eli's jersey that weekend.
Georgia getting him on campus first this fall creates a massive opportunity for the Dawgs to make a big impression. Manning said he likes the UGA offense. He also called Athens "probably the coolest college town there is."
Key in-state targets also visiting UGA
Along with Manning Watch, UGA is expected to host four-star TE Oscar Delp of Cumming (Ga.) West Forsyth and four-star DT Christen Miller of Ellenwood (Ga.) Cedar Grove on unofficial visits.
Delp is making an October decision. The Dawgs appear to be in the driver's seat over South Carolina, Clemson and Michigan. Miller was at Ohio State last weekend. But most project the Dawgs as the team to beat.
They'll be joined by On300 IOL Earnest Greene of Bellflower (Calif.) St. John Bosco. Greene is making an official visit. UGA is battling Ohio State, Texas, Alabama and USC for him.
Also making an official visit is On300 OT Elijah Pritchett of Columbus (Ga.) Carver. Florida State is projected as the leader over Alabama for Pritchett. But the Dawgs do have a chance to turn it around this weekend.
EDGE Enai White of Philadelphia Imhotep Institute is a top out-of-state target also expected this weekend in Athens on an unofficial visit. He was on campus in the summer for an official visit. The Dawgs are right there with Alabama and Ohio State.
A good group of underclassmen is also expected in Athens, including top 40 junior DL Kelby Collins of Gardendale, High, top 50 junior RB Rueben Owens of El Campo, Texas and coveted junior RB Justice Haynes of Roswell (Ga.) Blessed Trinity Catholic.
UF ready to host massive list of top targets
Florida hosts Alabama in one of the most anticipated games of the weekend. It's no surprise that Dan Mullen's crew is expected to host a long list of visitors in The Swamp.
The Gators are not expecting to host any official visits this weekend, instead choosing to bring those visitors in next week when Tennessee comes to town. But don't let that fool you. This is an important list of recruits. The Gators are looking to make a big impression on some key targets.
Evan Stewart of Frisco (Texas) Liberty is the fifth-ranked player in the country, the No. 1 receiver and the most coveted recruit on the Gators' board. He's the teammate of four-star Florida quarterback commitment Nick Evers. There's intel the Gators have a legit chance to reel in Stewart.
Having Stewart in The Swamp with Evers is a big deal and a chance for UF to gain some big momentum. This will be Stewart's third visit to Gainesville.
Fresh off what his family called an "impressive" and "overwhelmingly positive" visit to Michigan, five-star defensive lineman Walter Nolen of Powell (Tenn.) High will be in Gainesville for an unofficial visit.
Nolen, the No. 4 player in the On300, already took an official visit to Florida. This is another opportunity for the Gators to show they're a factor in his recruitment.
Five-star DL Mykel Williams of Columbus (Ga.) Hardaway might be at The Swamp, according to his family. The five-star USC commitment has been looking at other programs, especially Georgia. The firing of Clay Helton has kicked that exploration into high gear. His family told On3's WeAreSC they're thinking about visiting Florida this weekend.
Owasso (Okla.) High four-star Chris McClellan remains one of the most heavily pursued defensive linemen in the country. His visit to Gainesville will give Florida a chance to get some momentum in his recruitment after seemingly slipping behind Alabama, Ohio State and Oklahoma.
White Out weekend big opportunity for Penn State
Penn State's White Out game – dubbed by Sports Illustrated as "perhaps the single greatest atmosphere in American sports" – has always been a big recruiting lure for the Nittany Lions.
The same is true with the 2021 version, too.
Penn State expects to host at least four official visitors for the White Out game, including On300 safety Larry Turner-Gooden of Mission Hills (Calif.) Bishop Alemany.
Turner-Gooden is an Arizona State commitment, but he's been vocal about looking at programs like USC and Penn State. With the movement at USC, the door could be open for the Nittany Lions to make a move.
The other big-name target scheduled to be on an official visit is consensus four-star LB recruit Jaishawn Barham. South Carolina, Florida and Maryland are heavily involved, too. But the official visit is big for the Nittany Lions.
With Penn State's class 2022 class already almost full, the White Out weekend will be more about impressing underclass targets. More than 20 players with offers from Penn State in the 2023 class will be at the game.
The biggest name in the bunch is five-star EDGE Nyckoles Harbor of Washington (D.C.) Archbishop Carroll. The 6-5, 225-pound Harbor already has more than 25 offers. He lists Penn State in a top group along with Maryland, Michigan, Oklahoma, Oregon and South Carolina.
Then there are the two junior quarterback targets – Dante Moore of Detroit Martin Luther King and Jaden Rashada of Pittsburg, Calif. Both have Penn State offers. Both say they're fired up about the trip.
Key visitors tripping to OU
Oklahoma is using its hyped-up game against old Big 12 Conference rival Nebraska to host a handful of must-get recruits. This includes On300 four-star CB Gentry Williams of Tulsa (Okla.) Booker T. Washington and On300 OT Kam Dewberry of Humble (Texas) Atascocita.
Both players are key pieces of what could turn into one of the best-recruiting classes ever at Oklahoma. Williams has been trending toward the Sooners over USC and Arkansas. Dewberry was projected toward Ohio State this summer. But the Sooners now have a great shot with him.
Kentucky to host top-10 junior
Alpharetta (Ga.) Milton five-star junior EDGE Lebbeus Overton is scheduled for an unofficial visit this weekend at Kentucky.
While most of the focus has been on Alabama, Georgia, Oklahoma, Texas A&M, Ohio State and Clemson, Kentucky is team to watch in the race to land Overton. His mother played volleyball at UK. The family is expected to stay in Lexington throughout the weekend.
Other notable visits
+Top 25 national recruit Brenen Thompson will make his final official visit of the process this weekend. Texas hosted Thompson, mother and grandmother in June for an unofficial. Texas now gets the opportunity again officially. The speedy receiver from Spearman, Texas, has a final three of Texas, Texas A&M and Oklahoma State.
Texas has targeted Thompson since Steve Sarkisian and Jeff Banks arrived in Austin. The Longhorns have a true need for playmaking speed on offense. He may make an unofficial to College Station for the Alabama game prior to announcing a decision. That could could come in October.
+Junior OT Zach Rice of Lynchburg (Va.) Liberty Christian Academy will be at North Carolina to watch the Tar Heels host Virginia. The two teams are high on Rice's list, along with Notre Dame, Ohio State and Alabama. UNC hopes to make a positive impression against a team it is recruiting head-to-head against with a decision coming sometime in October for Rice.
+A pair of five-stars are expected on campus at Miami. Local five-star DL Shemar Stewart of Opa Locka (Fla.) Monsignor Pace is unofficially visiting for the second straight weekend. Also expected to visit is five-star DL Anthony Lucas of Scottsdale (Ariz.) Chaparral. Miami is the projected team to beat with Stewart. Both of Lucas's parents went to college in the South Florida area, with his father attending Miami.
+Keep an eye on Justyn Martin's official visit to Ole Miss this weekend. Despite being a longtime Cal commit, Martin, a top-15 quarterback and four-star recruit, is very interested in the Rebels. A flip is possible this weekend.