5 names to watch with fast-rising On3 NIL Valuations in Week 4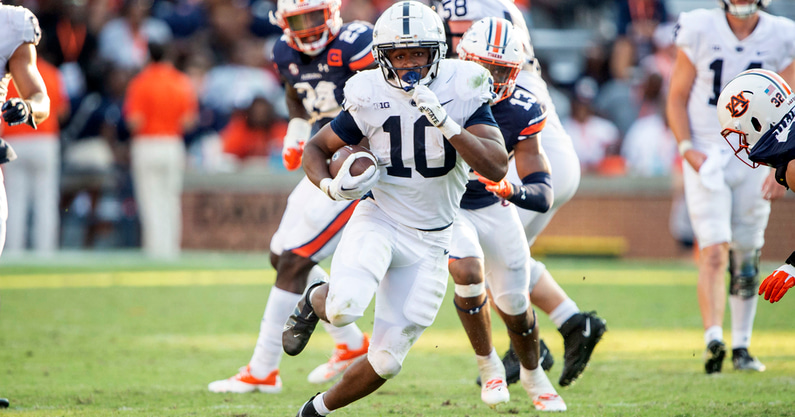 As we've seen already this college football season, success on the field can quickly lead to success in NIL value increases. For example, C.J. Stroud, Bijan Robinson and Stetson Bennett IV have done well on the field this season and also executed new deals. But they aren't the only example. There are players all over the country that are seeing their On3 NIL Valuations soar after strong starts to the season.
Here's a look at five players that shot up the charts in the On3 NIL 100. The On3 NIL 100 is the first of its kind and the defacto NIL ranking of the top 100 high school and college athletes ranked by market valuation.
UGA enters top 10 On3 NIL Valuations in big way ahead of Week 4
Nick Singleton
Position: Running back
On3 NIL Valuation: $492,000
Increase over last week: $424,000
On3 NIL 100 ranking: 88
Per Post Value: $647
There were lofty expectations coming into the season for Penn State true freshman running back Nick Singleton. He was an On3 Consensus five-star recruit and the Gatorade National Player of the Year coming out of Reading (Pennsylvania) Governor Mifflin. But few could have predicted the type of immediate impact he's made for the Nittany Lions. Singleton went off yet again in Penn State's 41-12 win at Auburn. He rushed for 124 yards and two touchdowns on just 10 carries on Saturday. Singleton showed off his unique burst and big-play ability ripping off runs of 53 and 54 yards in the second half, with the latter going for a touchdown. Singleton's average yards per carry (11.3) is the highest in college football through three games. That immediate success, buoyed by a robust Penn State NIL market, should translate to an even higher On3 NIL Valuation and more deals in the coming weeks. Currently, Singleton is only known to have deals with West Shore Homes, Mi Windows and Four Diamonds with a focus on helping "conquer childhood cancer."
BJ Ojulari
Position: EDGE
On3 NIL Valuation: $714,000
Increase over last week: $309,000
On3 NIL 100 ranking: 42
Per Post Value: $532
LSU EDGE BJ Ojulari returned to action last weekend against Mississippi State after suffering an injury in Week 1 against Florida State. He made a monster impact for the Tigers, racking up four tackles, 2.5 tackles for a loss and 1.5 sacks. Ojulari is a team leader for the Tigers who makes an impact on teammates, classmates and on the Baton Rouge community on a daily basis. He also wears the coveted No. 18 for the Tigers. And yes, this is a true story, he is the grandson of a Nigerian prince. He also has a big following of 16,000-plus on Instagram. All of this leads to a massively growing On3 NIL Valuation of $714,000. It could grow even more because Ojulari hasn't struck many deals up to this point. So, when he executes more deals, it'll surely mean more.
Brock Bowers
Position: Tight end
On3 NIL Valuation: $1.1 million
Increase over last week: $273,000
On3 NIL 100 ranking: 13
Per Post Value: $1,500
Georgia tight end Brock Bowers destroyed South Carolina last weekend, finishing with five catches for 121 yards and two touchdowns. He also added a 5-yard rushing score, the second of his career. For his play, he earned SEC Player of the Week honors. That success continues to buoy an already strong On3 NIL Valuation that is now at $1.1 million. Bowers has built a successful NIL brand through a handful of deals with companies like NOBULL, Zaxby's and Associated Credit Union. He's also been savvy about who he's dealing with, so Bowers' deals tend to get more bang for the buck.
Michael Penix Jr.
Position: Quarterback
On3 NIL Valuation: $383,000
Increase over last week: $208,000
On3 NIL 100 ranking: 84
Per Post Value: $570
Washington quarterback Michael Penix Jr. put himself in contention for the Heisman Trophy with the Huskies' signature win against Michigan State last weekend. The Heisman hype seems real with a stat line like this – 1,079 passing yards (first in the Pac-12 and second in the nation), 10 touchdowns (first in the Pac-12 and fourth in the nation), 66% completions and an interception. It accompanies an offense that cracks the top 10 nationally in yards per game (548.3, 4th), first downs (85, fifth) and third-down conversions (56.1%, ninth). Penix now has an On3 NIL Valuation of $383,000, which is an increase of 586% over the past 14 weeks. He's another player with a short list of known deals, so there's a real potential to make an impact with partnerships this season.
Jayden Daniels
Position: Quarterback
On3 NIL Valuation: $445,000
Increase over last week: $178,000
On3 NIL 100 ranking: 67
Per Post Value: $1,000 Through three games since his arrival from Arizona State, LSU quarterback Jayden Daniels has thrown for 556 yards and six touchdowns. He put on a show last weekend against Mississippi State on ESPN with 210 yards passing and 93 yards rushing and two total touchdowns. This success has sparked his On3 NIL Valuation to soar more than 321% over the past 14 weeks to $445,000. He recently inked a new NIL deal with The Athletic Collection for an "augmented reality poster" and more deals are surely on the way with his achievements on the field.