Oklahoma's Dillon Gabriel explains approach to NIL as a quarterback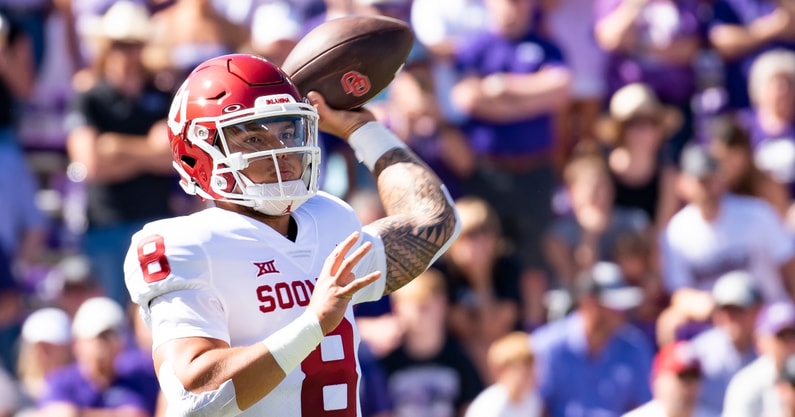 After Oklahoma quarterback Dillon Gabriel arrived in Norman, Oklahoma, following his transfer from UCF in January 2022, Gabriel utilized some of his name, image and likeness partnerships during two retreats to get to know his new teammates better. He described one NIL-funded event as the "Dime Time" retreat — a phrase that also appears on apparel from his clothing brand DG The Brand.
The guest list featured Oklahoma's quarterbacks, wide receivers, tight ends and running backs. The second event was catered to the team's offensive linemen.
"They were just really important and also very necessary for culture building and me coming in as a transfer, building those connections," Gabriel said in a Zoom interview with On3. "Getting closer to those guys. That was a big emphasis for me because I'm going to be the guy they're looking to and are going to be hearing from, and I want them to be able to believe in me as a person on and off the field."
Oklahoma's quarterbacks and skill position players rented an Airbnb property for a weekend and they held two throwing sessions. The players barbecued together and ate together. They went to a lake.
"NIL did help fund that," said Gabriel, while wearing a DG The Brand shirt. The acronym, which matches his own initials, stands for "Dedicated to Greatness."
More than a year and a half into the NCAA's NIL era, only eight percent of the more than 1,000 Division I athletes who responded to a recent survey said their newfound NIL rights have caused locker room problems.
On the contrary, high-profile athletes, such as Power 5 starting quarterbacks like Gabriel who stand to benefit more than most of their peers, have used their NIL opportunities to support their teammates, as well as causes or organizations that are important to them.
"I think that's truly built off just an individual's thought process but also it makes sense when it comes to building team culture," Gabriel said. "You know, kind of like in the pros, when everyone kind of knows the positions making the most amount of money, and those kinds of guys looking out [for their teammates]."
Dillon Gabriel's deals allow him to 'give back'
Through a previous NIL deal with Gabriel, Hal Smith Restaurants helped provide meals for the "Dime Time" retreat, according to Steven Smith, who represents Gabriel as an NIL Talent Manager for Malka Sports. Bob Moore Auto Group provided a "tricked-out" Ford F-450 that Gabriel has driven, including during the retreat.
"I've been with Dillon since the very beginning at UCF," said Smith, who was named UCF's Football Director of Player Development in December 2017.
Gabriel spent three seasons at UCF, where he threw for 8,037 yards and 70 touchdowns in 26 games.
The retreat with Oklahoma's offensive linemen started with an early breakfast before they boarded a boat. Waiakea Water provided water and Norris Marine assisted with the players' day on the water.
"He had done an NIL deal," Smith said. "He made sure that in the contract that there was some language that allowed for him to give back to his teammates, and I think that's important for a lot of student-athletes in space. Not only going (and) getting the money for yourself, right, because now you can but how can you create an experience that goes beyond that initial payout? … All of those different partnerships that are local to Oklahoma, helped make this event that he wanted to organically be even that much better than what it was."
Gabriel funded new basketball uniforms at Mililani High School
Smith said one of the first things Dillon Gabriel did after the NCAA's interim NIL policy took effect July 1, 2021 was that he put aside money to give back to the boy's basketball program at Mililani High School, Gabriel's alma mater. His father Garrett Gabriel, a former quarterback at Hawaii, is the boy's basketball head coach and his brother Roman plays on the team.
Last May, Gabriel presented an $8,000 check during an annual athletics award ceremony. He later received a video of the moment when the players received the Nike jerseys that his donation funded through a partnership with BSN Sports. Gabriel said Mililani High School's coaching staff also received polos, tracksuits and hoodies.
"Even my dad calling me and being like, 'Man, these uniforms are sick,' I know that that can spark some type of positivity in their lives, whether it's motivation, whether it's whatever it is," Gabriel said. "I truly believe, you know, look good, feel good, play good. The whole thing. Like I said, I just wanted to have a positive impact on them."
After Oklahoma played Florida State in the Cheez-It Bowl, Gabriel returned home to Hawaii. He watched four or five Mililani High School games, which means he saw the team wear all three sets of uniforms that his donation funded. Billy Sweginnis, one of Gabriel's good friends, designed the uniforms with creative input from Gabriel.
"Seeing like a dream and a graphic come to life, for me, that's, like, fun," Gabriel said. "I love that and being able to see something on paper. You know, be able to feel it and see it."
Gabriel has also donated money to fund uniforms for players on 7-on-7 football teams.
Dillon Gabriel is 'building his brand' in his free time
Gabriel's list of current or past brand partners includes Addition Financial, EvoShield, Old Spice, Rock 'Em Socks, Sonic and Topps. Rock 'Em Socks also donated socks to Mililani High School.
"Those were kind of ones that set the table," Smith said.
Gabriel has signed with the Oklahoma-aligned NIL collective Crimson and Cream, which has offered a contract to every Oklahoma football player.
Smith said Gabriel has also done several private autograph signings and appearances. Smith said his job is to bring Gabriel as many potential deals as possible. Gabriel described their relationship as "pure and genuine." He said he and Smith know each other's values, which allows Gabriel to focus on football.
"I think just having that in my corner, it makes the job a lot easier like I said, so I can just play ball but still get things done on this side of things," Gabriel said.
When opportunities are available, they're able to decide which ones make sense for both Gabriel and the corporate partner. Gabriel has then donated a portion of his proceeds to benefit participants in youth sports.
"He's a starting quarterback," Smith said. "He's taking money that he's earning from NIL that he otherwise wouldn't be able to receive without NIL being passed and in his free time, he's not out clubbing, going out and causing a scene. In his free time, he's building his brand. He's using NIL the way that I think it was designed to be used and not a lot of people are getting that side of it.
"How is this young, 21-year-old man creating a business that will sustain years after he's done playing? I think that's the key and the crux to it too."
Dillon Gabriel: 'It's beautiful that we get to learn this'
In early January, Gabriel announced his return to Oklahoma for the 2023 season, his fifth year of college. He's one of several high-profile starting quarterbacks who are taking advantage of their fifth, sixth or even seventh year of college.
That list also includes Oregon's Bo Nix, Washington's Michael Penix Jr., Florida State's Jordan Travis, LSU's Jayden Daniels and UTSA's Frank Harris. Those players include five of eight starting quarterbacks whose On3 NIL Valuations increased the most during the 2022 regular season.
"I think it's beautiful that we get to learn this at a young age where I guess it's not as big (as) NFL money," Gabriel said. "I mean, who knows where it will get but I think it's good that we get to learn finances, learn how to manage money and be smart with that. You know, you get to learn it in college rather than when you get to the NFL and you get a $30-million check.
"You know, some guys could probably make the same mistakes they do now but at least you get to learn them at a time that's a little more — I don't know — safe. I think NIL is good for a lot of guys but we just have to continue to educate, learn and grow together because it is different and it's changing and it's adapting, I mean, every year with new rules. I'm a fan of NIL because of the good things and I want that to be the main focus because I do truly think there can be good from NIL as you see with [Oklahoma quarterback] General [Booty], as you see with guys giving back. That's the good side of things and let's emphasize that."