Oklahoma-focused Crimson and Cream announces teamwide NIL deal for football roster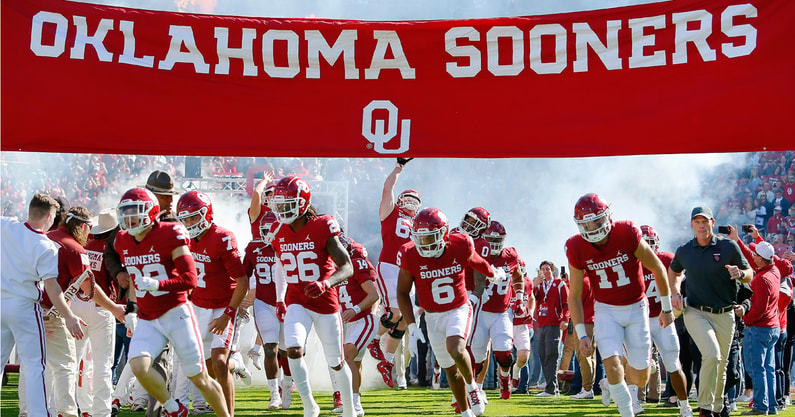 After it was launched in September, Oklahoma Sooner-focused NIL collective Crimson and Cream embarked on an ambitious fundraising campaign that generated $1.6 million in annual donations. Now the collective is putting those funds to use.
Crimson and Cream announced Friday it's signed or has offered a NIL deal to the entire 115-member Sooner football roster. The deals include every player currently on scholarship, walk-ons, transfers and even mid-year recruits enrolled for the spring semester. Starting quarterback Dillon Gabriel announced he had officially signed with Crimson and Cream on Friday.
The announcement is a significant sign the Sooners are becoming major players in the NIL ecosystem after fans have seen how deals have impacted roster management and player retention with top programs across the country.
"Every single student-athlete – scholarship or non-scholarship walk-on — are getting this opportunity," Crimson and Cream and CEO Jason Belzer told On3.
"Everybody. All the portal kids. All the mid-year freshmen that are enrolling early. I don't know what other schools have done. But I think we're the first – if not one of the first – school to have everybody on a FBS roster fully signed to what is a multi, multi-million-dollar payroll."
Belzer said more than half the team has already officially signed NIL agreements with Crimson and Cream. He said he expects the rest of the roster to have deals executed over the next couple of weeks. The contracts are retainers and a marketing guarantee in which the student-athlete will promote businesses brought into the collective. The student-athletes will make a baseline minimum through the agreement.
Oklahoma deal a sign of the times with NIL
This isn't the first teamwide deal by Crimson and Cream. In mid-October, the collective announced it signed the entire men's basketball team to NIL deals.
Plus, there have been other teamwide football deals announced inside the Sooners' recruiting footprint. For example, The Matador Club at Texas Tech turned heads with its roster deal for $25,000 annually. SMU's Boulevard Collective announced partnerships on both the football and basketball side for $36,000 a year for NIL activity. Plus, Startup Waco announced a teamwide NIL opportunity for the Baylor football team.
But the move by Crimson and Cream – especially one that includes walk-ons, transfers and midyear enrollees from the 2023 recruiting class – is something that will surely help the OU coaches sell to prospects that there's a unique NIL opportunity in Norman.
"Signing an entire roster to NIL deals this quickly after new players arrive on campus is a big deal and is how smart collectives will operate in the future," Mit Winter a sports attorney and NIL expert at Kennyhertz Perry LLC, told On3.
"Focusing on the entire current roster has a couple of benefits. One, it keeps all of the players happy. If you have a situation where only new players are signing deals, that can quickly lead to issues with team dynamics. Two, it's extremely helpful for coaches when they're recruiting. As we all know, coaches and collectives aren't supposed to promise specific deals to induce a player to commit.
"When the entire roster has deals with a collective, coaches don't need to promise deals. It allows them to talk about the deals that current players have and to talk about the opportunities that might await once a recruit steps foot on campus."
More deals like this on the way?
Sports and entertainment attorney David McGriff told On3 this type of teamwide deal could signal another shift in the development of NIL.
"I love the move because not only is it uniform, it alleviates some of the uncertainty for those student-athletes as to how they are going to find their own opportunities," McGriff said. "It's fair to say that many student-athletes are unsure of how to get started in this space. Deals like this take away some of the guesswork."
Winter agrees.
"Assuming they have the resources, I think we'll see more collectives follow this model," Winter said. "And not just with football. It works with any sport."