NIL Has Fans, Coaches, and Administrators Anxious About the Future of College Sports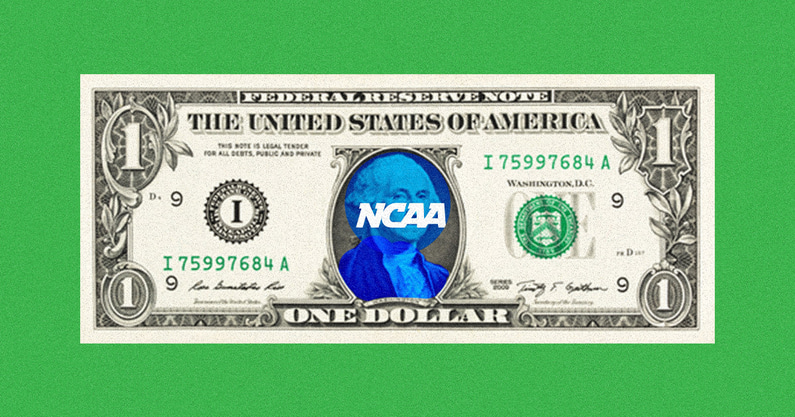 NIL, which is short for Name Image and Likeness, has taken over the conversation in college athletics. Some people are excited about these changes, believing they're what's best for student-athletes. Others have concerns about how these changes are going to impact the sports that they love. In particular, coaches and administrators are concerned about how these changes are going to impact their jobs and futures within college sports. For many, it's reports that say 3-star players are signing non-exclusive NIL deals in the range of $500,000 that create a panic. So, importantly, why is NIL concerning, why should it be concerning, and what does the future hold?
Why NIL is concerning to some
Of the new NIL era, Alabama head coach Nick Saban said, "You can basically buy players." His frustration comes from how he feels recruiting has changed in the past year. Of course, this came after a recruiting cycle where Texas A&M seemed to be dominating through the use of NIL, despite rules against pay-for-play in NIL deals. Ole Miss head coach, Lane Kiffin, was critical, saying, "It is what it is. I joked the other day I didn't know if Texas A&M was going to incur a luxury tax and how much they paid for their signing class." It was typical Kiffin, mixing in a joke with his criticism. It angered Texas A&M head coach Jimbo Fisher who argued you shouldn't credit their recruiting class to NIL.
But, why would Fisher deny it? Wouldn't that show to future recruits that you're serious about NIL?
Well, yes, but Fisher doesn't like that. He wants to be known as a great coach and recruiter. Crediting NIL would take that away from him, in a way. At the same time that he embraces these changes, he fears them too. They're adjustments that he has to make to his job too. If he fails long-term, the criticism will be extreme.
Georgia's Kirby Smart has more of an existential fear, as he's worried about the future of college football as a whole. Smart said, "I think it's great…But at the same time, we have to be smart about it. My first question is, is it sustainable, is it real, are people overpromising, and are kids making decisions based on the wrong things? I certainly don't think you should make a decision based on NIL money alone." The concern being that players might make poor long-term decisions based on money. In turn, his concern is that college football and sports, in general, will lose what makes them unique. The passion players have for their school. If that's gone, then fans will lose interest going forward too.
This is similar to the concerns that a lot of fans have. If you fundamentally change an aspect of college athletics, then doesn't the product as a whole have to change too? If that product changes, then there's a chance it will be worse and fans will lose something they adore.
Players are embarking into murky waters
For the current generation of student-athletes and recruits, they are moving into an unclear space. Some might charitably describe them as pioneers, but as anyone who has played 'Oregon Trail' can tell you, that doesn't always end happily. With new collectives and opportunities, players and their families are being offered large amounts of money. This can seem great, but contracts and legal language can potentially entrap players as well. One deal might make you exclusive with a group for your time in college. Others are going to have some kind of requirement that you're not ready to commit to but didn't realize upon signing.
Because of this, players need to have a better legal understanding than ever before. On top of that, players now need to take on new tax requirements that they never had to before, oftentimes in states they don't live in and under unique circumstances.
Some players are going to make a ton of money from NIL. That much is clear from reports of some players making seven figures before stepping foot on a college campus. Someone like Arch Manning is going to make millions in college. Plenty, however, are only going to make a few dollars. Remember, it's not just football and basketball players getting NIL deals. Everyone in every sport can. That means someone who swims in college can make some money running a camp during breaks. Those deals aren't making headlines, but they're incredibly helpful to student-athletes. At the same time, they're in just about the same boat of unclear laws and regulations.
Pandora's Box has been opened
As many concerns as people have, and as many real challenges as are being faced, there's no going back now. Frankly, it shouldn't go back, either. Players deserve to be able to make money off their Name Image and Likeness. College sports, in many ways, are the last place in American culture where you can't make money, but your bosses can.
The United States Supreme Court has also made it clear that it is no fan of the NCAA's model. Justice Brett Kavanaugh has written, "Nowhere else in America can businesses get away with agreeing not to pay their workers a fair market rate on the theory that their product is defined by not paying their workers a fair market rate, and under ordinary principles of antitrust law, it is not evident why college sports should be any different."
So, NIL is the future of the sport. Now, is the time to look forward. There are going to be changes to the NIL landscape that are relatively difficult to predict. Most people expect the NIL market to find its balance. At some point, those spending big money on young and unproven players are going to realize that they're making bad bets. They should, hypothetically, spend less then. At the same time, the coaching market hasn't cooled off yet, so why should the market on players? Still, there is a push for new regulations to standardize NIL practices going forward.
College athletics need to protect their future with NIL
The purpose of legalizing NIL was always to do right by the players, regardless of how it impacted the sport. However, with that being said, there are going to be predators trying to take advantage of young players. Corrupt middlemen and those with interests aside from the players themselves are going to try and abuse this new system. Remember, we're talking about teenagers negotiating with collectives and corporations. They're vulnerable, still.
So, any new rules that come into place should remember that the student-athletes are still the ones who need protection overall. Furthermore, it's important to recognize that this could be an early step down the path to making student-athletes employees of their respective universities.
So, the future is unclear. What we do know, is that there isn't an opportunity to go backwards, only forwards. More changes are going to come to the college sports world. However, until that happens everyone still needs to decide how to approach NIL in its current structure.