How Transfer Players Can Take Advantage of NIL Opportunities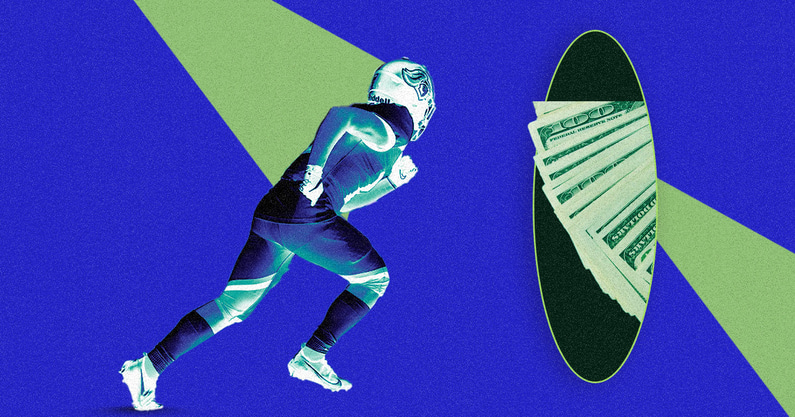 In the last few years, there has been a massive push for student-athletes' rights and against the NCAA. There are a few different ways this is plainly seen. NIL is the obvious and big one, as players can now receive compensation for things relating to their Name Image and Likeness. However, another huge change that has impacted coaches and players is the new one-time transfer rule.
The ability to transfer and take advantage of your NIL are both brand new and they go hand-in-hand with one another. Here's how:
What is the one-time transfer rule?
In April 2021, the NCAA Board of Directors ratified new one-time transfer legislation. This allows players to enter into the transfer portal and move to a new school or program and immediately play for that new team. This had been a long time coming and was much anticipated by fans and players. For coaches, it was much lamented, but it came anyway. Immediately, there was a rush of players heading to the transfer portal.
Players can transfer once as an undergraduate student without sitting out. They can also transfer once as a graduate student without sitting out. Transferring without sitting out as a graduate student isn't new, but it does mean that a player could hypothetically transfer twice without sitting out. Players may also enter the portal more than once as an undergraduate student, but if they transfer for a second time then they do have to sit out a season.
The one-time transfer rule, in essence, allows student-athletes to do something every other player on their campus has always done. They can move from school to school without being worried about losing a year. However, it has also created changes to the sports world. Coaches need to consistently recruit players on their own team and they can't lie or mislead players in recruiting. Then, when a coach does leave, there is often an exodus of players following them to a new school.
That's what happened with Lincoln Riley, as he left Oklahoma for USC. Several players, including star quarterback Caleb Williams, followed him. In response to criticism, Riley said, "We didn't take players from Oklahoma, we took players from the transfer portal." Riley also noted that for coaches it's easier to evaluate from the transfer portal than from high school.
What were things like before the one-time transfer rule?
Before the one-time transfer portal, players would need to sit out a year before they could play for the school they transferred to. The argument was that players needed time to adjust to their new school, so they had to sit out. This clearly contradicted with letting freshmen play. However, there were a few ways to get around sitting out a season. For one, graduate transfers didn't have to sit out. So, hypnotically, if you got your degree in three years and took a redshirt, you could transfer with multiple years of eligibility. Otherwise, you could try and apply for a waiver.
Having a waiver process seemed to make sense. The problem was that the process was unclear and highly criticized. Some players, for seemingly very little hardship, would get waivers. Others, who clearly had a hardship, didn't. The process was, in turn, often criticized for giving the benefit of the doubt to high profile players over lesser known athletes. The most famous example of this was when Justin Fields transferred from Georgia to Ohio State. His mitigating circumstance was never clear. Meanwhile, Luke Ford transferred from Georgia to Illinois to play closer to his dying grandparents, he was denied a waiver.
It was failures in the waiver process that largely created public sentiment in favor of the one-time transfer rule.
How does this new rule interact with NIL?
The new one-time transfer rule directly interacts with another new rule in college athletics, NIL. NIL stands for Name Image and Likeness, and it refers to a player's ability to monetize themselves. With several states making NIL legal, the NCAA relented instead of taking on another prolonged and doomed legal battle. Combined with the new and relaxed rules surrounding transfer players, these two rules represent a seismic shift in terms of players' rights.
By now, it's clear that players transfer for numerous different reasons. Sometimes, a coach leaves and they want to follow their old coach or simply don't want to play for a new coach. Other players may get homesick or realized they're not in the right school to fit their needs. Sometimes, they may have felt misled for one reason or another. Now, players can also transfer for new NIL opportunities.
Cameron Ward, formerly of Incarnate Word, transferred to Washington State. Reportedly, a member of Washington State's Cougar Collective wasn't shy in saying how much they felt Ward was worth. He is getting $90,000 in NIL deals. Now, it's important to remember that pay for play still isn't allowed. So, that money needs to be in exchange for something like autographs or a charitable appearance. Make no mistake, though, the Washington State collective helped land Ward for the Cougars.
Ward isn't alone, either. There are NIL opportunities for numerous transfer players. Players can move to bigger markets and have more access to deals or a larger fanbase to build up their own following. Quinn Ewers is another, unique, example. The former five-star quarterback reclassified and went to Ohio State early, landing a $1.4 million NIL deal there, according to reports. He left for Texas, where he likely earned another NIL deal and will have plenty of future opportunities to do so.
What is going to be interesting is what relationship NIL Collectives have with transfer players. NIL Collectives are brand new, and not every team has one, though many are developing them. Essentially, a NIL Collective is a group of boosters who come together to raise funds for NIL opportunities for players. Depending on the collective, there are different goals in place. This means how they spend and how much they spend varies. However, it's clear that these collectives are helping in recruiting when you look at situations like Cameron Ward's.
What does the future hold?
Predicting the future in college sports is a good way to go out of business, but there are a few things that are clear. In both the one-time transfer rule and NIL, coaches and administrators are pushing for more regulation and new rules. One idea for the transfer portal that has been proposed is adding new transfer windows so that players can still transfer but they won't be able to do it year round. Plenty of administrators also want some kind of NIL regulations, but they never have an idea.
For their part, the NCAA seems to have no interest in trying to make new rules around these things. This comes in the wake of the U.S. Supreme Court ruling 9-0 against the NCAA in Alston v. NCAA, where the court made it clear they felt the NCAA's model was illegal.
It's also safe to say that water finds its level. Some of the numbers seem crazy now, but will people or collectives be willing to consistently spend huge amounts of money on unknown players? Probably not. Transfer portal players are a little easier to judge because they're known entities at the college level. So, you may see more deals and more money going to transfer players in the future, rather than high school recruits.