How transfer players can take advantage of NIL opportunities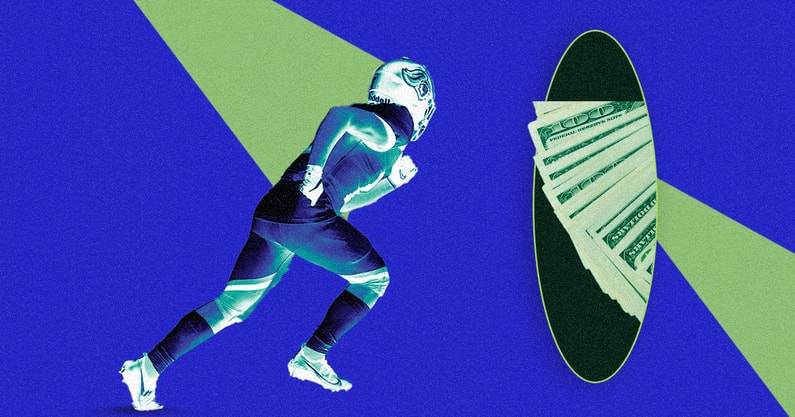 When Jordan Addison decided to officially enter the Transfer Portal on May 3, he set off an arms race. Not just because of his talent, but because of the NIL potential he commanded. The Pitt receiver turned Biletnikoff Award winner caught 17 touchdowns alone in the 2021 regular season.
He was also the perfect case study of what the meshing of the portal and NIL have meant for college athletics. With the installment of the one-time transfer policy and ability for athletes to turn a profit, there was no doubt the NCAA was on an unprecedented path. Addison's move served as the perfect example.
Days before he officially entered the portal, reports broke that Pitt suspected USC of tampering. Rumors surfaced he signed an NIL deal in Los Angeles. Following his commitment to USC, no proof emerged that he signed a deal with the Trojans. Only rumor after rumor, showing the impact NIL can make on a player's portal decision.
No matter if a deal was on the table, the move was a major NIL win for Addison. His media market size grew exponentially overnight. The notoriety surrounding the USC program is endless. And with major brands and Hollywood in his backyard, finding opportunities for partnerships will not be a problem.
The NCAA released data in January on trends from the Transfer Portal. In 2021 alone, FBS football saw 7,425 undergraduate athletes enter the portal. Of those players, 50% found a new school while 7% withdrew, staying at their original institution. Another 43% are still in the portal, have transferred to a non-NCAA school or left the sport entirely.
Those numbers will continue to rise, meaning the role of NIL in the portal will only become more prominent.
What is the Transfer Portal?
The NCAA Transfer Portal has become synonymous with college sports. The portal itself is a compliance system that was created in October 2018 by the NCAA to streamline the process for student-athletes wishing to transfer from their institution.
An athlete enters the portal by going to their school's compliance department and telling them they wish to be entered in. Some schools ask the players to notify their coaching staff, others do not not. Yet, once an athlete has the conversation with the compliance department, the school has 48 hours to enter the name into the database. Schools can not deny access or hold up the process; they can really only push it off a day.
The moment the name enters the portal, institutions are free to contact the individual unless they are labeled "do not contact." Another option that has become popular in college athletics is for athletes to enter the portal following the season or in the midst of a coaching change, but that does not mean they are leaving.
The portal includes every sport, so a football coach could theoretically track basketball transfers or women's volleyball transfers. Not every coach on a staff necessarily has access. A school's compliance department and one coach from each sport's staff has a login. Sometimes it's a specific email address, other times the email is generic and the user information is shared amongst the staff.
Like any other database, the portal is sortable and includes categories such as sport, name, conference, division and school. Coaches have the option to sort the list by the most recent additions to the portal. They can also save names to their "Transfer Watch List." Only email addresses are listed.
Before the establishment of the NCAA Transfer Portal in 2018, when student-athletes wanted to transfer, they were required to ask their coach for permission to contact other schools. Coaches were allowed to deny their request, meaning athletes then had to make their case to the school's athletic director.
The athletic director had the power to deny the student, though. From there they could make a request to the school's designated administrator, typically a dean of students, who could still turn down the appeal. The final step would be to appeal to a committee that consists of professionals on campus and other students. Athletes who didn't receive permission could still transfer but couldn't be offered athletics aid at the new school.
The way opposing schools and coaches were notified about the portal entry was even more complicated. When athletes identified the school they wanted to attend, the former school's compliance officer had to fax or scan over email a transfer tracer document to the schools the athletes wished to explore.
What is NIL?
At the core of the NCAA has always been amateurism. But NIL has changed all of that, allowing student-athletes to receive financial compensation, which has brought seismic change to college sports.
NCAA rules still prevent schools from paying players directly. College coaches cannot offer high school prospects money as a recruiting enticement to pick their school. Plus, current student-athletes can not receive compensation for their athletic achievements.
Yet, NIL is a workaround for athletes to receive financial compensation for their accomplishments on the field and the brand they built while in college. Players can profit off endorsements, signing autographs, selling apparel, corporate partnerships, charitable appearances, teaching camps and starting their own businesses, among other things. They can also hire professional service providers for NIL activities.
The NCAA released updated NIL guidance in early May, stating collectives – groups of boosters and businesses – are not to be involved in the recruiting process or in the Transfer Portal. However, there are a number of states that have recently passed legislation that remove the prohibition of schools from directly or indirectly arranging for a third party to provide compensation to a student-athlete through NIL.
What is the one-time transfer rule?
The one-time transfer rule was ratified as a rule change in April 2021 and went into effect for the 2021-22 academic year. This allows all athletes who have not yet transferred the ability to do so one time in their college career.
The one-time exception had previously been available to some athletes, just not those in football, basketball, baseball and men's ice hockey. The exception counts for athletes who transfer after graduation, too.
The NCAA had previously permitted athletes who had graduated to transfer be immediately eligible. If an athlete now uses their one-time transfer as an undergraduate, the athlete is not automatically eligible. Student-athletes can apply for a waiver, though.
For athletes to be able to utilize the NCAA Transfer Portal, they must meet the following criteria:
Leave their current four-year school academically eligible;
Have not transferred previously from another four-year institution, and
Certify in writing, along with their new head coach, they did not have direct or indirect communication with the new school's athletics staff prior to entering the NCAA Transfer Portal.
Before the one-time transfer role, it was not as common to see as many transfers hit the market because of the dated system of communication between schools. The other popular method was grad transferring, which still remains common.
If players wanted to play immediately, they had to file a waiver with the NCAA. Yet, the waiver rule was highly criticized in high-profile situations such as Justin Fields' decision to leave Georgia for Ohio State.
How do the portal and NIL intersect?
With the installation of the one-time transfer rule for the 2021-22 academic year coinciding with the first year of NIL across college athletics, there was sure to be some connection between the two. But nobody could have projected the hurricane the two combined to create, bringing the NCAA into the 21st century at unprecedented speed.
The first inklings of how the portal and NIL would intersect came with the formation of collectives. These organizations, which are independent of a university, can serve a variety of purposes. Most often, they pool funds from boosters and businesses, help facilitate NIL deals for athletes and also create their own ways for athletes to monetize their brands.
With the birth of collectives in the summer of 2021, it was clear the crowdsourcing was not being directed just to current student-athletes. The cash raised was being put toward inducements and pay-to-play in recruiting and the Transfer Portal.
There's been little hard evidence or contracts disclosed detailing players transferred from one school to another for monetary reasons.
Many are in the situation of Incarnate Word transfer and new Washington State quarterback Cameron Ward, who hauled in a reported $90,000 from the Cougar Collective. The deal includes a contract with a housing firm for the school year that provides an apartment in Pullman. He gets the use of a new pick-up truck for the year from a booster-owned car dealership. And he collects $50,000 in cash in exchange for promotional appearances he'll make in the next year.
Yet, the rumor mill has been nonstop. Coach after coach this past offseason detailed stories they dealt with following the 2021 football season. They're not only dealing with players being offered money in the portal. Coaches have shared stories of their own athletes being offered cash just to enter.
"What I've been told is that the only thing we can tell a player or a parent is that we can explain to them what opportunities the players on our team are currently getting, and how that works," North Carolina head coach Mack Brown said in February. "That's it. We can't promise anybody any money for play. Just about every transfer I've talked to was being offered money (from other schools), so it was a little ridiculous."
Ole Miss head coach Lane Kiffin has been blunt in his assessment on what NIL and the NCAA Transfer Portal have created – college football's version of NFL free agency. While the college coaching carousel has been a major offseason attraction for years, players are now getting their own taste of the open market. The Rebels' head coach reeled in 13 transfer portal signees this offseason, enough for him to earn the nickname the "Portal King." He didn't rock the moniker for long, however, as he handed it over to first year USC coach Lincoln Riley, who landed 14 players out of the transfer portal which ranked No. 1 in On3's rankings.
With USC quarterback Jaxson Dart and wide receiver Michael Trigg and TCU running Zach Evans all heading to Oxford, Mississippi, this offseason, Kiffin has found success in this new world. He's just one of many coaches trying to piece together their roster while dealing with NIL and transfer portal repercussions.
"How are we not a professional sport? What is the difference? [Players] are making money. They can opt into free agency," Kiffin said in late May to Sports Illustrated. "We're a professional sport, and they are professional players. Contracted employees without contracts. They can get out whenever they want. And how is it not being seen that, unless there are changes of rules around caps and contracts, how is every elite college player not at the end of their season [entering the portal]? … Let's be realistic, in professional sports, if you are the agent of a player, and the player can opt into free agency and come back to where they want after testing the waters, who says, 'No, I'm not going to do that,' unless there's a penalty?
"Why did Bryce Young not go into the portal? If you are advising Bryce Young, why do you not go into the portal and walk into Nick Saban's office and say, 'Hey, I want to be here, but I've got to protect myself so I'm going to go into the portal. And I want to come back as long as it's matched with what I get out there.' The kid would make 10 times what he would have made. How's that not going to happen all the time? It should. It will."
How should NIL play a factor in what school an athlete transfers to?
For the 75 to 125 student-athletes who enter the NCAA Transfer Portal following the college football season and are immediately offered cash, there are thousands of others who genuinely want a change of pace. Some schools and programs are not for everyone – it's why the ability to transfer was first established.
Those athletes still have the ability to capitalize on their NIL when entering the portal. And there's plenty of factors to consider when making the next college decision:
The market size and location

This can be as simple as getting a feel if there are opportunities to capitalize on in this town. There's another key aspect to consider and that's location. Is it possibly in the athlete's hometown? Or is it going to be hard to broker deals while competing with a professional sports team?

The media market, social following and following of team
The team's social and fan following are crucial to NIL success.

Playing for historic, winning programs can get a student-athletes foot in the door with a possible partnership. A bigger social media following creates the opportunity to grow the athlete's brand.

How current and past players have fared in NIL

NIL is only a year old, but here's enough data to make an educated decision. Were players hurting for opportunities or are businesses eager to partner up?

Is there a NIL collective and does it function at a high level

NIL collectives can set players up for instant success. Are they helping bring possible deals to the table or are they violating NCAA laws. A high-functioning collective make-or-break NIL success.

What resources does the institution offer to put athletes at an advantage

Does the school offer Opendorse or INFLCR should be a key question. These marketplaces are easy, accessible ways to broker deals.
More and more student-athletes continue to discuss the need for NIL education, specifically in financial literacy. Having an institution make the athlete's life easier is key.
The bottom line when entering the portal: Athletes need to look out for their best interests on- and off-the-field. Specifically, an athlete's college brand can be carried with them for the rest of their life.
The development of the personal brand is crucial. Athletes must be intentional that the school they intend to transfer to elevates their brand and sets them up for NIL success and opportunities.
How athletes can capitalize on NIL potential through the transfer portal
The On3 NIL Valuation is the industry's leading index, setting the standard market value for high school and college-level athletes.
A proprietary algorithm, the On3 NIL Valuation does not act as a tracker of the value of NIL deals an athlete has completed to date. It rather signifies an athlete's value at a specific moment in time.
Student-athletes can use their NIL Valuation as a way to understand where they stand in the market. A player can also use this to approach local businesses and companies when trying to negotiate their worth in an NIL deal.
On3 uses three primary categories to form the NIL Valuation:
Social media following and engagement
Athlete data, achievements, performance, and media sentiment
Endorsement deals, opportunities, and Collectives