Live Blog: NCAA president believes there's support for federal NIL reform 
WASHINGTON – Some of the biggest power brokers in college athletics are in Washington, D.C., these next few days meeting with lawmakers to discuss the need for NIL regulation. It's a similar cry to what conference commissioners said last summer. Except this time around, new NCAA president Charlie Baker is leading the charge.
On3 is on site and breaking down the latest happenings.
---
Jedd Fisch on realities of transfer portal
2:05 p.m. ET Thursday – Arizona head coach Jedd Fisch did not skirt away from the realities of the transfer portal on Thursday afternoon in today's age of college football.
"Coaches are on very short timelines. And the unintended consequence of coaches getting fired every three years is, 'well, let's get better quick.' How do you get better quick? Well let's look in the portal."
---
What do athletes want with reform?
12:30 p.m. ET Thursday – On3's Andy Wittry recently spoke with 12 athletes at the INFLCR NIL Summit about their visions for the future, ranging from FBS quarterbacks to athletes who compete in acrobatics and tumbling, which is one of the NCAA emerging sports for women.
"I think more than anything, there isn't one best model that's gonna fit every single athlete," said Oregon acrobatics and tumbling base Cami Wilson. "There are people that love NIL and it is a full-time job and you should be considered an employee and you should get the benefits of that. But also there are people that it's not for them. It's like trying to force everybody to eat the same meal.
Read more about what top student-athletes from across the country think about the future of NIL reform.
---
New York Senate passes revised NIL legislation
12:15 p.m. ET Thursday – While college stakeholders are in Washington, D.C., pleading for federal reform, another state has taken a step to make it easier for its local schools to support NIL activities and avoid NCAA oversight.
With the legislative session about to end, the amendment to New York's NIL law officially passed the Senate on Thursday. The bill has now passed both houses in the Empire State and is heading to Gov. Kathy Hochul's desk.
NIL expert and Newman & Lickstein associate attorney Dan Greene recently told On3 the New York bill would "drastically change the Empire State's NIL law in a way that would greatly benefit schools within the state."
Interestingly, The Empire State bill includes a section that appears to provide cover for state schools from being punished by the NCAA for any NIL-related violations, including any committed by collectives set up to support student-athletes through deal facilitation.
---
Feedback from star Arizona player
11:40 a.m. ET Thursday – Arizona women's player Maya Nnjai on the discussion on whether student-athletes should be treated as an employee: "I don't think I'm big on being paid to play because I think that takes away the whole essence of college athletics."
Nnaji arrived at Arizona for the 2022-2023 basketball season as a McDonald's and Jordan Brand All-American. As a five-star recruit, Nnaji was the highest-ranked recruit ever to sign with the Wildcats. She has more than 25,000 followers on social media.
---
Ole Miss collective leader pushes back
11:20 a.m. ET Thursday – Walker Jones, who operates the Ole Miss-focused Grove Collective, is giving voice to collective leaders at the Future of College Sports Summit.
"With all due respect to the Governor (NCAA President Charlie Baker), what he said what's happening with NIL is terrible for athletes," Jones said. "Like that's why everybody hates the NCAA. Sorry."
"It's got to be more than just paying the player. Yes, we compensate them. But if we can put tools around them that help them … they're a better contributor to society because of their interaction with our collective."
Many collective leaders have told On3 throughout the debate around federal NIL reform that they've been frozen out of the discussion. The Grove Collective general counsel did say in his discussion with Baker that collectives actually need regulation, and they would like more transparency.
---
Missouri AD supports Congressional oversight
11:15 a.m. ET Thursday – Count Missouri Athletic Director Desiree Reed-Francois as a supporter of Congressional oversight when it comes to NIL reform.
"If we're left to our own devices right now, then we're all going to be looking for that competitive edge," Reed-Francois said at the Future of College Sports Summit.
---
Is there support on both sides for NIL bill?
10:55 a.m. ET Thursday – NCAA president Charlie Baker believes there is support from both sides of the aisle for federal NIL reform.
"There's a fair amount of interest in leadership in both branches," Baker said at the Future of College Sports Summit.
Baker said the process will continue to be a "slow and painstaking process." Plus, if it goes got the floor, "people would want to hand a lot on this."
Nonetheless, in pursuit of a palatable federal bill, many experts believe the NCAA still faces a steep climb. Some stakeholders view their efforts in Congress as a "Hail Mary."
There is little consensus among Democrats and Republicans on specifics that bills should entail. Republicans generally seek a more narrowly tailored bill. Democrats are pushing for broad reform. And a critical point to keep in mind: Not a single bill related to NIL in the past four years has even gone to a vote. No substantive movement has occurred on any of them.
This high-stakes pursuit of a federal lifeline is playing out as the NCAA is mindful of the clock. With an election cycle looming on the not-so-distant horizon, time is running out. Here are the pieces of potential legislation to follow as the process intensifies. 
---
'Screw the NCAA'
10:40 a.m. ET Thursday – While sitting on a panel at the Future of College Sports Summit, NCAA president Charlie Baker said the recent push by states to rewrite NIL legislation is a direct snub to the organization.
"They say screw the NCAA," Baker said. "Screw the conference. Screw their rules."
The patchwork of state laws that have been passed in recent weeks has been described to lawmakers as the main reason why NIL uniformity is needed.
These bills are designed to prevent the NCAA from launching investigations into NIL activities. Other pieces of legislation would protect third-party entities that support an institution providing compensation to athletes.
Lawmakers in Arkansas, Colorado, Missouri, New York, Oklahoma and Texas have sponsored or passed these types of bills. Plus, NIL entities in Arkansas and Texas have opened the door for compensation models that have a closer connection to the school which is against the NCAA's policy.
---
Nick Saban to meet with another key leader
10:30 a.m. ET Thursday – Pete Nakos reports that he just spoke with Florida Rep. Gus Bilirakis on the phone. Bilirakis will also be meeting with Alabama coach Nick Saban Thursday on Capitol Hill.
It was previously reported that Saban, along with LSU coach Brian Kelly and athletic director Scott Woodward, Alabama athletic director Greg Byrne and president Stuart Bell, are meeting with Majority Leader Steve Scalise on Thursday.
Bilirakis is expected to play a key role in any federal NIL legislation.
Last month, he released a discussion draft of a 24-page bill, dubbed The Fairness, Accountability, and Integrity in Representation (FAIR) of College Sports Act. Plus, he also chairs the House Energy and Commerce Subcommittee on Innovation, Data and Commerce. The subcommittee held two NIL-focused hearings, most recently in late March. 
---
California bill could 'knock out D-II sports'
10:15 a.m. ET Thursday – While sitting on a panel at the Future of College Sports Summit, NCAA president Charlie Baker says the California bill that calls for revenue sharing in college sports "would probably knock out Division II sports."
The College Athlete Protection Act, which passed in the California State Assembly last week, would require schools that play major college sports to pay some athletes as much as $25,000 annually, along with covering the cost of six-year guaranteed athletic scholarships and post-college medical expenses.
The College Athlete Protection Act still must pass through the state Senate and receive the signature of Gov. Gavin Newsom before becoming law.
---
Examining the NCAA's aggressive push for federal NIL laws
---
Charlie Baker asks for trust in NCAA
10:10 a.m. ET Thursday – While sitting on a panel at the Future of College Sports Summit with Knight Commission's Amy Perko, NCAA president Charlie Baker says it's going to take time – and trust – that college sports' leadership is going to get things right.
"I need a whole bunch of people to actually come to the conclusion that I know what I'm doing," Baker said. "And a whole bunch of other things that belong directly to me before I start engaging with (the CFP) on (the revenue distribution model)."
---
NCAA made mistakes with NIL early on
9:50 a.m. ET Thursday – NCAA president Charlie Baker is the first keynote speaker at the Future of College Sports Summit. He tells the audience it was a big mistake by the NCAA not to put together a framework for NIL from the beginning. He has also mentioned uniform standard agreements.
"Congress has a more legitimate playing field to create a level playing field," Baker said.
Additionally, Baker said he's met with 77 of the 97 NCAA conferences in the first 100 days since he took over.
---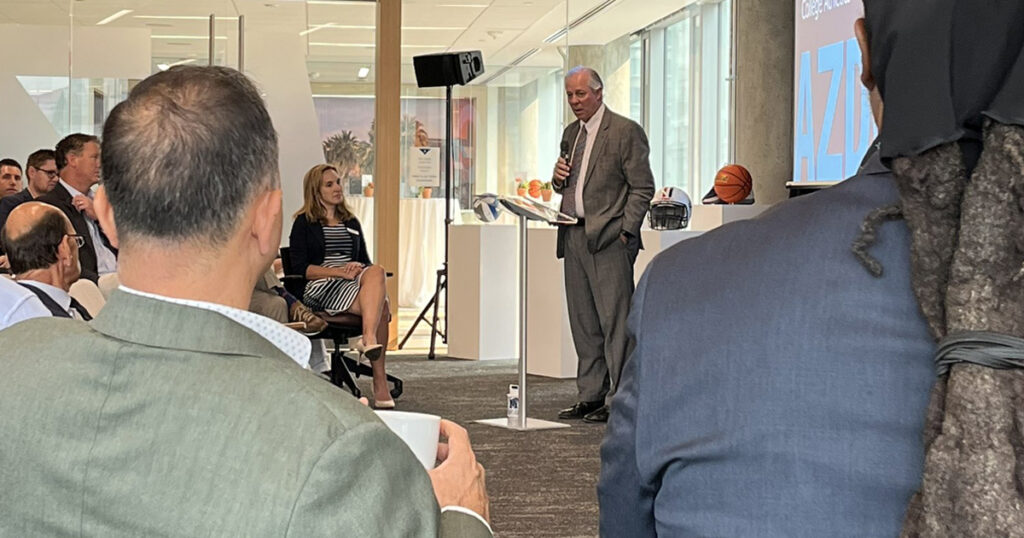 College sports are 'in the ICU'
9:30 a.m. ET Thursday – Arizona president Bobby Robbins says college athletics is "in the ICU" during his opening remarks at the Future of College Sports Summit.
---
Nick Saban, Brian Kelly to meet with Steve Scalise
9:10 a.m. ET Thursday – Nick Saban took pictures with dozens of legislative assistants at the SEC at the Capitol event on Wednesday night.
On Thursday, the Alabama head coach is meeting with one of the power brokers who will have legitimate sway over any federal legislation aimed at NIL. Saban, along with LSU head coach Brian Kelly and athletic director Scott Woodward, Alabama athletic director Greg Byrne and president Stuart Bell, are meeting with Majority Leader Steve Scalise according to Sports Illustrated.
---
Another busy day expected in D.C.
9 a.m. ET Thursday – On3's Pete Nakos is back on Capitol Hill for what plans to be a busy day with numerous key college stakeholders in town for in-depth NIL reform discussions.
The University of Arizona is hosting a two-day summit dubbed "The Future of College Sports," which included a three-hour, open-house reception at the Capitol on Wednesday night with elected officials. NCAA president Charlie Baker, Kansas chancellor Douglas Girod, Clemson athletic director Graham Neff, ACC commissioner Jim Phillips and MAC commissioner Jon Steinbrecher are speaking on panels.
---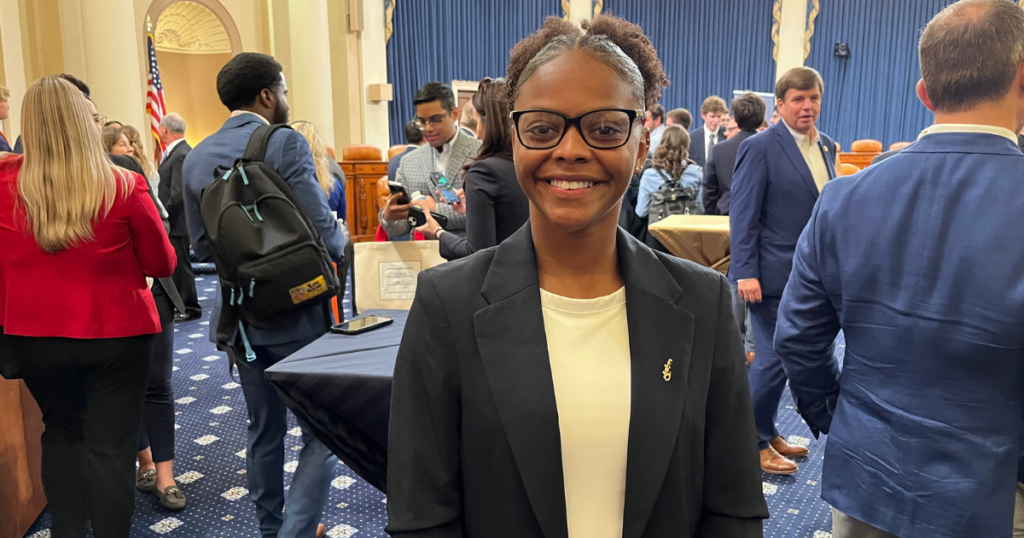 Trinity Thomas: 'NIL can definitely be better'
8:30 a.m. ET Thursday – Trinity Thomas has experienced the good NIL can bring into an athlete's life.
The Florida gymnast was able to buy each one of her siblings an iPad the first Christmas after the NCAA lifted its policy prohibiting name, image and likeness. One of the most accomplished athletes in the NIL era, she's worked with brands like Amazon, Honey Stinger, Tropical Smoothie Cafe and Visible Mobile.
All of the business dealings have come with success in her sport. The all-around gymnastics champion in 2022, Thomas delivered her 28th perfect 10 in a routine this season at the NCAA championships this spring.
But on Wednesday, Thomas was in Washington, D.C., lobbying for NIL reform. Florida was the only institution to bring multiple athletes as part of their contingent to Capitol Hill. Thomas was joined by defensive end Jack Pyburn and women's basketball guard Zippy Broughton.
The athletes – along with athletic director Scott Stricklin and executive associate athletic director Lynda Tealer – met with multiple lawmakers. The Gators sat down with Florida Congressional Reps. Kat Cammack and Gus Bilirakis. They also had face time with Marco Rubio, the Senator from the Sunshine State.
"We had some great conversations today," Thomas told On3 on Wednesday night during the SEC at the Capitol reception. "And I really think that we were going in the right direction. Pretty much we're all on the same page, and they were asking good questions. We were giving good feedback and also vice versa. So, I really think that it's going in the right direction, and I hope to see some changes soon."
Read more about Thomas' thoughts about why it's important to have student-athletes involved in the conversation.
---
SEC at the Capitol, Arizona reception wrap up
9 p.m. ET Wednesday – Night one on Capitol Hill has wrapped up, with plenty of chit-chat among stakeholders and not the most positive takeaways.
At the SEC at the Capitol, a few leaders could only shrug when asked how the day's meetings went. It's clear lawmakers are up to speed on what is happening at this point. There is not a learning curve anymore, with staffers rushing to figure out what NIL stands for.
That said, it's clear college athletics is on the to-do list. It also is not a priority at this moment. Many had a similar tone at the Future of College Sports reception in the Senate wing of the Capitol. A few noted that they had yet to see an elected official even stop by the event.
Here is who I saw at the SEC at the Capitol:
Greg Sankey
Greg Byrne
Scott Stricklin
John Calipari
Mitch Barnhart
Mark Keenum
Zac Selmon
Ross Bjork
Shane Beamer
Candice Storey Lee
Shea Ralph
---
Texas A&M AD Ross Bjork met with Sen. Ted Cruz
7:15 p.m. ET Wednesday – Texas A&M athletic director Ross Bjork met with Texas Senator Ted Cruz, a source told On3 on Wednesday night.
The new ranking member of the Senate Commerce Committee, many believe any NIL legislation will have to go through that committee. NCAA president Charlie Baker also recently met with the senator, according to Sports Illustrated.
U.S. Senators Joe Manchin (D-WV) and Tommy Tuberville (R-AL) have been working on a federal bill on college athletics but a bill has been yet to be introduced.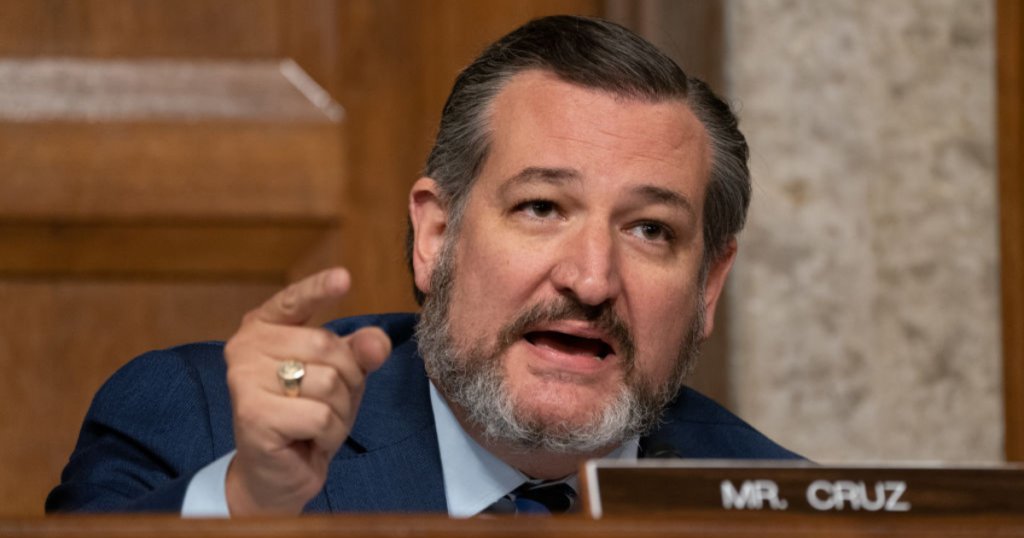 ---
Could the SEC create its own NIL guidelines?
5:30 p.m. ET Wednesday – While meeting with the media on Wednesday, University of Arizona president Robert Robbins stressed his belief that federal aid is needed with NIL reform.
"I think for a holistic comprehensive solution, it's probably going to have to be the U.S. Congress," Robbins said. "You have this patchwork of state legislation. I'm sure (SEC Commissioner) Greg Sankey will talk about this tomorrow because even in the SEC footprint you have different states with different laws.
"It's not a level playing field."
Robbins pointed out there would be advantages to having federal NIL oversight, compared to what the NCAA is trying to formulate and enforce now with its interim policy.
"It depends on what they come up with," Robbins said. "I had not paid as much attention to the idea that there may be a federal agency for oversight of college sports. The advantage of that would be that they would have subpoena power and enforcement power."
Robbins was also asked about the discussion that Sankey could get legislators and college leaders in the SEC footprint to abide by the same set of NIL guidelines.
"I like the idea," Robbins said. "If anybody can do it, he probably can do it. It's like running a 4.3 (40-yard-dash) in water. It's going to be a big lift."
---
Hunter Yurachek on NIL impact
4:45 p.m. ET Wednesday – Arkansas athletic director Hunter Yurachek was among the group of SEC officials to make the trip to D.C. this week.
For many athletic directors, the last two years have been a blur. Name, image and likeness has created a new norm across college athletics. And that's not to everyone's liking.
Speaking about the impacts NIL has brought to Arkansas, Yurachek made mentioned of not as many athletes leaving for the professional ranks, which appeared to be a different take on the matter.
"Young men and women are making decisions not to go to Major League Baseball or the WNBA or the NBA because they can make more money in college," Yurachek said, via the Arkansas Democrat-Gazette's Matt Jones. "Does that make any sense, that you can make more money by staying in college than you can by going and being a professional athlete? That's where we have some issues in college athletics."
Sen. Tommy Tuberville meets with Auburn officials, talks need to protect players
3 p.m. ET Wednesday – U.S. Senators Joe Manchin (D-WV) and Tommy Tuberville (R-AL) have been working on a bill that could garner bipartisan support in the Senate. While the bill has yet to be introduced, the two Senators have spent over a year talking with administrators, coaches and collectives.
If the bill is narrow enough and does not include any language surrounding athletes not classified as employees of institutions, it could gain momentum. Tuberville met with a delegation from Auburn on Wednesday in his offices.
"Today we are meeting with coaches, athletic directors and administrators from several different conferences here in Washington, D.C., talking about the disastrous new NIL rules," he said in a video released by his office. "And they are a disaster.
"… "So we'll meet up here this week. We'll have some discussions. We have a text of a bill already finished. We're going to make improvements (to) it. Joe Manchin and I have been working on this for at least a year."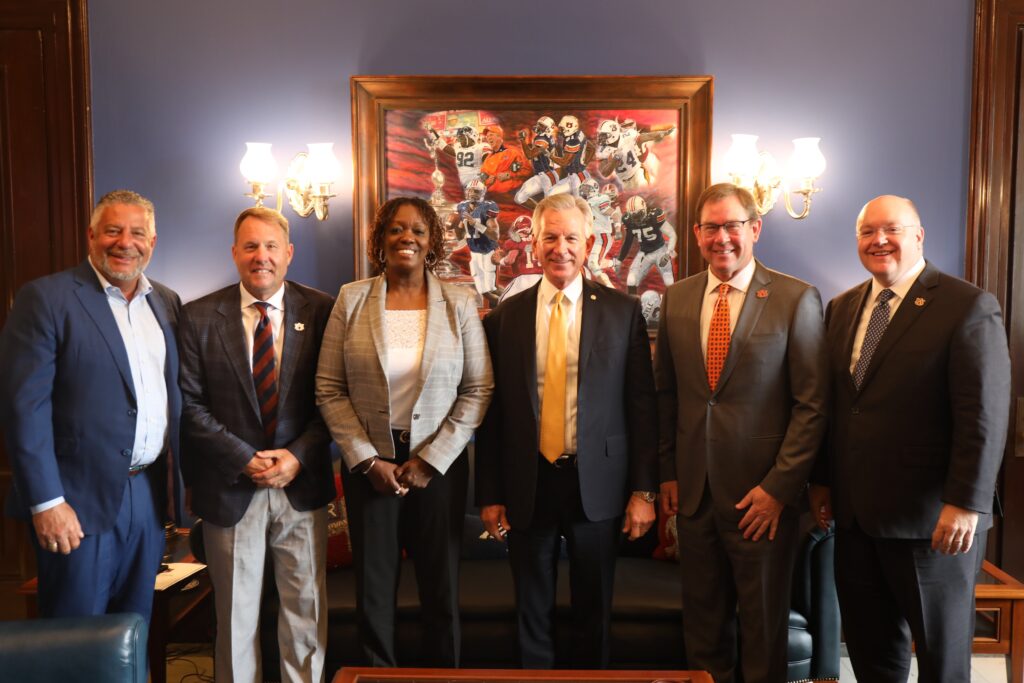 ---
MAC commissioner Jon Steinbrecher meets with Ohio Rep. Bob Latta
12:45 p.m. ET Wednesday – Mid-American Conference commissioner Jon Steinbrecher is in town for a couple days. He is slated to speak at Thursday's Future of College Sports summit as a panelist. During the day Wednesday, he met with Ohio Rep. Bob Latta to chat NIL, the transfer portal and athlete welfare.
---
Collectives, coaches to converge on Washington D.C. over push for NIL uniformity
Noon ET Wednesday – The next few days on Capitol Hill could be looked back upon as the start of real movement on the issue of name, image and likeness. The SEC is sending a delegation up to Washington, D.C., this week to meet with lawmakers in the conference's footprint. Commissioner Greg Sankey and Alabama head coach Nick Saban are leading the effort.
All of this, however, could be another fruitless effort. The NCAA has been lobbying for a bill that includes antitrust protections, a uniform NIL standard and language that would ensure athletes are not employees of their schools.
Saban is scheduled to meet with Majority Leader Steve Scalise, according to Sports Illustrated. Each school's convoy will meet with its state delegation. There will be crossover, too. Per SI, Mississippi State president Mark Keenum and school officials are expected to meet with Republican Marsha Blackburn, the Senator from Tennessee who is a Mississippi State graduate.
On3's Pete Nakos has more details about what to expect Wednesday.
---
Make sure to follow along on Twitter and subscribe to On3's YouTube page. Also, be sure to subscribe to the On3 NIL and Sports Business Newsletter.