Texas legislature set to send transformative NIL bill to governor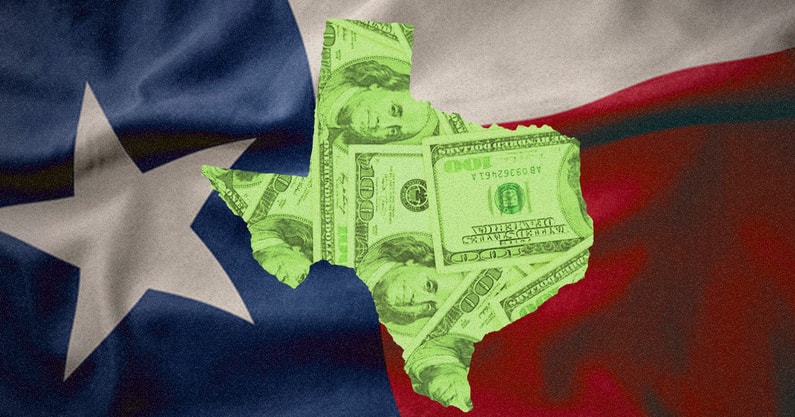 As the NCAA pleads for federal legislation, states continue to rapidly pursue – and pass – sweeping reforms on the local level aimed directly at bypassing NIL oversight. And Texas, one of the biggest players in college and high school sports, appears to be next.
Last week, House Bill 2804 was passed in the Texas Senate after previously flying through the Texas House in late April. The bill was sent back to the House for a few minor changes. But it's expected to quickly land on Gov. Greg Abbott's desk.
Political observers in the Lone Star State project Gov. Abbott to sign the bill, especially since both Texas, Texas A&M and other state school officials played a major role in shaping the legislation. Members of both parties also supported the bill. If it gets Abbott's signature, it'll go into effect on July 1.
"Since we passed our law two years ago, the college landscape on this issue continues to evolve," Rep. Brandon Creighton said last week while discussing the legislation. "And as a result, Texas must ensure that its name, image and likeness law remains competitive with other states."
NIL reform in Texas could be 'tipping point'
National experts believe the Lone Star State's move could be a watershed moment for NIL on the state level.
Yes, Colorado, Missouri, Montana and Arkansas have already passed NIL reform. It was also passed and then vetoed in Oklahoma. Plus, a new bill is making its way through the New York legislature. But this is Texas – where everything is bigger, including the drive to see the Aggies and Longhorns succeed at the highest levels of college football.
"If this bill gets signed it could signal a tipping point," John Holden, an associate professor at Oklahoma State that specializes in the rights of student-athletes, told On3. "Anytime Texas, California or Florida do something in college sports, other states are going to start making moves. No one is going to want to be left out."
What's in the Texas NIL bill?
The new Texas legislation includes a number of provisions that are school and student-athlete friendly. But the most notable change appears to provide cover for state schools from being punished by the NCAA for any NIL-related violations, including any committed by collectives that have been set up to support student-athletes through deal facilitation.
According to the legislation: "An athletic association, an athletic conference, or any other group or organization with authority over an intercollegiate athletic program at an institution to which this section applies may not enforce a contract term, a rule, a regulation, a standard, or any other requirement that prohibits the institution from participating in intercollegiate athletics or otherwise penalizes the institution or the institution's intercollegiate athletic program for performing, participating in, or allowing an activity required or authorized by this section."
There are more than a dozen active NIL collectives in the Lone Star State, headlined by the Texas One Fund at Texas and the 12th Man+ Fund at Texas A&M. There are a handful of other wildly successful collectives in Texas, including Houston's Hoop And Holler, TCU's The Flying T Club, SMU's Pony Sports DTX and Boulevard Collective and Texas Tech's Dark Horse Collaborative and The Matador Club. At UTSA there are three collectives that have played a significant role in roster retention and supporting numerous student-athletes, including Runners Rising and 210 Inspired.
Coaches and NCAA leaders say NIL sometimes disguises "pay-for-play" deals choreographed by collectives ahead of when student-athletes sign binding national letters of intent or before they enter the Transfer Portal. Per NCAA rules, boosters can't pay players directly or be part of the recruiting process, and the organization says it is actively investigating multiple bad actors in the NIL space.
Bill opens door for booster groups to fund NIL
Additionally, the legislation allows a college to establish agreements with a third-party entity to facilitate NIL activities on its behalf.
This part of the bill received a lot of attention after the 12th Man+ Fund launched at Texas A&M in February. The bill allows for the ability for third-party 501(c)(3) organizations, independent of athletic departments, to provide NIL compensation to athletes and provide priority status or other perks to donors. A&M and Arkansas are believed to be the first schools whose booster organization also is directly fundraising for NIL opportunities for student-athletes.
What will the NCAA's reaction be?
While states continue to thumb their noses at the NCAA, it's become clear it's Congressional law or bust.
There does not appear to be a Plan B.
"If you have every state in your conference out there doing something different with respect to how they're trying to create what I would describe as the most positive way to manage NIL, or literally just passing laws that basically say, 'Whatever the NCAA is or what they do they can't enforce anything in our state,'" NCAA President Charlie Baker recently said.
"I think the message that creates for members of Congress is and for members in the Senate is, if you want to create a level playing field, if you want people to be able to play by the same rules, if you want what I would describe as a framework that works … Those 97 conferences, I think, especially at the DI level, which is where NIL is a much bigger deal than it is for (DII) and (DIII), they're going to want everybody playing by the same rules."
That's why the latest piece of Congressional legislation being circulated throughout collegiate stakeholder groups generated a lot of attention last week. According to the draft by the office of Sen. Lindsey Graham, the legislation would establish an updated version of the NCAA to oversee NIL. The new version of the NCAA dubbed an "NIL clearinghouse," would be given the power to fine anyone, sue anyone and ban anyone from participating in college athletics. The purpose behind the NIL clearinghouse would be to monitor compliance, establish and enforce penalties and provide educational information to athletes.
Will it make a difference?
Numerous leaders in the NIL space, including collective operators at multiple Power 5 programs, called the draft legislation rubbish.
"It's absolutely ludicrous," an SEC collective operator told On3. "And that's me being kind about it."
Still, some experts wonder if the move in the Lone Star State might give Graham's draft or other federal legislation some impetus.
"Does this maybe give Graham's bill momentum?" Holden said. "Maybe. But it's probably still a bridge too far for much of Congress."