Early Scouting Report: Mississippi State Bulldogs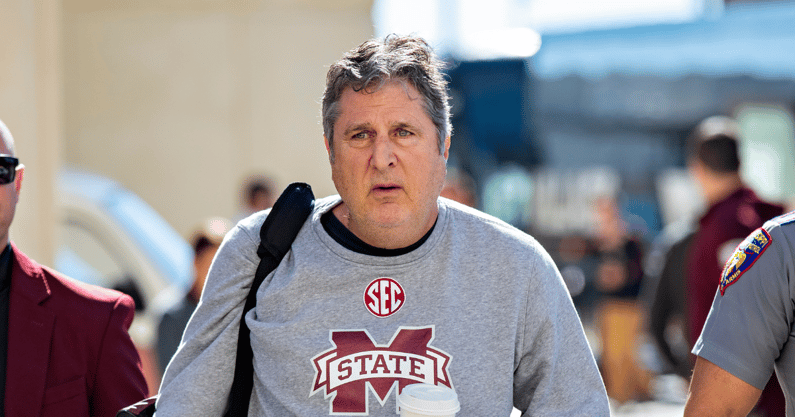 Mike Leach is entering year three at Mississippi State, and the Bulldogs are not being talked about much heading into a critical season for the Air Raid maestro. We might look up on Thanksgiving weekend during the Egg Bowl and realize that was a mistake.
The unique systems on both sides of the football have been established, and 17 starters are returning to Starkville. Another brutal schedule awaits, but the pieces are there for a breakthrough season for the fighting cowbells.
KSR's early scouting report series moves to Mississippi State where passing numbers will be high, and excitement should follow.
Early Scouting Report: Miami (Ohio), Florida, Youngstown State, Northern Illinois, Ole Miss, South Carolina
Nuts and Bolts
In many ways, Mississippi State is one of the toughest gigs in the SEC. The Bulldogs have never won more than 10 games in a season and have reached that double-digit win threshold just twice since the end of World War II.
Both Jackie Sherrill (1991-2003) and Dan Mullen (2009-17) had longevity in Starkville leading the school to both of those 10-win seasons. Each proved that a good program can be formed at State with seven combined top 25 finishes. However, this is a place that has hard to win.
After deciding to fire Joe Moorhead after just two seasons, Mississippi State hired a coach who has won consistently in some hard places.
In 10 years at Texas Tech, Mike Leach led the Red Raiders to a bowl game each season and had a national championship contender in 2008. From there, Leach went to Washington State where he would spend eight seasons taking the Cougars to six bowl games and registering a top-10 finish with an 11-2 record in 2018.
Leach has won everywhere he's been and is now attempting to do the same at Mississippi State. The Air Raid play-caller enters year three in Starkville at 61 years old and with an 11-13 overall record. However, the foundation has been set.
The Bulldogs enter the year with a proven starting quarterback and a boatload of returning production at the skill talent positions. Up front, State has solid answers on the interior of the offensive line. Leach has been able to hold onto defensive coordinator Zach Arnett whose gap cancellation 3-3 stack defense can cause issues. Oh, that unit also has a bunch of returning production.
This fall we'll begin to see what the actual Mike Leach program will look like in the SEC West.
Transfer Portal recap
Mississippi State saw nearly 20 scholarship players enter the transfer portal following the year seeing former players land at Arizona State, Michigan State, Ole Miss, Missouri, SMU, and some Group of Five programs. But the Bulldogs did not stand pat.
Leach's staff added nine players to the roster from the transfer portal with six Power Five players moving to Starkville. The Bulldogs focused on wide receiver and cornerback adding multiple players at both positions. Play on the perimeter will be heavily impacted by some new faces.
The biggest addition may have been in the third phase.
Mississippi State was just 14 of 25 (56%) on field goal attempts last season as both Nolan McCord and Brandon Ruiz struggled. The lack of consistency might have taken two wins away from the Bulldogs. Leach is hopeful that a transfer addition will fix those woes this season.
Massimo Biscardi (Coastal Carolina) moves to Mississippi State after starting for four seasons in the Sun Belt. The super senior is 46 of 57 (80.7%) on field goals in his career but has missed 10 extra points. Mississippi State will gladly trade that in for some clutch kicking in close ballgames.
If the field goal situation improves, a good offense can become more dangerous. That could equal a better record in toss-up games and give the Bulldogs a shot at having a breakthrough season.
Mississippi State offense
We all know what Mississippi State wants to do on offense. Leach's attack is the most pass-heavy attack in college football that attempts to beat defenses in space with a precision-based attack with a small average depth of target on throws. The Bulldogs made some big improvements in year two and still have some more room to grow.
Let's take a look at the numbers from last season.
Scoring: 29.1 (T-60 overall)
Success Rate: 50.2% (No. 8 overall)
Yards Per Play: 5.9 (T-64 overall)
Yards Per Rush: 3.0 (No. 127 overall)
Yards Per Attempt: 7.0 (T-87 overall)
Pass Play Percentage: 73.1% (No. 1 overall)
Explosive Play Rate: 11.9% (No. 76 overall)
Points Per Scoring Opportunity: 4.2 (No. 67 overall)
The Bulldogs had one of the most efficient offenses in college football last fall. Leach's unit was able to consistently stay ahead of the chains with a dynamite short-to-intermediate passing game. While the traditional rushing numbers look bad, most attempts come in short-yardage situations. This group had consistent success due to their efficiency.
But the lack of big play pop lowered the ceiling and must improve this season.
Will Rogers (6-2, 210, Jr.) took real strides in his second year in the system. The Brandon (Miss.) High product had a high completion rate (73.9%) and threw for 364.5 yards on 52.5 throws per game with a strong success rate (53.5%). But the quarterback averaged just 6.9 yards per attempt as creating chunk plays was difficult.
The hype is growing for the former high three-star recruit, but at the end of the day, this is still a system that will create numbers. Rogers must show growth as both a playmaker when things get off script to go along with the willingness to take more risks in the vertical passing game.
QB1 will have a good relationship with his returning pass catchers.
The Bulldogs return five players who recorded over 30 grabs last season and seven with over 20 receptions. That's even after losing Makai Polk and his 105 grabs on 154 targets to the NFL.
Jaden Walley (6-0, 190, Jr.) enters year three in the scheme with 107 career receptions for 1,346 yards. The D'Iberville (Miss.) High product needs to become a No. 1 target for Mississippi State following the departure of Polk. Walley could push for All-SEC honors if everything hits. There was a sophomore slump last season, but this should be a wideout that posts big numbers in this offense.
In the slot, Austin Williams (6-3, 205, Super) enters year six and has started 26 games for the Bulldogs playing for three different head coaches. The Mississippi native is a true possession receiver with 116 career receptions that will serve as a safety blanket for Rogers.
Lideatrick Griffin (5-10, 185, Jr.) and Rara Thomas (6-2, 200, So.) are next in line as each should be ready to take on a bigger role in the offense this year. The passing game will again be one of the best in college football.
At tailback, Jo'quavious Marks (5-10, 210, Jr.) was a big recruiting win in the class of 2020 as Leach's staff was able to hold onto the top-150 tailback out of Atlanta (Ga.) Carver who originally committed to Moorhead's staff. Marks is the team's best rusher who posted a 51.9 percent success rate last year, but his biggest threat is as a pass catcher where he pulled in 83 grabs last fall as a checkdown option.
Dillon Johnson (6-0, 215, Jr.) is a quality second option in the backfield who has accumulated 245 touches and nine touchdowns through two seasons.
In the trenches, LaQuinston Sharp (6-3, 310, Super) is a former junior college transfer that is now in year four at State. The Mississippi native has started games at all three interior spots and emerged as one of the best centers in the SEC last season. Sharp will pace the offensive line and give the Bulldogs a nice building block in the pivot.
However, tackle is a huge concern. Charles Cross was a top-10 pick, and one of the top left tackles in college football. Junior college transfer Percy Lewis (6-8, 335, Jr.), Middle Tennessee transfer Steven Losoya III (6-4, 310, RJr.), and redshirt freshman Albert Reese IV (6-7, 320) are all competing for snaps. The Bulldogs must find some quality play from this group.
If tackle becomes a true weakness, it could junk up the timing of an offense where rhythm is paramount.
Mississippi State defense
Under Zach Arnett, Mississippi State has become a downhill 3-3-5 defense that wants to force the issue and create negative plays. That has had some great success against pro-style attacks but can be susceptible against teams that can spread the field and make plays in space.
The Bulldogs are efficient but glitchy. Let's take a look at the data from last fall.
Scoring: 25.9 (No. 62 overall)
Success Rate: 39.5% (No. 38 overall)
Yards Per Play: 5.6 (T-68 overall)
Yards Per Rush: 3.6 (T-28 overall)
Yards Per Attempt: 7.5 (T-79 overall)
Havoc Rate: 11.2% (No. 85 overall)
Pressure Rate: 30.9% (No. 57 overall)
Takeaways: 16 (T-68 overall)
Points Per Scoring Opportunity: 4.2 (No. 68 overall)
Despite not producing a ton of negative plays, the Bulldogs were pretty efficient last year and that was mostly due to sturdy run defense. However, the pass defense was very glitchy despite playing a good amount of zone coverage. If the Bulldogs have some more big-play prevention this fall, Arnett could have a top-25 unit due to the returning personnel.
There are nine returning starters in Starkville, and Mississippi State appears to have added some instant contributors at cornerback. Expectations should be high for this group.
Cameron Young (6-3, 315, RSr.) was highly productive as a nose tackle recording 51 tackles last season and should serve as an anchor in the middle. The nose player might be the most important player on this defense. On the edge, Tyrus Wheat (6-2, 260, Super) is a former junior college transfer that enters year three in the SEC. The Louisiana native player is a hybrid player who provides a much-needed pass rush and is a legit NFL prospect.
At linebacker, Jett Johnson (6-2, 235, RSr.) was a surprise starter last season that led the team in tackles (87) and graded out as one of the best players on the unit. The Tupelo (Miss.) High product has All-SEC potential and was a great havoc producer last year.
The strength of the defense might be at cornerback. Emmanuel Forbes (6-0, 180, Jr.) returns after starting all 13 games last season. The former blue-chip recruit has eight interceptions and 19 pass breakups in 24 career games. Forbes possesses solid length, plays with good eyes in zone coverage, and has made plays in man coverage. State has a top-flight cover corner.
Opposite Forbes, the Bulldogs added junior college transfer DeCarlos Nicholson (6-3, 190, Jr.) and Alabama transfer Marcus Banks (6-0, 190, RJr.) to the roster. Both have a chance to be quality players. The personnel may allow the Bulldogs to play more man coverage and that could create some more negative plays for this unit.
Quietly, this group has a chance to be very good this season, and the unit will be protected by a ball control offense that can gobble up first downs. Buy stock right now.
Outlook
From where I'm sitting, Mississippi State did not receive enough attention during talking season. The Bulldogs have a proven quarterback and a system that will put points on the scoreboard. Pairing that with a defense that has some returning difference makers could equal a breakthrough season for Leach.
The schedule is brutal as the Bulldogs draw Georgia from the east to go with road trips to Alabama, Kentucky, LSU, and Ole Miss. But the non-con slate is very manageable. The Bulldogs feel like an 8-4 team that will pull at least one big upset and find themselves in the top 25 at the end of the season.
Mississippi State is a sneaky pick to be the No. 2 squad in the SEC West.