Early Scouting Report: Ole Miss Rebels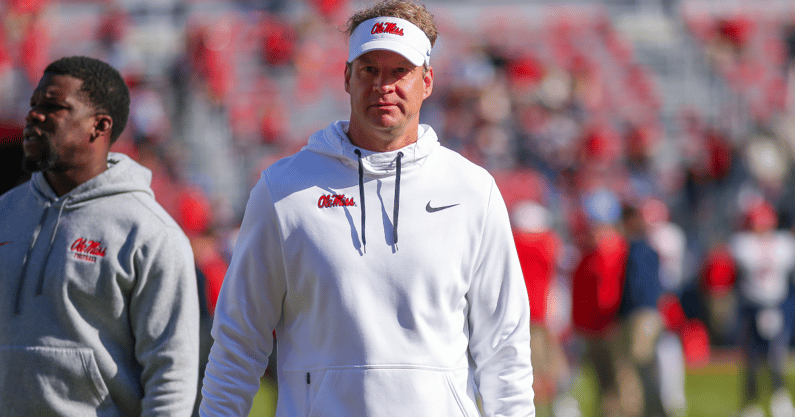 Kentucky will begin its 2022 conference slate with consecutive games on the road. In this year's SEC West rotational crossover, the Wildcats will travel to a venue for the first time since 2010.
Kentucky is headed to The Grove at Vaught-Hemingway Stadium in Week 5, and the trip to Ole Miss might be the most anticipated road game on the schedule. The Big Blue Nation is expected to show out in force as Kentucky should have a strong fan contingent.
We're continuing our early scouting report series with Lane Kiffin's third team at Ole Miss. The Rebels are fresh off a 10-2 regular season and seem to have a ton of momentum.
Early Scouting Report: Miami (Ohio), Florida, Youngstown State, Northern Illinois
Nuts and Bolts
After leading Ole Miss to 19 wins in 2014 and 2015 with 11 SEC victories, things quickly started to unravel under Hugh Freeze. After nearly winning an SEC West title, this program got caught up in various recruiting and academic violations that ultimately led to the dismissal of the head coach.
After an investigation where the NCAA punished Ole Miss for violations both under Freeze and former head coach Houston Nutt, the latter decided to sue the university for defamation saying Freeze and the university falsely blamed him for violations. In that process, Freeze's phone records were discovered through the Freedom of Information Act and a dozen calls were made to escort services. The rising head coach was then forced to resign.
That put the program in a hole.
Offensive line coach Matt Luke was given the interim head coach title for the 2017 season just days before the start of training camp. After closing the year with three wins that included a win in the Egg Bowl on the road as a 15-point underdog, that interim tag would be removed.
However, that same rivalry game would later determine his fate.
In 2019, Ole Miss entered the game with a 4-7 record and this time saw itself as a small dog against Mississippi State. You all know what happened next.
That led to another coaching search with Florida Atlantic head coach Lane Kiffin rejoining the SEC. The Rebels are now 15-8 under the former USC head coach and are seen as a rising program. After a lot of turnover, we'll see if Kiffin's aggressive roster-building approach will payoff in 2022.
Transfer Portal recap
Lane Kiffin, I believe, created the "Portal King" nickname for himself. While someone should never give themselves a nickname, it's hard to argue against the moniker after the most recent transfer cycle.
The SEC West program saw over 20 players enter the transfer portal but was able to add 16 transfers with 12 being Power Five transfers. There will be multiple starters on offense and defense that came directly via free agency.
— USC transfer Jaxson Dart (6-2, 220, So.) is competing for the starting quarterback position.
— TCU transfer Zach Evans (6-0, 215, Jr.) is a former five-star recruit who could be the top tailback in the 2023 NFL Draft.
— Malik Heath (6-3, 215, Super), Jaylon Robinson (5-9, 180, RSr.), Michael Trigg (6-3, 240, So.), and Jordan Watkins (5-11, 190, Jr.) are all transfers who will be used to help upgrade the passing game in Oxford.
— Linebacker Troy Brown (6-1, 220, Super), EDGE Jared Ivey (6-5, 265, Jr.), Defensive tackle JJ Pegues (6-2, 315, Jr.), and safety Isheem Young (5-10, 215, RJr.) could open the season as starters on defense.
Ole Miss loaded up in the transfer portal and added many good football players to the roster. However, this is a lot of moving parts for a team breaking in a pair of new coordinators. That makes the ceiling high, but the floor could be fairly low.
Ole Miss offense
In two years at Ole Miss, Lane Kiffin has put together consecutive top-20 offenses as Matt Corral posted huge numbers in this tempo-based attack. However, he's now with the Carolina Panthers, and there are big holes to fill at both running back and receiver.
Before jumping into 2022, let's take a look back at last year's numbers.
Scoring: 33.7 (No. 24 overall)
Success Rate: 45.9% (No. 34 overall)
Yards Per Play: 6.3 (T-36 overall)
Yards Per Rush: 4.8 (T-38 overall)
Yards Per Attempt: 8.3 (T-29 overall)
Plays Per Game: 80.5 (T-3 overall)
Explosive Play Rate: 13.6% (No. 28 overall)
Points Per Scoring Opportunity: 4.1 (No. 74 overall)
Ole Miss had a lack of playmaking at wideout last season, and that caused the offense to take a slight step backward under offensive coordinator Jeff Lebby. Ole Miss is hoping the additions from the transfer portal can help bolster the passing game after Lebby left for Oklahoma in the offseason. To replace him, Kiffin brought on USF offensive coordinator Charlie Weis Jr. who worked under him for two years at Florida Atlantic.
The first thing the coaching staff must figure out is what to do at quarterback.
Ole Miss went portal shopping this offseason and landed Jaxson Dart. The former top-50 recruit started three games for USC last season but appeared to struggle in the spring. Luke Altmyer (6-1, 200, So.) returns for his sophomore season, but the former top-250 recruit completed just 54.1 percent of 37 throws last year averaging only 5.2 yards per attempt. This battle is wide open and will go a long way in determining how Ole Miss fairs in between the white lines.
Despite the passing numbers posted by Corral, Ole Miss has ranked inside the top 10 nationally in both years under Kiffin in rushing attempts per game. The Rebels will get in many spread alignments, but this is an offense that wants to be physical and pound the rock. However, this group lost a lot at tailback.
Snoop Conner (5th round pick), Jerrion Ealy (undrafted free agent), and Henry Parrish (Miami transfer) have all moved on. Their 1,968 rushing yards and 21 touchdowns must be replaced. Ole Miss is hopeful that former five-star recruit Zach Evans can provide a good chunk of that production.
As a sophomore, the former blue-chipper rushed for 1,063 yards on 7.3 yards per rush for TCU last season. Ole Miss will need him to carry a heavier load this year. SMU tailback Ulysses Bentley IV (5-11, 200, RJr.) has rushed for 1,559 yards and 5.7 yards per rush in his career and should bring some needed explosiveness to the ground game. These transfers fill a need, but Corral has taken over 600 rushing yards with him to the NFL. This rushing attack is likely to take a step back even if Evans is a first-round talent.
The passing game must carry a bigger load this fall. There were some legitimate big-time transfer portal wins. Let's take a look at some of the numbers from last season.
Malik Heath: 34 receptions, 442 yards, 5 touchdowns, 13.0 yards per catch, 10 games
Jaylon Robinson: 18 receptions, 372 yards, 2 touchdowns, 17.9 yards per catch, 6 games
Michael Trigg: 7 receptions, 109 yards, 1 touchdown, 15.6 yards per catch, 6 games
Jordan Watkins: 35 receptions, 531 yards, 4 touchdowns, 15.2 yards per catch, 12 games
The additions will help bolster the room, but a returnee is perhaps the most important player for the offense. Jonathan Mingo (6-2, 225, Sr.) has recorded 61 receptions for 897 in his three-year career, but the former blue-chip recruit has yet to put it together for a full season. Mingo is a true X receiver that has No. 1 potential but must start providing consistent playmaking on Saturdays. If the veteran becomes a go-to guy it could make life easy for a new quarterback and open up lanes for a high-ceiling rush attack.
On the line of scrimmage, Ole Miss returns three starters and adds WKU transfer Mason Brooks (6-6, 315, Super) who was an all-conference performer with 26 career starts. The transfer will fill a right tackle spot in Oxford. Elsewhere, guard Nick Broeker (6-5, 315, Sr.) and Jeremy James (6-5, 305, RJr.) will create a formidable left side that will be as good as anyone in the SEC. The Rebels could quietly have one of the better offensive lines in college football if improvement is made in pass protection.
Ole Miss defense
Defensive coordinator D.J. Durkin moved to Texas A&M in the offseason after seeing his unit make strides in year two. However, that was a low bar to clear. The Rebels — with new play-caller Chris Partridge taking over — have a lot of room for growth.
Scoring: 24.7 (No. 51 overall)
Success Rate: 45.7% (No. 105 overall)
Yards Per Play: 5.5 (T-61 overall)
Yards Per Rush: 4.5 (T-91 overall)
Yards Per Attempt: 6.8 (T-30 overall)
Snaps Per Game: 78.7 (No. 124 overall)
Havoc Rate: 10.2% (No. 104 overall)
Takeaways: 21 (T-30 overall)
Points Per Scoring Opportunity: 3.8 (No. 41 overall)
Using a heavy dime (6 defensive backs) base look, the Rebels took real strides in pass defense last year, but this was a unit that accepted falling behind the chains. The defense just had a hard time stopping the run again. Ole Miss graded out as a top-40 unit in ESPN's SP+ due to its ability to force takeaways and limit points when backed up.
Not much from a scheme aspect is expected to change. Ole Miss wants to hang its hat on limiting explosive plays. In 2022, there will be some new pieces, and the secondary must lead the way.
AJ Finley (6-3, 205, Sr.) returns at free safety, and the Alabama native has 21 career starts and recorded 90 tackles with seven PBU/INTs last season. He's the best player on the unit and must play at a high level. Next to him will be former Georgia transfer Otis Reese (6-3, 225, RSr.). The former top-100 recruit from South Georgia is back for year three at Ole Miss and was highly productive last year with 90 tackles.
On the EDGE, Cedric Johnson (6-3, 265, Jr.) returns after recording 6.5 sacks. The Alabama native will be needed to produce after Sam Williams, and his 12.5 sacks are now in the NFL. Georgia Tech transfer Jared Ivey should also have a big say in the pass rush department.
At the hybrid STAR position in the secondary, Iowa State transfer Isheem Young steps in after two very strong seasons with 21 starts at Iowa State who use a very similar defensive scheme in Ames. At cornerback, Miles Battle (6-4, 205, RSr.) and Deantre Prince (6-0, 180, Sr.) will form a strong duo.
The secondary is the biggest strength on the team and Ole Miss will lean into that. But the structure of the defense leads to the unit being susceptible to the run. If the offense isn't producing at a top-20 level, some schematic changes might need to be made if this defense must provide the team with more playmaking.
Outlook
Thanks to a strong transfer portal class combined with a fast two-year start by Lane Kiffin at Ole Miss, expectations are high for the Rebels. This is a team that many expect to be a top-25 squad that should make a run at 9 wins.
But there are a lot of moving parts.
Quarterback is a huge worry, there are new two coordinators on both sides, and the defense has been built to complement an explosive offense. But what if that offense is not explosive? That could lead to some awkward moments in games with players that aren't super accustomed to playing with each other.
A soft schedule to begin the year should lead to a 4-0 start, but we may not know much about Ole Miss when Kentucky rolls into The Grove. The Wildcats should have a good shot on Oct. 1 to record its first SEC West road victory under Mark Stoops.