Flyover Recruiting Notebook: 9/7/21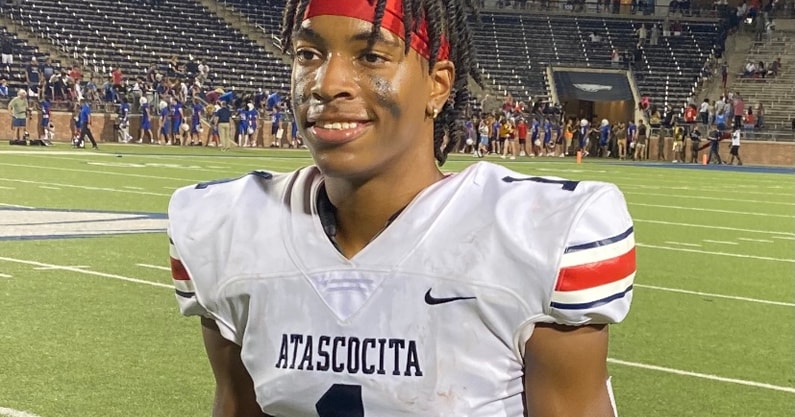 One of the staples of the recruiting coverage at Inside Texas is the "Recruiting Notebook" where staff members break down priority targets and how they will specifically fit in the Texas Longhorn system. 
I used that format to break down some of my favorite players in the state who may not be household names to more casual followers of recruiting, but merit evaluation. 
Outlook- Before a growth spurt ahead of his 17th birthday in July, Chase was primarily viewed as a baseball prospect at the next level. Now after a breakout performance vs. 6A No. 8 Allen, Chase has picked up his first two football offers and is poised to become one of the breakout prospects of the 2022 class. 
How he fits at the next level- Traditional boundary "X" wide receiver that can win with size or speed.
Strengths- Well-rounded receiver with the ability to burn DBs, make contested catches, and use his fluidity to win with a variety of routes. 6.59 laser-timed 60 yard dash and 1.5 10 yard split time verify his athletic talent. 
Areas for Improvement / Concern- Limited football-specific focus could hurt him in the eyes of coaches. Chase still wants to play both baseball and football at the next level. High floor well-rounded player, not much to nitpick other than a couple of focus drops. 
Comparison- Former West Virginia WR David Sills
Outlook- EDGE prospect with desired frame and measurables that picked up offers from Oklahoma State and TCU in the last seven days. Chase is the grandson of former ABA/NBA player Eugene Kennedy. 
How he fits at the next level- Clear projection to EDGE.
Strengths- Athletic ability gives him the option to play with or without a hand in the dirt at the next level depending on scheme. Checks boxes on arm length, short-area quickness, and initial get off. Talented all-around player, clear to see why so many great college evaluators offered Chase.
Areas for Improvement / Concern- Competition level is a clear weakness. Could be more consistent defending the run.
Comparison- Shades of current TCU star Ochaun Mathis
Outlook- Hyper-athletic player that has great production as a 4-3 defensive end and running back at the high school level. While Anquan doesn't have an offer yet, he has heard from coaches at Texas, Baylor, and TCU. 
How he fits at the next level- Uncertain fit as a junior in high school, could profile as an EDGE or off-ball linebacker depending on the defensive scheme.
Strengths- Anquan's explosiveness is my favorite aspect of his game. Tremendous "get off" as an EDGE and uses his 4.52 hand-timed 40 yard dash on both sides of the ball. Change of direction as a running back shows promise if he ends up profiling to a box linebacker spot.
Areas for Improvement / Concern- Potential to float as an EDGE/LB tweener, however running back tape gives hope he could figure it out at an off-ball linebacker spot.
Comparison- Athletic profile reminds me of longtime NFL veteran and former Florida Gator Jon Bostic.
Outlook- East Texas two-way player that could profile as a wide receiver or safety right now. McCuin has one power five offer from TCU where his older brother Deshawn plays safety. A recent 15 reception 259 yard game garnered statewide accolades for Devin.
How he fits at the next level- As of right now I'm leaning wide receiver.
Strengths- Elite production, 1,000+ yards as a sophomore and looks likely to smash that number this year.  3.8 GPA and production in other sports are great off-field indicators. 
Areas for Improvement / Concern- Slight frame right now, would like to see some S&C gains heading into senior year, especially if schools view him as a safety. 
Comparison- TCU wide receiver Blair Conwright