Syllabus Week: Where Isaiah Neyor, Aaron Bryant, Justice Finkley, and Jaray Bledsoe should focus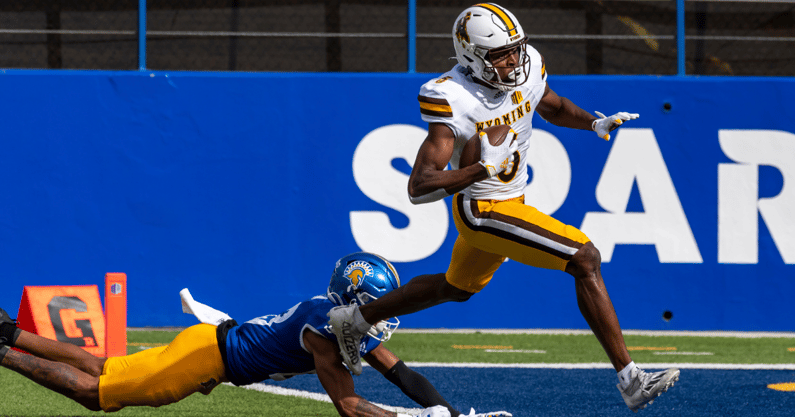 The University of Texas started classes on Tuesday, January 18, meaning a group of transfers and early enrollees officially became Longhorn students and began preparing for the upcoming season.
[Subscribe to Inside Texas right now and get a 7-day FREE trial!]
A recent Inside Scoop offered a brief outlook for each January arrival. This series looks to go into additional detail regarding what each transfer/early enrollee should emphasize during their first semester in Austin.
Part I: Quinn Ewers, Ryan Watts, Jahleel Billingsley
Part II: Maalik Murphy, Jaydon Blue, Cole Hutson
Part III: BJ Allen, Terrance Brooks, Jaylon Guilbeau, Larry Turner-Gooden
There's no question Xavier Worthy was Texas' No. 1 receiving option in 2021, but there was no clear No. 2.
Jordan Whittington was second on the team in receiving yards, but he missed a portion of the year. Bijan Robinson, a running back, was third in receiving yards. Marcus Washington was fourth, and a large reason behind him shooting up the rankings was the midseason transfer of Joshua Moore.
The opportunity to work opposite Worthy in Steve Sarkisian's offense was a strong selling point, one strong enough to top Josh Heupel's Tennessee for Wyoming Cowboy transfer Isaiah Neyor.
Neyor will need to learn the playbook quickly before getting used to playing against Power 5 defenders every day in spring drills. That's a challenge he should be able to handle, but it's one of the small unknowns about Neyor heading into 2022.
One of the underrated wins in the 2022 cycle was pulling Aaron Bryant from just outside of the greater Memphis, Tenn. area. During what was a rough summer for Longhorn recruiting, Bryant's late August pledge provided positive evidence about the type of haul Bo Davis would bring in.
There are positions on the defensive line where a young player could find playing time this year, but it's likely not on the interior. With Keondre Coburn, Moro Ojomo, Alfred Collins, Byron Murphy, T'Vondre Sweat, and Vernon Broughton likely ahead of him, even enrolling early may not be enough to boost Bryant into the rotation.
There's no issue with that. As a result, Bryant should still game-ready should his 6-foot-3, 300-pound frame be needed, but understand there are several elder statesmen with a lot of snaps under their belts ahead of him.
Playing time may be hard to come by on the interior, but that's not the case on the edges. Ray Thornton and Jacoby Jones have graduated. Jett Bush and Alfred Collins have changed positions. Aside from Ovie Oghoufo and maybe Barryn Sorrell, any of the defensive ends from 2021 aren't shoo-ins to be at the top of the depth chart.
Finkley should prepare for steady playing time in the upcoming season, and that's the case even if Ochaun Mathis were to eventually transfer to Texas. The path to playing time at Jack is decently clear for a true freshman like Finkley. How he treads that path is up to him, but it seems like he'll succeed considering his previous emphasis on "books and ball."
After missing his senior year at Marlin, Bledsoe should work to get back into football shape. He could start on the edge and work his way inside as his career progresses, but preparing for college football life and acclimating to it should be priority No. 1. Him enrolling early is a huge boon for his career.