Syllabus Week: Where BJ Allen, Terrance Brooks, Jaylon Guilbeau, and Larry Turner-Gooden should focus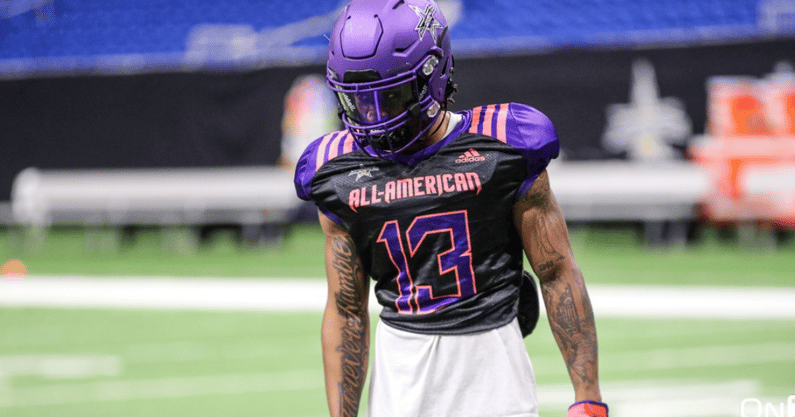 The University of Texas started classes on Tuesday, January 18, meaning a group of transfers and early enrollees officially became Longhorn students and began preparing for the upcoming season.
[Subscribe to Inside Texas right now and get a 7-day FREE trial!]
A recent Inside Scoop offered a brief outlook for each January arrival. This series looks to go into additional detail regarding what each transfer/early enrollee should emphasize during their first semester in Austin.
Part I: Quinn Ewers, Ryan Watts, Jahleel Billingsley
Part II: Maalik Murphy, Jaydon Blue, Cole Hutson
A glance at Allen's film for Aledo reveals how impressive an athlete the 6-foot-0, 180-pounder is. He was utilized as a safety, receiver, Wildcat quarterback, and kick returner for the powerhouse Bearcat program.
That is a strong indicator of Allen's natural athleticism, but he isn't just an athlete playing football. There are plenty of instinctual plays on the ball in the air and aggressiveness running downhill from the safety position that shows he has a good idea of what he's doing in the back end.
This winter and spring, he should focus on getting game ready, especially if the portal fails to provide a plug-and-play defensive back for the Longhorns.
After Texas didn't get the most out of its safety play last year, and with Brenden Schooler, Chris Adimora, and BJ Foster all leaving the program, there is a path to playing time for the two-time state champion. Allen should get ready for the rigors of college football in the winter, learn how to play it in the spring, and be ready to see real snaps exiting the summer.
One of two five-star prospects in the Longhorns' 2022 class per On3's rankings, Brooks played corner and a "go get the ball carrier" role for Little Elm in 2021. He also returned punts at times, but he was typically found covering the opposing team's top offensive threat.
When doing that, he showcased strong technical ability and good reactions against opponent's No. 1 options, plus a toughness when tasked with bringing down ball carriers.
One of the questions about Brooks is his long speed. While a junior at Plano (Texas) John Paul II, his best time in the 100m during the 2021 season was 11.25, per Athletic.net. But, there are some instances of him attempting to provide a good answer to that question. Check out the clip from his senior film that begins at the 3:50 mark.
If Brooks can prove he has the requisite speed for corner in the spring, it will help him stay there long term. If not, he should consider a move to STAR, something his high school film suggests he'll be able to handle.
Guilbeau was one of the most consistent performers at the recent All-American Bowl in San Antonio, with plenty of opportunities as a result of COVID being an issue at the event.
He showcased great technique both in the practices leading up to the game and the game itself, but as Inside Texas has long-noted and On3's Charles Power echoed in his write-up linked above, his speed was the only thing holding him back as a cornerback prospect.
Those instincts could translate to a number of positions in the defensive backfield. If he is moved, learning how to play a new position with the same traits that made him the On3 Consensus No. 155 prospect quickly will quickly become his top priority.
There is not a lot of film to work with when evaluating Turner-Gooden. Part of that is due to playing at several different high schools. Part of that is also due to injury.
Turner-Gooden was unable to participate in the All-American Bowl in San Antonio due to an injury. His priority during his first semester in Austin should be to get healthy so he can have an opportunity to prove himself in time for spring and the pre-season.