THEE ULTIMATE HIGHLIGHTS: USC Rolls Over Fresno St. 45-17 at the Coliseum (9/17)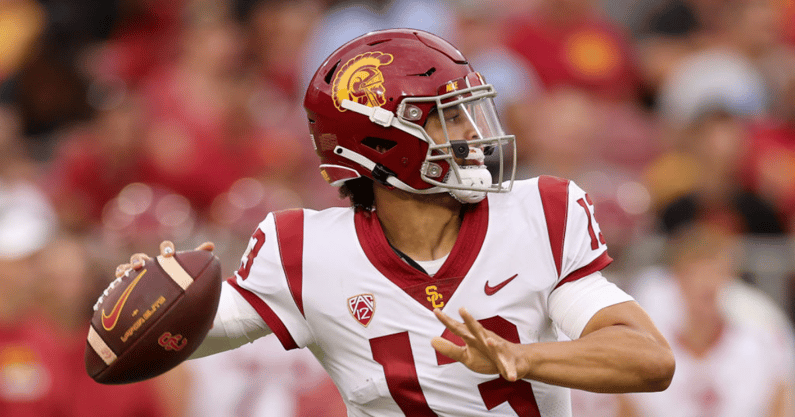 Prior to the USC vs Fresno St. game at the Coliseum Saturday night, I had a conversation about the Trojan defense with former cornerback John Walker. Back in the Pete Carroll days USC's main objective was to create turnovers, not secure three and outs from the opposition.
Obviously stopping the opposing team without earning a first down is an ideal outcome, but creating turnovers was always the main objective for Carroll's defenses.
"We didn't give up that many points and we created a lot of turnovers, but we did give up a lot of yards at times," Walker said. "It was a bend don't break defense like the USC defense is this year. With an offense like Lincoln Riley's, they just need to make key stops. You can't go score for score with this USC football team."
Marc Kulkin provided his popular Notes and Observations from the victory over the Bulldogs in the wee hours of the morning. That was one ridiculously long game.
**It was another first for Lincoln Riley; the Trojans were playing their first night game inside the LA Coliseum. 
**The players asked the fans to fill the Coliseum, and while the 7:30 PM kickoff wasn't ideal, the announced attendance was 67,226. The ones who did show up brought great energy.
**WR Tahj Washington equals confidence and is secure in his own skin wearing a plaid suit with no shirt. Erik said that would have been his second choice of attire for the game. Tahj's game-time uniform had a unique look too with his pants cut into jorts and one red legging.
**Middle linebacker Eric Gentry has the hair unleashed and it's flowing!
**The Rush ends are out warming up in the pajama warmups, however, and Romello Height is in street clothes, although without a sling. While the group forms their soul circle at midfield, Height is doing his best to motivate the group and get them fired up. 
**Solomon Byrd received the message and more playing time with Height unavailable. More on Solomon shortly, however, remember, he was a starter at Wyoming and 3rd on the depth chart before the Rice game.
THEE ULTIMATE HIGHLIGHTS
Something all die-hard USC fans should treat themselves to is the WeAreSC Official Game Day thread.
Below is the running game thread. You can also visit and read the game thread on the WeAreSC Members Only message board.  Definitely a lot more fun this year than it was the last few years of the Clay Helton era.
The No. 7 USC Trojans (3-0, 1-0 Pac-12) flexed their considerable offensive muscle in grinding down the Fresno State Bulldogs 45-17 in the Coliseum, scoring over 40 points in their third consecutive game, thus setting up a battle of unbeatens next Saturday night in Corvallis, Oregon, when the Men of Troy battle Oregon State, which is also 3-0 on the season. More game stories and column reviews to follow.
One thing that stood out most for several of us last night was Riley saying his favorite defensive series Saturday night was the final goal-line stance. USC was up 28 points with less than a minute to play and continued to play exceptionally hard. In fact, it looked like the Trojans played like the season was on the line.
Lincoln Riley's Favorite Defensive Stop
Erik McKinney wrote about that final defensive stop this morning in his "Lincoln Riley Finds Meaning in USC's Late Goal Line Stand," article.
USC's goal line stand in the final minute of the Trojans' 45-17 win against Fresno State meant absolutely nothing in terms of winning or losing the game. But those four tackles might mean everything when it comes to the program head coach Lincoln Riley is building at USC.
"That's what we're about," Riley said after calling that his favorite sequence of the game. "No matter who thinks the game's over, or this doesn't matter, it all matters to us. And if you're going to be a champion, it's got to all matter. For our guys to get that stop right there at the end to close the game was as meaningful as anything that happened tonight."
The tackle on first down came on the edge from backup cornerback Jacobe Covington. On second down, lineman Stanley Ta'ufo'ou brought the running back down for a solo tackle at the one-yard line. Third down resulted in a stop by reserve linebacker Ralen Goforth. On fourth down, linebacker Raesjon Davis met Fresno State running back Malik Sherrod at the line of scrimmage and four other Trojan defenders helped Davis drive him backwards to set the final score.
"Five Things" from Fresno St. Game
Greg Katz, McKinney and Kulkin also shared their post game thoughts in the WeAreSC "Five Things" wrap up show.