NFL comparisons for On3 five-stars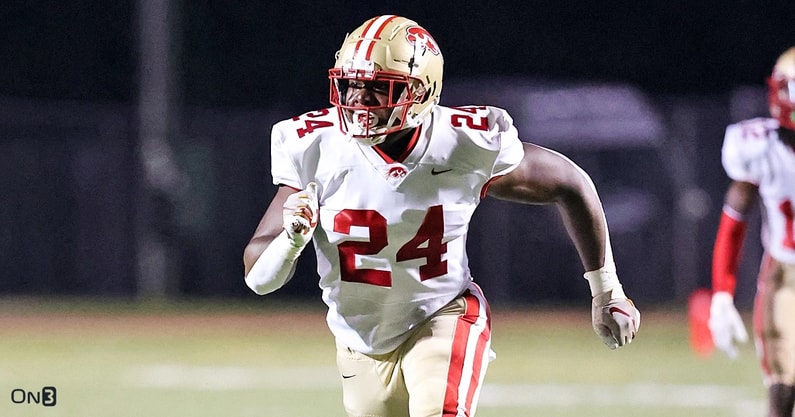 The 2022 recruiting cycle is virtually in the books with National Signing Day less than 24 hours away. Most prospects are signed with a significant portion already being on campus. As they make the transition from high school to college, now is a good time to formulate some player comparisons for top 2022 prospects. We've had a close look at most of the nation's top prospects both as seniors and on the all-star circuit.
Formulating player comparisons is a fun and challenging exercise that tests the mental rolodex of former top recruits and current NFL players. It can be informative for both fans and us as analysts. It is important to note that these comparisons are stylistic in nature and not career projections. Many variables are at play when projecting a career arc in addition to the impossible odds that every top-rated prospect ends up maximizing their potential.
With that said, let's get into the comparisons for On3's 2022 five-star prospects.
1. QB Devin Brown, Ohio State
Comparison: Derek Carr (Fresno State/Las Vegas Raiders)
The Reasoning: Devin Brown's arm talent, physical traits and high school career remind us of Derek Carr.
Like Carr, Brown is has a quick release, live downfield arm and the ability to throw with touch to multiple levels. They have similar throwing motions and primarily deliver from a consistent arm slot. Both were similar sizes as seniors in high school, at around 6-foot-2.5 and around 195 pounds. Brown does have a significantly larger hand (10 inches) than Carr (9 1/8 inches). They're also good athletes for the position with bouncy feet in the pocket. Brown and Carr also have similar developmental paths in high school. Both showed off their arm talent while not putting up gaudy numbers at their first high school stop (Brown at Shadow Creek in Arizona and Carr at Fort Bend Clements in Texas). Both transferred to a high school in another state for their senior seasons and put up big passing numbers. Carr completed 280 of 413 passes for 4,067 yards and 46 touchdowns and nine picks at Bakersfield Christian in California. Brown completed 254 of 372 passes for 4,815 yards, 57 touchdowns and 14 interceptions at Corner Canyon in Utah.

Additionally, Brown has received some reviews as a locker room presence that sounds similar to Carr. The new Ohio State signal caller would also be wise to model his mental approach to the game after Carr, who was so well-versed in his college offense that he could call up 90 percent of the plays in a game.
2. DL Mykel Williams, Georgia
Comparison: Chris Jones (Mississippi State/Kansas City Chiefs)
The Reasoning: We've thought Mykel Williams bears a strong resemblance to a high school Chris Jones for much of the cycle. Williams checks in at 6-foot-5, 260 pounds with an arm length over 34 inches. Jones is around one inch taller than Williams, but their frames look similar at the same stage. Jones was around 6-foot-6, 255 pounds as an On3 Consensus five-star prospect in the 2013 cycle. We would not be surprised to see Williams top out around 300 pounds after a few years in Georgia's strength program. Williams is more technically advanced than Jones at the same stage, but both were devastating pass rushers at the high school level while projecting as interior disruptors in college and the NFL. Williams averaged 1.3 sacks per game over the course of his high school career. Jones tallied 160 tackles and 14 sacks as a senior. Both also turned in dominant all-star performances – Williams was the best player all week at the All-American Bowl, while Jones was a top performer at the Alabama-Mississippi All-Star Classic and Under Armour All-America Game. To make things even more eerie, both were ranked as high as No. 2 overall as seniors, with On3 National Recruiting Analyst Gerry Hamilton playing a key role in each.
3. EDGE Jihaad Campbell, Alabama
Comparison: Bud Dupree (Kentucky/Pittsburgh Steelers/Tennessee Titans)
The Reasoning: Landing on a player comparison for Jihaad Campbell was one of the tougher ones, primarily due to Campbell's unique versatility. The 6-foot-3, 220-pounder is a pass rusher with an elite motor who has the athleticism to line up at corner and cover receivers. Campbell bears some similarity to his future Alabama teammate Will Anderson and Pittsburgh Steeler T.J. Watt as a high energy outside linebacker pass rusher who wins with burst, power and effort rather than bend and pass rush nuance. But Campbell is a better athlete than Anderson at this stage while lacking the same level play strength. Ultimately we landed on Dupree for the comparison due to the similarities in frame, athleticism and projected positional progression. Dupree began his career as a 220-pound off-ball linebacker before ultimately growing into a 265-pound, athletic edge rusher. We would not be surprised to see Campbell take a similar path.
4. ATH Sonny Styles, Ohio State
Comparison: Anthony Barr (UCLA/Minnesota Vikings)
The Reasoning: Like Anthony Barr, Sonny Styles is a unique jumbo athlete who ultimately projects as a versatile front seven defender. Barr was a 6-foot-4, 230-pound prolific high school running back with track speed. Styles is a 6-foot-4, 220-pound high school safety with strong combine results in addition to being an above-the-rim basketball player. Barr spent his first two years at UCLA as an offensive player before making the switch to defense. He was one of college football's best defenders in his final two years as a Bruin, totaling 23.5 sacks and 41.5 tackles for loss before becoming a top ten pick. In addition to the physical and athletic resemblance, we see Styles having similar versatility with the ability to line up as a jumbo off-ball linebacker and pass rusher similar to Barr.
5. DL Walter Nolen, Texas A&M
Comparison: Marcell Dareus (Alabama/Buffalo Bills, Jacksonville Jaguars)
The Reasoning: Walter Nolen's athleticism, ability to rush the passer from the interior or as a big defensive end all while having the size of a nose tackle reminds us of Marcell Dareus. Both were highly disruptive at the high school level. Dareus totaled 20 sacks as a senior at Birmingham (Ala.) Huffman in the 2008 cycle. Nolen racked up 31 tackles for loss and 14 sacks as a senior. Dareus had unique movement skills – he ran a 4.93 40-yard dash at the NFL Combine at 319 pounds. Nolen ran an electronically-timed 4.99 40 prior to his junior season at 302 pounds.
6. OT Kelvin Banks, Texas
Comparison: Laremy Tunsil (Ole Miss/Miami Dolphins, Houston Texans)
The Reasoning: Kelvin Banks has similar stature, length and flexibility to what we saw from Laremy Tunsil, a Five-Star Plus+ prospect in the 2013 cycle. Both Banks and Tunsil are around 6-foot-5 and check-in with arms over 34 inches. Banks is a little heavier (315) than Tunsil (295) at the same stage. Both are flexible, light-footed movers with outstanding bend. Tunsil was a dominant high school offensive tackle with his ability to move and finish at the second level. We saw some similar flashes from Banks as a senior.
7. QB Drew Allar, Penn State
Comparison: Joe Flacco (Pitt/Delaware/Baltimore Ravens)
The Reasoning: Drew Allar is unique in that there are not many pocket passers at his size (6-foot-5, 230 pounds) with his arm dexterity. The Penn State signal caller not only has plus arm strength – he delivers throws from multiple arm slots and gets considerable rotation throughout his upper body allowing for off-platform throws. There does not appear to be a great comp for Allar. We considered Philip Rivers and Josh Allen before ultimately settling on Flacco. Rivers has a unique playing style and release and it's tough to project Allar ending up as a similar athlete and rush threat to Allen. While he's an inch or two shorter than Flacco, we see some similarities in the plus arm talent, movement skills and even some of the delivery from Flacco's time at Delaware and ultimately in the NFL.
8. ATH Travis Hunter, Jackson State
Comparison: CB Trevon Diggs (Alabama/Dallas Cowboys), WR Justin Jefferson (LSU/Minnesota Vikings)
The Reasoning: Travis Hunter is the only prospect that gets two player comparisons. The Jackson State signee is a legitimate two-way prospect at corner and receiver. At corner, we like the Trevon Diggs comparison for a few reasons. Diggs began his career at Alabama as a wide receiver before converting to corner. Similar to Diggs, Hunter is at his best when he can sit back, read the quarterback and use his instincts, long arms and elite ball skills to make plays on the ball. Both are best fit in defenses that allow them to take chances and play the traditional Seattle Seahawks style coverage rather than being on a pure island in man-to-man downfield coverage.
At receiver, Hunter's considerable catch radius and shifty movements within the route remind us the most of Jefferson. Hunter will get comparisons to DeVonta Smith due to their similar dimensions, but Smith had extensive verified track speed, while Hunter does not.
9. WR Luther Burden, Missouri
Comparison: Deebo Samuel (South Carolina/San Francisco 49ers)
The Reasoning: Luther Burden has a strong case as the best receiver after the catch in the 2022 cycle. The Missouri signee is a threat to score any time he touches the ball, whether it's on a catch-and-run, as a return man or in some other manner. Burden's ability to make defenders miss and run through arm tackles reminds us of Samuel. Both also have similar stature at around 5-foot-11.5 with compact builds. Burden is actually heavier at the same stage, checking in around 200 pounds. The multi-purpose ability to go with being rock solid at traditional receiver skills makes both players unique talents and versatile weapons for offensive coaches.
10. CB Domani Jackson, USC
Comparison: Tyson Campbell (Georgia/Jacksonville Jaguars)
The Reasoning: Domani Jackson's size and athletic profile are similar to that of Campbell, a Five-Star Plus+ prospect in the 2018 cycle. Both Jackson and Campbell were prep track stars. Jackson tied the California state record in the 100 meters as a junior with a time of 10.25 seconds. Campbell ran a 10.39 in high school. They also have similar size and length at around 6-foot-1, 180 pounds. And while both have elite speed and good size, there's room for improvement in the tracking and ball skills areas.
11. EDGE James Pearce, Tennessee
Comparison: Randy Gregory (Nebraska/Dallas Cowboys)
The Reasoning: As the top pure pass rushing talent in the 2022 cycle, James Pearce elicits memories of several top EDGE prospects. He's drawn some comparisons to Leonard Floyd from within the Tennessee football office, but we think he's further along than the current Los Angeles Ram was at the same stage. Brians Burns is another, but we feel Pearce has different movement patterns than the Carolina Panther pass rusher. Ultimately we settled on Randy Gregory. Both Pearce and Gregory are easily identifiable top talents as pass rushers. Pearce burst on the scene as a junior last spring and was the top defensive player in the state of North Carolina as a senior while putting up gaudy stats. Like Pearce, Gregory was a long, explosive and rangy pass rusher and was one of the nation's top JUCO prospects coming out of Arizona Western College in the 2013 cycle. Gregory racked up 29 tackles for loss and 17.5 sacks in two seasons at Nebraska before being picked in the first round by the Dallas Cowboys.
12. LB Harold Perkins, Unsigned
Comparison: Shaq Thompson (Washington/Carolina Panthers)
The Reasoning: Both Harold Perkins and Shaq Thompson were two-way threats at the high school level as dynamic running backs who projected on defense long-term. Thompson was an On3 Consensus top ten prospect coming out of Sacramento Grant Union in the 2012 cycle. The future Carolina Panther linebacker was primarily viewed as a big safety prospect at the time. Thompson was a prolific running back in high school, rushing for over 3,000 yards and 47 touchdowns while averaging 10.8 yards per carry. Perkins was similar, rushing for 1,194 yards and 18 touchdowns as a senior while averaging an amazing 17.8 yards per carry. Both Thompson and Perkins also showed top-end speed. Thompson posted a 10.96 second mark in the 100 meters while Perkins ran an electronically-timed 4.47 40-yard dash prior to his junior season. Thompson appears to have a little more length than Perkins, who may be a touch taller. Like Thompson, Perkins also has the talent to see some time on offense in college, before ultimately settling in at linebacker long-term.

Perkins is set to make his announcement on Wednesday. LSU currently leads in his RPM.
13. DL Shemar Stewart, Unsigned
Comparison: Carlos Dunlap (Florida/Cincinnati Bengals, Seattle Seahawks)
The Reasoning: Like Dunlap, Shemar Stewart is a big blue-chip defensive end who has the size and athleticism to line up at a few spots along the front. Dunlap was an On3 Consensus top five prospect out of North Charleston (S.C.) Fort Dorchester in the 2007 cycle. Stewart has long been considered one of the top prospects in the 2022 cycle, dating to his freshman season. The two share similar stature, officially measuring between 6-foot-5 and 6-foot-6. Dunlap was a bit leaner as a high school prospect, in the 250 to 260 pound range, while Stewart has weighed in the 270's. Both are top athletes with the ability to make impressive plays with their power and explosive movements in tracking down runners in pursuit.
Stewart is set to make his announcement on Wednesday. Texas A&M leads in his RPM.
14. OT Tyler Booker, Alabama
Comparison: Alex Leatherwood (Alabama/Las Vegas Raiders)
The Reasoning: Tyler Booker and Alex Leatherwood share several similarities, aside from the Alabama connection. Both measured at nearly the exact same size as high school prospects, within one pound (6-foot-5, 326, 327 pounds). Booker may actually be a touch longer than Leatherwood, who was a Five-Star Plus+ prospect in the 2017 cycle. The younger lineman is also more technically polished at the same stage. Both are good, but not top athletes at the position and have the versatility to play multiple spots on the offensive line at tackle or guard. The ready-made size and play strength allow for a high floor and the ability to contribute early on as a college player. We saw Leatherwood pressed into action as a true freshman at Alabama, playing left tackle during the College Football Playoff Final. It would not be a surprise to see Booker in the mix early on in his collegiate career either.
15. WR Jordan Hudson, TCU
Comparison: Jaxon Smith-Njigba (Ohio State)
The Reasoning: Jordan Hudson and Jaxon Smith-Njigba are two prolific wide receivers from the Dallas area with similar physical traits and skill sets at the position. Before becoming the best receiver in college football, Smith-Njigba was a record-setting high school player, catching 109 passes for 2,132 yards and 34 touchdowns as a senior at Rockwall (Texas) High. Hudson didn't post that level of production, but scored on 22 of his 67 catches as senior. Both were in the 6-foot-1, 190-pound range as seniors with filled out frames. Perhaps most similarly, the two are extremely smooth, efficient movers with strong hands. Smith-Njigba was one of the best high school route-runners I've seen in person with his elite quickness and change of direction. Seeing Hudson give top cornerbacks issues at Under Armour All-America Game practices reminded me of seeing Smith-Njigba do the same at the All-American Bowl a few years earlier. Neither is likely to light up the stopwatch, but are among the more technically skilled receivers to come out of the high school ranks in the last several cycles.
16. RB Nick Singleton, Penn State
Comparison: Nick Chubb (Georgia/Cleveland Browns)
The Reasoning: Nick Singleton and Nick Chubb share more than just the first name. Both five-star prospects are compact, explosive and violently powerful runners. Chubb was 5-foot-11, 217 pounds with a 10.69 second time in the 100 meters as a prospect in the 2014 cycle. Singleton checks in at 6-foot, 210-215 pounds and has a personal best of 10.89 seconds in the 100 meters. Chubb was a prolific rusher at Cedartown (Ga.) High, running for 2,690 yards and 41 touchdowns on 276 carries (9.7 yards per carry). Singleton was the Gatorade National Player of the Year in 2021 after running for 2,049 yards and 41 touchdowns on just 165 attempts (12.4 yards per carry). The running styles are similar as well – both have outstanding bursts, the power to run through arm tackles and the speed to pull away in the open field.
17. WR Evan Stewart, Texas A&M
Comparison: Odell Beckham Jr. (LSU/New York Giants, Cleveland Browns, Los Angeles Rams)
The Reasoning: I've had this one written down for a while. For starters Stewart and Beckham have similar athletic backgrounds. Both played soccer growing up and have mothers who were track athletes. While Beckham added significant size at LSU, both were 5-foot-11 and in the 160-170 pound range as high school prospects. Stewart's change of direction, overall athleticism and ability to make acrobatic grabs also remind us of Beckham. The Texas A&M signee is more of an accomplished track athlete at the high school level, though Beckham was no slouch in that regard.
18. DL Gabriel Brownlow-Dindy, Texas A&M
Comparison: Tommie Harris (Oklahoma/Chicago Bears)
The Reasoning: Gabriel Brownlow-Dindy is similar size (6-foot-2.5, 285 pounds) to Tommie Harris, who was a five-star prospect in the 2001 cycle. Like Harris, Brownlow-Dindy is an outstanding athlete. The Texas A&M signee posted some eye-popping numbers on the combine circuit, running a sub 4.9 second electronically-timed 40-yard dash at 285 pounds. Harris' athleticism was well-known. He was an extremely disruptive interior presence at Oklahoma and ran a 4.78 second 40-yard dash at the NFL Combine. Both Harris and Brownlow-Dindy also threw the shot put at the high school level, with the latter finishing as a state runner-up as a junior.
19. S Jacoby Mathews, Unsigned
Comparison: Xavier McKinney (Alabama/New York Giants)
The Reasoning: Xavier McKinney was a highly instinctive safety who showed outstanding recognition skills and play speed while leading his high school team to deep playoff runs as a prospect in the 2017 cycle. The same can be said for Jacoby Mathews. Both share similar size (6-foot-1, 195 pounds) and athleticism at the same stage, while Mathews has longer arms. Both McKinney and Mathews also played offense at times during their high school careers. McKinney played receiver for Roswell (Ga.) High, while Mathews saw time at quarterback and receiver at Ponchatoula (La.) High.
Mathews is set to make his announcement on Wednesday. LSU currently leads in his RPM.
20. EDGE Dani Dennis-Sutton, Penn State
Comparison: Preston Smith (Mississippi State/Washington Football Team, Green Bay Packers)
The Reasoning: Dani Dennis-Sutton is a little more developed than Preston Smith coming out of Stephenson (Ga.) Stone Mountain in the 2011 cycle. We still ultimately see Dennis-Sutton becoming a similar style player to Smith as a big, powerful defensive end with plus athleticism. Dennis-Sutton is around 6-foot-5, 250 pounds and has the room to continue adding mass once he's in Penn State's strength program. Smith was around 6-foot-5, 271 pounds at the NFL Combine after four years at Mississippi State.
21. S Malaki Starks, Georgia
Comparison: Landon Collins (Alabama/New York Giants, Washington Football Team)
The Reasoning: Like Landon Collins, Malaki Starks is an elite athlete who was a two-way star at the high school level before ultimately projecting to safety at the college level. Collins was the On3 Consensus' No. 3 overall prospect in the 2012 cycle out of Geismar (La.) Dutchtown. The 6-foot, 210-pound Collins ran for over 1,200 yards and 21 touchdowns as a senior while averaging 13.7 yards per carry. He was also a top sprinter with personal bests of 10.28 seconds in the 100 meters and 21.60 seconds in the 200 meters. Collins also won the SPARQ national championship at The Opening Finals with a 4.39 second 40-yard dash and 40.6 vertical. Starks was a dynamic option quarterback at Jefferson (Ga.) High, rushing for 1,537 yards and 24 touchdowns as a junior. Like Collins, he was also a top sprinter at 6-foot-1, 208 pounds, posting bests of 10.55 seconds and 21.67 seconds in the 100 and 200 meters, respectively.
22. CB Denver Harris, Texas A&M
Comparison: Chidobe Awuzie (Colorado/Dallas Cowboys/Cincinnati Bengals)
The Reasoning: Denver Harris' smooth movement skills and technical ability at corner are among the traits that make him a five-star prospect. The 6-foot, 180-pounder is a fluid mover and has faced top competition while playing for one of the best high school programs in the state of Texas. We could see Harris becoming a versatile cornerback with a skill set similar to Awuzie – a 6-foot, 200-pounder with good change of direction and the ability to cover outside or in the slot.
23. EDGE Kenyatta Jackson Jr., Ohio State
Comparison: Aldon Smith (Missouri/San Francisco 49ers/Oakland Raiders)
The Reasoning: We view Kenyatta Jackson Jr. as having similar physical traits and position-specific skills to Smith. Both are around 6-foot-5 with considerable length and a frame to add weight. Smith had a 35+ inch arm at the NFL Combine. Jackson measured with an 82-inch wing-span prior to his senior season. Both register as solid, not elite athletes for the position and win with their length, jump off the ball and bend around the edge. Jackson showed his pass rush skill set as a senior at Hollywood (Fla.) Chaminade-Madonna while racking up 18 sacks and leading his team to a state title.
24. CB Terrance Brooks, Texas
Comparison: James Bradberry (Samford/Carolina Panthers, New York Giants)
The Reasoning: Terrance Brooks' distinguishing traits as a five-star cornerback are his elite length, technical polish and physicality. The Texas signee has extremely long arms, with an 80-inch wing-span at 5-foot-11, 190 pounds. Bradberry is a bit taller than Brooks, but is among the longer cornerbacks in the NFL, with 33 5/8 inch arms at 6-foot-1, 211 pounds. While both have good change of direction, the length helps compensate for not having elite top-end speed.
25. EDGE Marvin Jones Jr., Georgia
Comparison: AJ Epenesa (Iowa/Buffalo Bills)
The Reasoning: I wouldn't have chalked up AJ Epenesa as the comparison for Marvin Jones Jr. at this time last year. We've seen the Georgia signee's body change, as he's continued to grow and add significant size. Jones now checks in at 6-foot-5 and around 255 pounds. Epenesa, who was also a five-star prospect in the 2017 cycle was a shade over 6-foot-5 and in the 260's. Both Jones and Epenesa excel with their ability to bend around the edge as opposed to freaky athleticism.
26. LB Jaylen Sneed, Notre Dame
Comparison: Jeremiah Owusu-Koramoah (Notre Dame, Cleveland Browns)
The Reasoning: This one is too easy. Not only is Jaylen Sneed expected to assume the role in Notre Dame's defense that made Owusu-Koramoah a star, but the two share many similarities as high school prospects. Owusu-Koramoah was 6-foot-1.5, 188 pounds as a high school prospect. Sneed is slightly heavier, checking in at 6-foot-1, and 205-210 pounds. Both were do-it-all players for their high schools. Owusu-Koramoah played receiver, quarterback, corner, safety and linebacker for Hampton (Va.) Bethel. Sneed lined up at quarterback, linebacker, safety and defensive end for Hilton Head Island (S.C.) Hilton Head. Both are twitchy athletes who play with a hair-on-fire effort level, running down plays from sideline-to-sideline. Owusu-Koramoah was known for his physicality at the college level. We saw Sneed similarly seek out and embrace contact at the Under Armour All-America Game. Both were also multi-sport stars. Owusu-Koramoah was an all-state basketball player. Sneed is an above-the-rim dunker on the hardwood and also a top shot put thrower.
27. TE Amari Niblack, Alabama
Comparison: Benjamin Watson (Georgia/New England Patriots/New Orleans Saints)
The Reasoning: Tight end can be a tough position to project long-term due to the physical development and myriad of skills required at the position. We landed on Benjamin Watson as the comparison for Amari Niblack due to the similar body types and ability after the catch. It's unlikely Niblack will end up with Watson's top-end speed. Watson was a sprinter in high school and ran a 4.50 40-yard dash at 258 pounds at the NFL Combine. Still, we see some similarities in Niblack's ability to run routes like a receiver at 6-foot-3.5, 220 pounds. The Alabama signee is a threat in the route, catch and after catch phases. He's shown dominant ball-winning skills in contested situations and has the play speed to pull away in the open field.
28. LB Lander Barton, Utah
Comparison: Tremaine Edmunds (Virginia Tech/Buffalo Bills)
The Reasoning: Tremaine Edmunds and Lander Barton were both 6-foot-4.5, 220 pound linebackers who doubled as tight ends on offense at the high school level. Like Edmunds, Barton is also a basketball player, averaging 19 points per game as junior. Both also have siblings in the NFL. Barton's fluidity in space and skill in coverage is unique for his size. The skill set points to a future as a big off-ball linebacker in college and perhaps the NFL.
29. OT Aamil Wagner, Notre Dame
Comparison: Garett Bolles (Utah/Denver Broncos)
The Reasoning: It's somewhat rare for a developmental offensive tackle like Aamil Wagner to rank as a five-star prospect out of high school. That's primarily due to the fact that these lean-built, high upside types at offensive tackle can be difficult to for colleges identify while in high school. At 6-foot-6, 260 pounds, Wagner is one of the more athletic and explosive offensive tackles in what is a down year at the position in the 2022 cycle. Despite his lack of mass, Wagner also has some of the best play strength among offensive linemen in the cycle, backed up by his status as a top thrower in track. It can be tough to pin down a great comparison for a prospect like Wagner, due to the typical circuitous path for developmental tackles. With that said, Wagner reminds us a bit of Garett Bolles, who was a top junior college prospect in the 2016 cycle. Like Wagner, Bolles was an athletic 260-pounder out of high school. He saw his body take off after a year at Snow College. We would expect to see Wagner look quite different after a year or two in Notre Dame's strength program.
30. QB Ty Simpson, Alabama
Comparison: Matt Corral (Ole Miss)
The Reasoning: Ty Simpson's physical attributes, play style and movement patterns remind us of Matt Corral. Like Corral, Simpson is a twitchy mover both in and out of the pocket. Both have outstanding foot quickness with the ability to plant, drive out and reset. They're both around the 6-foot-1 mark, though Corral was a bit heavier as a high school prospect at 210 pounds. One of the biggest similarities comes by way of the improvisational play style that bordered on backyard football at times. Both also showed live arms at the high school level with the ability to drive the ball with velocity to the second and third levels. There's also similarities in terms of rushing upside. Simpson was the most productive rusher among top quarterbacks in the 2022 cycle with over 1,000 yards as a senior. We saw Corral handle a heavy rushing load in Ole Miss' offense with 614 yards and 11 scores on the ground. North Carolina's Sam Howell is another who Simpson reminds us of, but we see many more similarities with Corral.
31. CB Will Johnson, Michigan
Comparison: Justin Simmons (Boston College/Denver Broncos)
The Reasoning: Justin Simmons and Will Johnson both were 6-foot-3 defensive backs who showed high-end ball skills while lining up at safety and receiver. They also both played basketball – Simmons averaged a double-double at Stuart (Fla.) Martin County as a 2012 prospect. Simmons ultimately settled in as a safety at Boston College before becoming one of the better players at the position in the NFL. It remains unseen where Johnson will end in the secondary up long-term.
32. EDGE Jeremiah Alexander, Alabama
Comparison: Brandon Graham (Michigan/Philadelphia Eagles)
The Reasoning: Brandon Graham was an On3 Consensus top ten prospect as a linebacker turned pass rusher coming out of Detroit Crockett in the 2006 cycle. Like Graham, Jeremiah Alexander is a highly productive and accomplished high school player who checks in at under 6-foot-2 and around 235 pounds. Alexander excels as a power player with his strong hands and ability to anchor and overpower bigger offensive linemen. Should Alexander hit his ceiling, he's most likely to do so as a player with a similar style to Graham. We've also heard Alexander compared to former Alabama defensive end Courtney Upshaw.
Remaining top 100 comparisons
33. IOL Devon Campbell, Unsigned – James Daniels (Iowa/Chicago Bears)
34. OT Jake Taylor, Oklahoma – Jonah Williams (Alabama/Cincinnati Bengals)
35. WR Wesley Grimes, Wake Forest – Rashod Bateman (Minnesota/Baltimore Ravens)
36. TE Jake Johnson, Texas A&M – Hunter Henry (Arkansas/Los Angeles Chargers/New England Patriots)
37. WR Kobe Prentice, Alabama – T.Y. Hilton (FIU/Indianapolis Colts)
38. CB Earl Little Jr., Alabama – Byron Murphy (Washington/Arizona Cardinals)
39. QB Brady Allen, Purdue – Carson Wentz (North Dakota State/Philadelphia Eagles/Indianapolis Colts)
40. WR Chris Marshall, Texas A&M – Allen Robinson (Penn State/Chicago Bears)
41. CB Toriano Pride, Clemson – Janoris Jenkins (Florida/North Alabama/New York Giants/Tennessee Titans)
42. DL Anthony Lucas, Texas A&M – Jerry Tillery (Notre Dame/Los Angeles Chargers)
43. OT Elijah Pritchett, Alabama – Cam Robinson (Alabama/Jacksonville Jaguars)
44. EDGE Enai White, Texas A&M – Yetur Gross-Matos (Penn State/Carolina Panthers)
45. CB Daylen Everette, Georgia – Kelvin Joseph (Kentucky/Dallas Cowboys)
46. S Bryce Anderson, Texas A&M – T.J. Ward (Oregon/Cleveland Browns/Denver Broncos)
47. QB Conner Weigman, Texas A&M – Sam Darnold (USC/New York Jets/Carolina Panthers)
48. IOL Neto Umeozulu, Texas – Elgton Jenkins (Mississippi State/Green Bay Packers)
49. CB Jalil Tucker, Oregon – Bradley Roby (Ohio State/Denver Broncos/Houston Texans/New Orleans Saints)
50. EDGE David Bailey, Stanford – Joseph Ossai (Texas/Cincinniati Bengals)
51. WR Adam Randall, Clemson – A.J. Brown (Ole Miss/Tennessee Titans)
52. DL Isaiah Hastings, Alabama – Akiem Hicks (Regina/Chicago Bears)
53. CB Jahlil Florence, Oregon – Paulson Adebo (Stanford/New Orleans Saints)
54. WR Aaron Anderson, Alabama – Elijah Moore (Ole Miss/New York Jets)
55. EDGE Derrick Moore, Michigan – Carlos Basham (Wake Forest/Buffalo Bills)
56. CB Jeadyn Lukus, Clemson – Kevin King (Washington/Green Bay Packers)
57. RB TreVonte' Citizen, Unsigned – Royce Freeman (Oregon/Denver Broncos/Houston Texans)
58. WR Kaleb Webb, Tennessee – Corey Davis (Western Michigan/Tennessee Titans/New York Jets)
59. LB Jimmy Rolder, Michigan – Pete Werner (Ohio State/New Orleans Saints)
60. QB Cade Klubnik, Clemson – Teddy Bridgewater (Louisville/Minnesota Vikings/Carolina Panthers/Denver Broncos)
61. DL Kristopher Ross, Texas – Kenny Clark (UCLA/Green Bay Packers)
62. IOL Joey Tanona, Notre Dame – Ryan Kelly (Alabama/Indianapolis Colts)
63. CB Gentry Williams, Oklahoma (unsigned) – CJ Henderson (Florida/Jacksonville Jaguars/Carolina Panthers)
64. EDGE Ernest Cooper IV, Stanford – Deatrich Wise (Arkansas/New England Patriots)
65. LB C.J. Hicks, Ohio State – Jordan Hicks (Texas/Philadelphia Eagles/Arizona Cardinals)
66.S Devin Moore, Florida – Lonnie Johnson (Kentucky/Houston Texans)
67. WR Tetairoa McMillan, Arizona – Kenny Golladay (Northern Illinois/Detroit Lions/New York Giants)
68. IOL Earnest Greene, Georgia – Jamaree Salyer (Georgia)
69. LB Shemar James, Florida – C.J. Mosley (Alabama/Baltimore Ravens/New York Jets)
70. WR Brenen Thompson, Texas – Wan'Dale Robinson (Kentucky)
71. CB Jaheim Singletary, Georgia – Dre Kirkpatrick (Alabama/Cincinnati Bengals/San Francisco 49ers)
72. WR Isaiah Bond, Alabama – Mecole Hardman (Georgia/Kansas City Chiefs)
73. EDGE Joshua Josephs, Tennessee – Azeez Ojulari (Georgia/New York Giants)
74. LB Jalon Walker, Georgia – Reggie Ragland (Alabama/Kansas City Chiefs/New York Giants)
75. WR Darrius Clemons, Michigan – D.J. Chark (LSU/Jacksonville Jaguars)
76. DL Bear Alexander, Georgia – Ross Blacklock (TCU/Houston Texans)
77. QB Nick Evers, Oklahoma – Kellen Mond (Texas A&M/Minnesota Vikings)
78. S Austin Brown, Wisconsin – Harrison Smith (Notre Dame/Minnesota Vikings)
79. DL Jaray Bledsoe, Texas – Quinnen Williams (Alabama/New York Jets)
80. EDGE Darris Smith, Georgia – Leonard Floyd (Georgia/Chicago Bears/Los Angeles Rams)
81. DL Quency Wiggins, LSU – Stephon Tuitt (Notre Dame/Pittsburgh Steelers)
82. OT PJ Williams, Texas A&M – Bobby Evans (Oklahoma/Los Angeles Rams)
83. RB Jamarion Miller, Alabama – J.K. Dobbins (Ohio State/Baltimore Ravens)
84. OT Cameron Williams, Texas – D.J. Fluker (Alabama/San Diego Chargers/Seattle Seahawks/Jacksonville Jaguars)
85. WR Antonio Williams, Clemson – Sterling Shepard (Oklahoma/New York Giants)
86. EDGE Trevion Williams, Mississippi State – Harold Landry (Boston College/Tennessee Titans)
87. IOL Billy Schrauth, Notre Dame – Frank Ragnow (Arkansas/Detroit Lions)
88. S Bryan Allen Jr., Texas – Vonn Bell (Ohio State/New Orleans Saints/Cincinnati Bengals)
89. ATH Emmanuel Henderson, Alabama – Kerryon Johnson (Auburn/Detroit Lions/Philadelphia Eagles)
90. WR Barion Brown, Kentucky – Parris Campbell (Ohio State/Indianapolis Colts)
91. TE Eli Raridon, Notre Dame – T.J. Hockenson (Iowa/Detroit Lions)
92. ATH Kendrick Law, Alabama – Curtis Samuel (Ohio State/Carolina Panthers/Washington Football Team)
93. S Keon Sabb, Michigan – Ha Ha Clinton-Dix (Alabama/Green Bay Packers)
94. WR Nicholas Anderson, Oklahoma – Michael Pittman Jr. (USC/Indianapolis Colts)
95. IOL Kam Dewberry, Texas A&M – Tyre Phillips (Mississippi State/Baltimore Ravens)
96. DL Khurtiss Perry, Alabama – Will Sutton (Arizona State/Chicago Bears)
97. TE Oscar Delp, Georgia – Dawson Knox (Ole Miss/Buffalo Bills)
98. QB Walker Howard, LSU – Aaron Murray (Georgia/Kansas City Chiefs)
99. DL Zxavian Harris, Ole Miss –Trent Brown (Florida/Las Vegas Raiders/New England Patriots)
100. EDGE Nyjalik Kelly, Miami – Arden Key (LSU/Las Vegas Raiders/San Francisco 49ers)