Quarterback Dominoes: Top programs searching for signal callers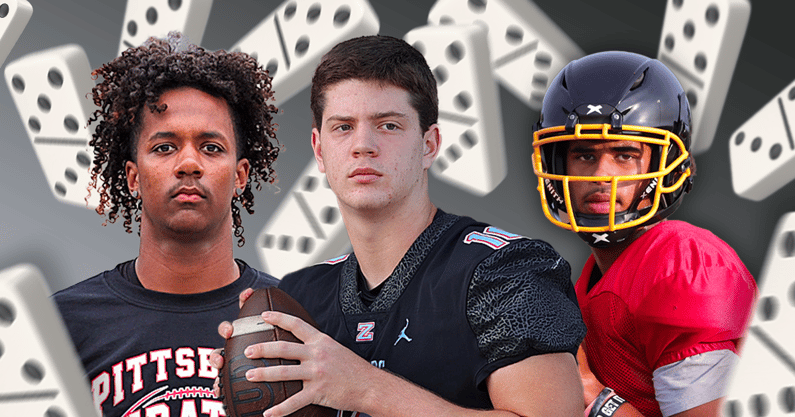 The college football world – plus Alabama, Georgia and Texas coaches – is waiting for the decision of the biggest quarterback domino in 2023, Five-Star Plus+ Arch Manning. Beyond those three programs heavily involved in Arch Madness, there are a handful of top programs that have yet to secure a quarterback commitment in the Class of 2023.
Normally by late April, we see the quarterback dominoes start to fall. Top programs like Florida, LSU, Michigan, Ohio State, Oregon and Texas A&M usually have clear idea quarterback in the class. But that's not exactly the case, especially with the biggest quarterback domino in the country yet to fall.
As we've chronicled throughout the spring, so many of these schools are linked together because recruiting quarterbacks in the Class of 2023 is intertwined together unlike many classes in the past. And even though we're starting to see some top signal-callers – like five-star Dante Moore out of Detroit Martin Luther King and four-star Jaden Rashada of Pittsburg, Calif. – inch toward decisions, where they land and what happens with some top programs is clear as mud.
To help us better understand the recruiting landscape with some of these top programs, On3 turns to our fan site recruiting experts for their takes on what's going on.
Florida targets Eli Holstein, Dylan Lonergan
Corey Bender of On3's Gators Online said UF still is working to be a player in the Arch Manning sweepstakes. But the Gators have yet to get him on campus and all indications are that it's a three-team race for Manning.
"While there is still a good amount of work to do, I believe Dylan Lonergan might be the most-likely addition as of today," Bender said. "He was offered by Billy Napier's staff in early March and then made his way down to Gainesville roughly two weeks ago. That was his second trip to campus. A return visit to campus has yet to be scheduled. But the Gators are now heavily in the mix to receive an official visit. I think South Carolina is the front runner for Lonergan, but Florida has definitely climbed his list in recent weeks."
The other big name on the Gators' target list is Eli Holstein of Zachary (La.) High. He's already on campus at Florida on Wednesday. But what complicates his recruitment is his connection with Alabama. His recruitment – maybe more than any other quarterback in the class – is linked with Manning. Both have Alabama offers and could commit to the Crimson Tide. But neither has yet to pull the trigger, which has opened the door for Florida.
"He was offered on March 28, but conversations with the Gators have been taking place much longer than that," Bender said. "According to one of my sources, the Gators currently have 'good traction' with Holstein due to the staff's strong Louisiana ties."
LSU looking to shake up quarterback dominoes
The On3 Recruiting Prediction Machine continues to favor Notre Dame for five-star Dante Moore. But the latest intel indicates that LSU is much more of a player than most initially thought. Moore's recruitment as been viewed as a lock to the Irish for weeks, but that might not be the case. Billy Embody of On3's The Bengal Tiger explains the importance of weekend's trip to Baton Rouge for Moore.
"LSU continues to make its push for five-star quarterback Dante Moore, who will officially visit this weekend," Embody said. "LSU has a shot in there. He likes the idea of playing in the South. He has a strong relationship with the coaches going back to when Brian Kelly was at Notre Dame."
If LSU misses out on Moore, Embody said the Tigers do have a backup plan in place.
"Four-star Purdue commit Rickie Collins, a Baton Rouge native, is a prospect who has done enough to be in the conversation for an offer from LSU," Embody said. "If Moore looks to be headed elsewhere, it wouldn't be shocking to see LSU make a move on Collins."
Michigan still pushing for Moore, too
While Notre Dame and LSU are making a push for Dante Moore, EJ Holland of On3's The Wolverine says Michigan isn't relenting in its pursuit of the in-state star.
"Michigan is still very much in the mix in this recruitment," Holland said. "I think there was a lot of speculation when it came to Dante and his visit to Notre Dame. I know a lot of people expected him to potentially commit after that visit. There's been picks in for the Irish and all that stuff, but I think Dante's taking it slow.
"I had a really good conversation with him at Elite 11 over the weekend, and he's not trying to rush a decision. Dante's been adamant on taking his time, taking his official visits, potentially making the decision late into the summer."
Holland says the Wolverines feel good about where they stand with Moore.
"He loves his high school team," Holland said. "His teammates love him, and so I don't think he wants to create a distraction with his recruitment, especially being as high profile as he is. I don't think he wants to create a distraction for King as they try to repeat for another state championship, but Michigan's done a good job here as of late."
Ohio State looking more toward 2024?
For Ohio State, quarterback recruiting might be more about the future than the present. Jeremy Birmingham of On3's Lettermen Row said the Buckeyes know they're better positioned to recruit a top quarterback in 2024 than they are in the Class of 2023.
"Yes, C.J. Stroud is almost certainly heading off the NFL following this season," Birmingham said. "But Kyle McCord and Devin Brown – both five-star prospects – are backing him up. They will compete to be the next starter. Ohio State wants a quarterback in every class. But it's also not afraid to be patient and wait for the right guy. That's what they did in recruiting Stroud and Brown and it's what they're doing in 2023 as well.
"It doesn't hurt that things are moving along quickly with top 2024 targets like Dylan Raiola, though, because it does take a little pressure off of the search in this current cycle."
Jaden Rashada and then what for Oregon?
Oregon appears to be pouring its focus at the quarterback spot on Jaden Rashada, said Justin Hopkins of On3's Scoop Duck. Rashada is a key quarterback domino to follow as Miami, Ole Miss, and even Arkansas are battling the the Ducks in this recruitment. And a good indicator of where the Ducks stand in his recruitment will come this weekend.
Oregon hopes to get Rashada on campus for the Ducks' spring game. But he is also considering a trip to Ole Miss – his other top team per the On3 Recruiting Prediction Machine. Yet, if he doesn't make it, all hope is not for the Ducks.
"If you're Oregon, there are two options here," he said. "Either push hard to get him here for the spring game with the other top recruits. Or hold off a week or two and be his last visit. Both have merits. You can make an argument for either visit.
"I do think Oregon has clawed its way back into the top two range. And could possibly even lead. The additions of Josh Conerly and Kyler Kasper certainly move the needle. Rashada is definitely high on Oregon."
If the Ducks miss out, Hopkins said he wouldn't be surprised if Oregon, like Ohio State, pours all of its recruiting collateral on Raiola. They could also examine the transfer portal.
"But my feeling is that Oregon will get a 2023 quarterback from the prep ranks," Hopkins said.
Texas A&M casting a wide net
Texas A&M re-entered the quarterback market at a tough time after losing a commitment from Holstein last month.
"So much time has passed since they last recruited a quarterback outside Holstein," said Tim Verghese of On3's Aggie Scoop. "There's limited wiggle room for the Aggies to enter a top-10 ranked quarterback's recruitment."
The Aggies have been linked to Oklahoma commit Jackson Arnold and Rashada. Plus, A&M made headlines on Tuesday when it offered Louisville four-star quarterback commitment Pierce Clarkson. He's a vocal leader in the Cardinals' 13th ranked recruiting class and steered other top California targets Louisville's way. It'll be interesting to see if the offer moves the needle, Verghese said.
Verghese said a more intriguing target might be in-state quarterback and Baylor commit Austin Novosad of Dripping Springs (Texas) High. Verghese also said new names could emerge after the coaches hit the road in the spring evaluation period.
"Novosad grew up following the Aggies and comes from a family of Aggies," Verghese said. "Texas A&M is monitoring heavily but has yet to offer. If they do, there's the belief the Aggies could quickly flip the commit. With the spring evaluation period opening up and summer camps just on the horizon, new targets will likely pop up."
The Aggies might also take an approach like Ohio State and focus on the future – especially four-star 2024 quarterback DJ Lagway from nearby Willis, Texas.
"Lagway has a lot of interest in the Aggies," Verghese said. "He's visited Texas A&M six times to this point. He has been offered the opportunity to play both baseball and football at the next level. It's an opportunity he's looking to pursue when considering schools. While the Aggies are one of the front runners at this moment, there's a long way to go in his recruitment."