How YOKE, The Players' Lounge, FanPassU created NIL communities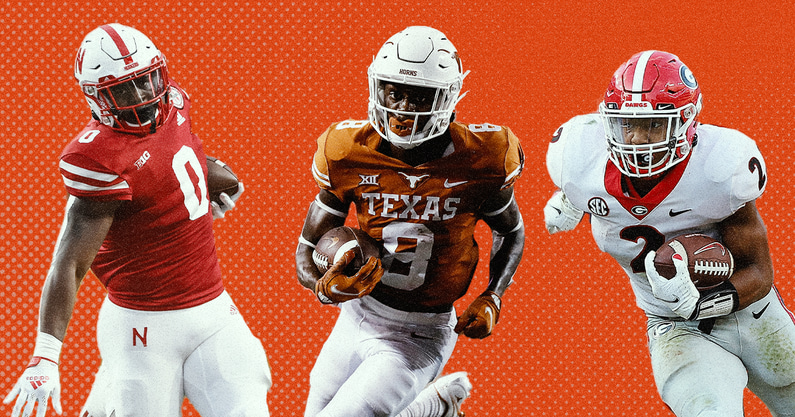 At the start of a Zoom call, Zach Molzer and Rob Khorram, sharing a laptop screen, apologized in case their Wi-Fi connection was spotty. You know how campus Wi-Fi can be, especially in a crowded student union.
The co-founders of FanPassU, a membership management platform designed to maximize college athletes' NIL earning potential, are 21-year-old seniors at Nebraska. Recently, there has been a wave of announcements — with more on the way — for player-driven, membership-based communities backed by companies such as FanPassU, The Players' Lounge and YOKE that allow athletes to profit from their NIL rights by selling fans access to in-person and online events.
Former Georgia quarterback Aaron Murray and running back Keith Marshall are co-CEOs of The Players' Lounge. Its website describes the platform as "a Web3.0 + NIL community offering fans a reimagined experience through player empowerment and engagement."
Former Notre Dame football players Mick Assaf and Nic Weishar are two of the three co-founders of YOKE. It's a platform that provides business tools and technology, which allows athletes to launch paywalled communities. Assaf, the 24-year-old CEO of YOKE, walked on as a running back at Notre Dame. He roomed with New Orleans Saints quarterback Ian Book in college.
"I think the oldest person on our team is 28," Assaf said of YOKE. "So, definitely a bunch of people on the younger end. But I think it helps when you're working in this space to be so very, very recently in the shoes of the people that are using our technology."
The NCAA's NIL era has created a new generation of entrepreneurs, small business owners and influencers. But the latest class of CEOs and creators isn't limited to current or former college athletes. You want proof? Just look at Khorram and Molzer, the latter of whom is the son of a serial entrepreneur. His mantra used to be, "I'm going to work for Opendorse one day."
"We aren't your average 21-year-olds," Khorram said, adding that he believes their age is an advantage in relating to Nebraska athletes.
Molzer met Nebraska defensive lineman Nash Hutmacher while hanging out in a freshman dorm. He's now an across-the-street neighbor of outside linebacker Garrett Nelson, who's a member of the FanPassU community of Nebraska football players that's called Big Red Fan Club.
"I was outside one day, and he's like, 'Hey man, I'm Zach,'" Nelson recalled. "I was like, 'Oh, dude! What's up?' … Small world. It's funny how that works, man."
The reach of YOKE, The Players' Lounge, FanPassU
YOKE provides technology for clubs of football players at schools like Arkansas, Auburn, Iowa, Kansas State, LSU, Michigan State, Minnesota, Oklahoma, Ole Miss, Tennessee, Texas and Texas A&M.
Soon, its reach will be 15 to 20 clubs. YOKE has immediate plans to expand beyond Power 5 football programs. Assaf believes the technology can be used by athletes who compete at any level and in any sport.
"I think that it should absolutely service FCS programs. I can tell you a non-football team will not be too far off," Assaf said in late July. "Had a ton of people reach out trying to make that happen and it'll probably be less than a month before you see both of those. Hopefully, by the end of the year, you will have more non-FBS football clubs than just FBS football clubs."
While most of the YOKE-backed NIL clubs sell Access Passes, each group of players can hold an internal vote as far as the funding model. The clubs at LSU, Oklahoma, Texas A&M and Ole Miss offer subscriptions instead.
"Fans can commit whatever they want to the club," Assaf said. "Any commitment gives you full access to the online community and it goes towards the total earnings of the club, which are still divided evenly amongst the players."
The Players' Lounge has groups of players at schools such as Alabama, Auburn, Clemson, LSU, Oklahoma, Tennessee and Texas. As of mid-July, The Players' Lounge had partnered with athletes at 12 schools, according to Marshall. The athletes come from a variety of athletic programs, including men's and women's basketball and women's gymnastics, depending on the school.
"Initially the idea was to partner with two prominent players," Marshall said. "Typically those guys had some type of media experience so they were comfortable in front of the camera, kind of being the face of something. We'll let them be the face of The Players' Lounge subsidiary in their market."
FanPassU's priority is fueling the Nebraska-specific Big Red Fan Club — at least for now.
"Frankly, we are really focused on Nebraska right now," Khorram said. "Maybe there will be a time where FanPassU takes that next step to providing opportunities for other athletes and fans across the country."
FanPassU has partnered with GSD 14 Events, an eastern Nebraska-based events company that father and son duo Lance and Elliot Brown run. Lance Brown was part of three national championship teams at Nebraska. Elliot Brown is a walk-on wide receiver for the Huskers.
The younger Brown serves as the player ambassador who also helps run PR for FanPassU. Molzer said Brown plans to take over GSD 14 Events from his father in the future.
"The Big Red Fan Club is something that we've actually been working on for four months behind the scenes," Khorram said last month. "It's easy to say that, 'Oh, we maybe have seen this trend coming and we just jumped on the board and tried to create a product to go to market right away.' But no, we've been strategizing the player approach, our marketing strategy and overall, the fan experience for over four months now. It's awesome to see that the trend is happening.
"During that four months of our planning…," Khorram said, before Molzer finished his sentence, "It's like, 'Damn, things are taking off with other schools.'"
Creating access once 'reserved for the top 1%'
In many ways, the core concept behind school-specific clubs and subsidiaries isn't new: allow fans to pay NIL for access to athletes.
"It's something that for a really long time, those types of interactions have been reserved for the top 1% of donors at universities, people that are giving seven figures a year," Assaf said. "For us, one of our big goals is to allow fans from all backgrounds to be able to engage with players in a way that's kind of always been reserved for people who were giving a ton to the university."
When sports and intellectual property lawyer Darren Heitner tweeted the news on Sept. 2, 2021, that the Gator Collective launched to support Florida athletes, he wrote on Twitter, "the subscription-based platform wants to make it easier for UF supports to pay athletes for unique access and experiences."
The Gator Collective is credited as inspiring the umbrella term that is NIL collectives.
Given that there's not one agreed-upon definition of "collective" in a NIL context, the clubs such as those backed by YOKE have sometimes been described as so-called player-driven collectives.
With a new era comes new terminology.
"Even now with the collectives, some of them are putting [together] models that are similar," Marshall said.
Whether they are collectives or not, NIL clubs and membership-based communities that are backed by companies like YOKE, The Players' Lounge and FanPassU put the participating players out front through digital and in-person events. Assaf said Zoom calls between players and fans have been "super, super popular."
Last Friday night, there was a video call between Michigan State football players and members of the East Lansing NIL Club. The call also provided members a chance to win exclusive giveaways.
In mid-January, The Players' Lounge launched DGD Mafia, the subsidiary at Georgia, where Marshall and Murray played. Marshall used his alma mater as an example of the in-person experiences his platform offers. The group has hosted a tailgate in Athens for the Bulldogs' G-Day Game, a golf tournament, a night at the popular Silver Dollar bar and a beer pong competition.
When running back Kendall Milton told his Georgia predecessors how much he loves motorsports, The Players' Lounge partnered with the BMW Performance Center, then auctioned five spots to join Milton at the track for a day.
"We had multiple fans say literally that was one of the best days of their life," Marshall said.
Marshall said The Players' Lounge hopes to help produce content that humanizes athletes while compensating them. He pointed to the wave of "new media" in professional sports, a la Golden State Warriors forward Draymond Green.
"A lot of these shows are doing really, really well," Marshall said. "I think the reason is because it's really raw content. In college, we can't go that raw. Some of those guys are up there smoking stogies, drinking whiskey. I don't think we can do that. But I think the idea of creating an environment where the content is more like guys just shooting the shit, basically, I think people like that. You get to see another side of the athlete.
"I think that's part of what fans have not gotten a chance to see before and we believe that's something that's now available because of NIL."
Here's how NIL compensation works
For the YOKE-supported clubs, the players who opt into the club each receive an equal share of 82% of the club's revenue. For reference, as of late June, roughly 105 Michigan State players had joined the East Lansing NIL Club and the Austin NIL Club at Texas eclipsed $50,000 in sales on the day its Access Passes went live.
"A lot of times, it's harder for certain position groups to make money," Michigan State right guard Matt Carrick said when On3 visited East Lansing to learn how the club operates. "For example, for NIL, the starting quarterback's going to make more money than a starting offensive lineman. It's just the way it is. There's nothing wrong with that. It just really opens up opportunities for other guys. Even walk-ons are on it, too."
While Carrick told On3 in late June that YOKE's platform fee was 25%, Assaf said YOKE's platform fee has since decreased to 18% as the company's scale has grown.
"We'd love to get into the single digits eventually but a lot more people have to be using our technology for that to be the case, but I think that's really possible," Assaf said.
The compensation models for The Players' Lounge and FanPassU are a little bit different.
"We've kind of developed a hybrid model where we feel like it's in line with your market value," Marshall said of The Players' Lounge. "We might identify 10 or 15 guys that are those marquee guys that in the marketplace, they could go out and elicit a lot of money. We'll give them a certain type of deal and the guys that are not going to attract the same type of value, we'll put them in a group and pool and split."
Citing the example of the partner athletes at Georgia, Marshall said about 50% of the compensation goes to the marquee Bulldogs who are participating.
"Then we took the rest of the money and we put 45 guys on basically monthly salaries to participate in the project," Marshall said. "We're dishing out another like $12,000 every month to guys that were not a part of that major launch but that are good in front of the camera, that interested in building their brands and representing the university."
Khorram said FanPassU's compensation model is action-based.
"It's really about how much are these players outputting and doing for the club," he said. "There are players who will be more engaged with the club than others and so that's how we're going about that."
NIL competition on college campuses
YOKE and The Players' Lounge have each helped launch clubs or groups at some of the same schools, including Auburn, LSU, Oklahoma, Tennessee and Texas. As new groups of player communities are seemingly announced every week, the amount of overlap at individual schools will likely increase.
That begs questions about how the companies in the industry view their competitors and their respective market values. Or, with more than 350 NCAA Division I institutions, is the market large enough to sustain multiple companies in the long run?
"I think we're really — probably more so than most — focused on the technology side of things," Assaf said. "Think of ourselves as more of a Shopify-style company in terms of we're trying to give people all the tools to succeed but at the end of the day. We're not trying to operate every single club that exists. We want to give people the business tools and the membership tools they need. I think that we're providing a tremendous value to them in the amount of automation that we've created for them to launch a club.
"That's probably the biggest differentiator is we want clubs to be player-driven."
Khorram described himself as an NFT connoisseur. He has worked on Web3 projects, which refers to blockchain-based elements of the Internet, such as NFTs and cryptocurrencies.
However, FanPassU's founders have intentionally steered clear of those components, instead focusing on hosting "extraordinary" in-person events. The two co-founders teased a watch party for an away football game that will host between 1,000 and 1,500 fans.
"What we're really doing here is we're creating a fan experience," Khorram said. "We're creating opportunities for players. The simplest and most effective way to do that is…," before his co-founder Molzer finished his sentence, "…is not confuse the fans."
Khorram continued, "I don't think the everyday person is ready to be integrated into the Web3 world and so we're doing whatever we can to focus truly on building a long-lasting culture, rather than trying to overcomplicate the underlying technology around the delivery of these fan passes. That's what we can say the separation between us and the others that we're seeing around the country."
Marshall looked at past industries when evaluating the current competition in the NIL landscape, particularly the market in which The Players' Lounge resides.
"It is an interesting space, man," Marshall said. "We're at the forefront of it. I think that's one of the hallmarks of any industry. When it's early on you're going to have a lot of companies with a similar business model kind of trying to figure out which one is going to stand the test of time."
How do wins, losses affect NIL clubs?
Assaf played for Notre Dame when the Fighting Irish went 4-8 in the 2016 season. "Got to play in the worst season in Notre Dame history," he quipped.
The Fighting Irish made the College Football Playoff for the first time two seasons later.
Assaf and his teammates, who were also in South Bend for that three-season swing, experienced the roller coaster of variance that, to some degree, is likely to affect all but a select class of college football programs.
"At Notre Dame, when we were playing, you realize there are some fans who are with you through the thick and thin," Assaf said. "I think creating an awesome experience for those fans is a really big goal of ours."
At conference football media days last month, players and coaches were bound to relay the saying "keep the main thing, the main thing." In other words, football comes first. At media days, you would've heard the cliche from players and you would've heard it from coaches. Shoot, you might've even heard it from a school or conference administrator.
It begs the question: how will players keep the main thing (football), the main thing while taking part in a NIL-focused membership-based community in their free time? To use Assaf's college career as an example, how could an undefeated regular season, or having a 2-5 record at the bye week, impact player or fan participation?
"I think it could impact in some ways, just the mood of the fan base and the players," Assaf said. "Obviously losing's not fun so you might have people less engaged in those online events. But in general, I think as long as there's hope for a better future, then [at] most programs, there's still people who are excited about what's happening, even if it's a rebuilding season.
"Like anything else, when you're in a bad mood, things tend to be less fun."
Nebraska's recent on-field track record assuages any potential concerns for Molzer and Khorram.
"Nebraska has unfortunately not been necessarily nationally relevant for the better part of 10 years and we've still sold out every single football game," Molzer said. "We have the largest sellout streak in the nation by a pretty hefty margin. Between the player and fan aspect, that's never going to go away. People bleed red here in Nebraska."
FanPassU is making 5,000 Fan Passes available for Big Red Fan Club. For comparison, YOKE's Fayetteville NIL Club announced it released 2,000 Access Passes for Arkansas fans in July. The East Lansing NIL Club made 4,000 available, according to Carrick.
Assaf points to football players' postgame responsibility of meeting with the media as a point of comparison for why players will stay involved with a YOKE-supported fan club, even amid a rough stretch of the season.
"They know that NIL is a job that they have," he said. "It isn't a huge job but it is kind of a role that they have. I think players kind of know that, just like after a loss you still have to do interviews. You still have to do press.
"That's just part of your job when you're a college football player."