NIL
The Most Trusted News and Data in NIL
Sports Business
The Leader in College Sports Business News
On3 NIL Valuation
The lndustry's Only NIL Value Index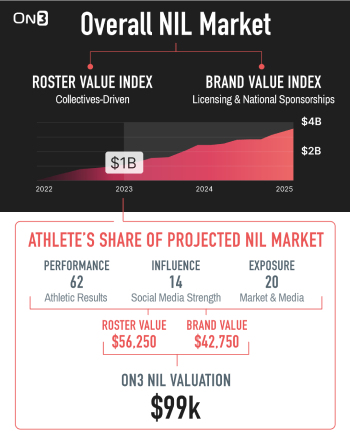 The On3 NIL Valuation is the industry's leading index that sets high school and college athletes' projected annual value (PAV). A proprietary algorithm, the On3 NIL Valuation establishes the overall NIL market and projected 12-month growth rate by measuring two categories, Brand Value Index and Roster Value Index.
The Brand Value Index measures the national licensing and sponsorship market. The Roster Value Index collects data from all school Collectives into a proprietary Roster Management software. Brand Value and Roster Value are combined to create the overall NIL market.
Using the overall NIL market size, the On3 NIL Valuation calculates an athlete's Brand Value and Roster Value by using dynamic data points targeting three primary categories:
Performance

Influence

Exposure
About ON3 NIL Valuations
For Athletes
Athletes can join the On3 Athlete Network by connecting with their On3 Profile and unlocking their personal NIL Valuation.
Claim your On3 profile
For more information, email [email protected]
Private Dashboard
Increase their value

Unlock their P.I.E. score

Access athlete-only tools

Learn what to charge

Report deals
For Universities and Collectives
Consulting services providing in-depth On3 NIL Valuation information and analysis. On3 OS has invested significant resources in collecting the most extensive database of information on the NIL marketplace. There is now a significant set of anonymized data that can allow universities and collectives to make better informed decisions for planning, budgeting and distribution of funds.
For more information contact us:
Under the hood of NIL
Conference averages for key NIL metrics

Detailed information on how NIL Valuations are calculated

Athlete information sessions and one-on-one educational opportunities
For Brands
Consulting services to understand and activate NIL programs. On3 OS has accumulated an impressive collection of NIL data, as well as algorithms that take into account high school and college athlete social media reach and engagement. On3 OS is now providing aggregate, anonymized data that allows brands to better understand the collegiate marketplace.
For more information contact us:
Brands
[email protected]
Private Dashboard
Increase their value

Unlock their P.I.E. score

Access athlete-only tools

Learn what to charge

Report deals