It's Auburn vs. Georgia and North Carolina for 4-star defensive lineman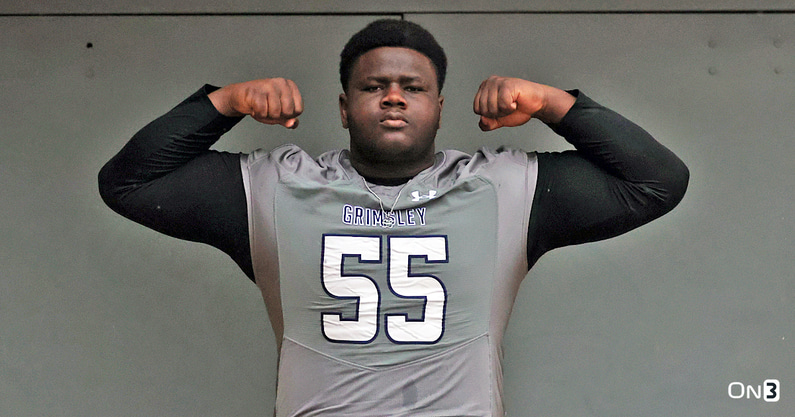 Auburn coach Bryan Harsin is going up against two of college football's best recruiters — Kirby Smart and Mack Brown — in the battle to land an elite defensive lineman from North Carolina.
That player is 4-star star defensive tackle Jamaal Jarrett of Greensboro (NC) Grimsley, who named a final three Sunday of Auburn, Georgia and North Carolina while also setting a commitment date of July 19.
Smart's Bulldogs are the favorites to land Jarrett in the On3 Recruiting Prediction Machine with a projection of 91.4 percent. North Carolina (3.3 percent) is next. Auburn is at 1.4 percent but the Tigers recently hosted Jarrett on an official visit and the touted recruit gave that visit a glowing review.
***AUBURN RECRUITING LINKS***
-4-star Georgia commit Gabriel Harris: 'It's just Georgia and Auburn right now'
-4-star RB Jeremiah Cobb visits Auburn, announcing commitment soon
-For 4-star OL Connor Lew, Bryan Harsin's 'vision' stands out
-Big defensive tackle Naquil Betrand arriving in Auburn Tuesday for official visit
Jarrett, listed at 6-foot-5 and 365 pounds, is the No. 2 prospect in the state of North Carolina and No. 159 overall player nationally in the On3 Consensus. The Tar Heel State has been a recruiting hotbed for defensive linemen for many years. Former Auburn defensive tackle/end Nick Coe, who had a productive career for the orange and blue, was a product of that state.
Can Auburn again strike gold there?
The Tigers impressed the touted recruit during his official visit
"I loved it," Jarrett said after officially visiting the Tigers two weeks ago. "I had so much fun. What really stood out was the people. My family and I really enjoyed the environment, how the coaches and staff treated us. We really got to talk 1-on-1 with the coaches."
That includes new defensive line coach Jimmy Brumbaugh.
"I got to learn a lot about Coach Brumbaugh," Jarrett said. "He's really cool and a great coach. Me and him had a lot of 1-on-1 time. He was teaching me stuff like how to watch film. I feel very comfortable around him. He's straightforward and to the point about everything. Oh, and my family fell in love with his wife."
On that visit, Jarrett spent lots of time with Auburn freshman defensive lineman Enyce Sledge, a close friend. "He was my host, so we got to hang out after dinner," Jarrett said. "It was great seeing my brother again."
Jarrett could be back in Auburn next weekend
Jarrett said two weeks ago a return trip to Auburn would happen.
"I know Sydir Mitchell and he has his official visit to Auburn June 24-26," Jarrett said. "Me and my friend are going to come and get a hotel and make it like a second official visit. I want to go back up there and see everybody again and also work 1-on-1 with Coach Brumbaugh."