Good Morning Gators: Nick Saban pays tribute to 'icon' Steve Spurrier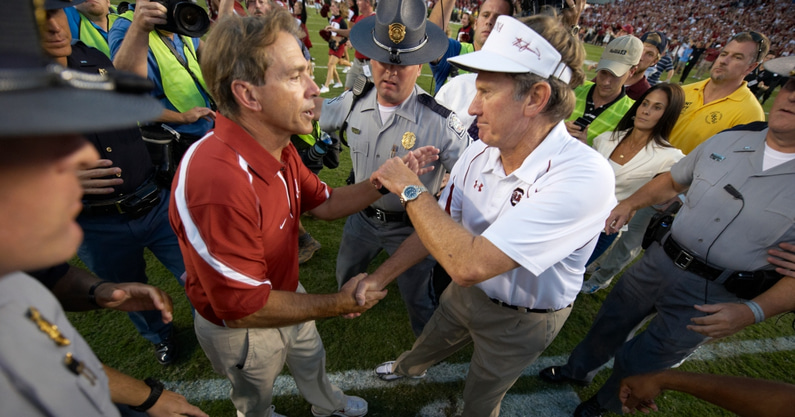 Florida Gators football is the No. 1 topic in Good Morning Gators every day — but we cover news, notes, and analysis from across the Gators sports world. Join us each morning to get caught up on everything you missed in the world of Florida football, UF recruiting, Gators basketball, Florida baseball and more.
Alabama coach Nick Saban paid tribute this week to Hall of Famer Steve Spurrier.
Spurrier and Eddie Robinson were named the first two recipients of the inaugural Nick Saban Legacy Award. Presented by the Birmingham Monday Morning Quarterback Club, the award honors the long-lasting impact coaches had on the game.
"It's an honor," Spurrier said, "This (recognizes) a coach who's made the most contributions to college football."
Saban celebrated Spurrier's unique personality and said the HBC doesn't get enough credit for how he has influenced the sport.
"We need personalities in this profession. We need characters. We need people who inspire people to be interested in our game and there's no bigger personality, no bigger character that ever did that in my mind than Steve Spurrier and he does not get the credit for the impact that he had on the game," Saban said about Spurrier's legacy. "He revolutionized the game that you see right now."
Spurrier had a 3-1 record against Saban during his career. He beat Saban's LSU teams twice at Florida and before splitting the two games between Alabama and South Carolina.
Saban shared his memories of coaching against Spurrier.
"Steve was always sort of an icon in terms of great scheme offensively, really great play-caller, really hard to defend because he was really kind of unpredictable. Not unpredictable in a bad way but always very well-prepared. His offensive teams were very well-coached, really hard to defend what he did," Saban said.
"To be honest with you, we never had a whole lot of success against him if you really wanna look at the record. He was someone that I thought was someone that I always looked up to in terms of the success that he had, the program that he ran, the things that he did, the relationships that he made with players. So, I have the utmost respect for him and still do."
In other Florida football news
UF recruiting roundup
Gators sports roundup
Let's keep talking
Want to keep the conversation going? Head over to our Florida message board, Swamp Talk. Sign up here and join the discussion.
Gators Twitter updates
Alex Faedo makes his MLB debut:
Florida coaches on the recruiting trail: