Your favorite team signing a top-50 recruit? Recent history says about a third of them will transfer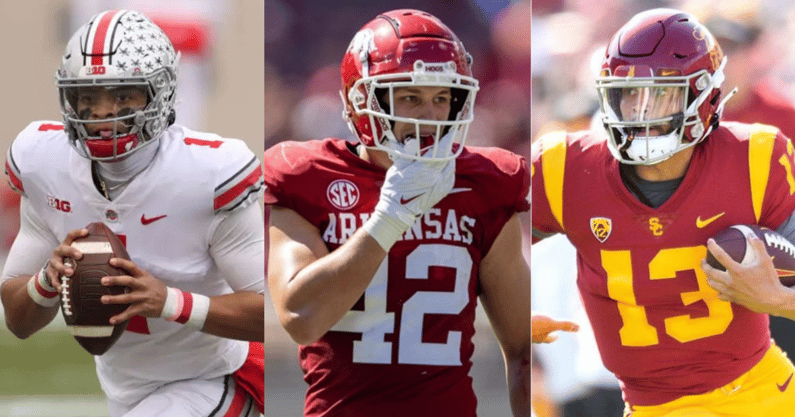 Congratulations are in order if your favorite team is set to sign an On3 Consensus national top-50 recruit during the early signing period (or on National Signing Day).
But be warned: Going by recent history, almost one-third of the players of that stature end up in the transfer portal. And a lot of those are five-star prospects.
We looked at the On3 Consensus top-50 recruits in the signing classes of 2018, 2019, 2020 and 2021, and found that 64 have transferred at least once (that's 32 percent). There were 21 from 2018, 18 from '19, 13 from '20 and 12 from '21.
Almost 61 percent of those who have transferred (39 of 64) were five-star prospects (it's actually 60.9 percent). And given that there are 32 five-star recruits a year, that means a bit more than 30 percent of the five-star signees in those four classes have moved on from their original school.
The reasons for leaving are varied: coaching change, looking for a better fit, lack of playing time, being urged to move on. That doesn't change the figures, though.
The transfers have had varying levels of success. Caleb Williams won the Heisman this season. Justin Fields was the No. 11 pick in the 2021 NFL Draft. Drew Sanders was a first-team All-SEC pick this season and is projected by some to go in the first round of the 2023 draft. Zach Charbonnet, Jayden Daniels and Bo Nix put up big numbers this season. For the most part, though, the majority of the transfers have become role players at their new schools. And there have been a handful of these transfers who haven't done anything.
As for the 2022 class – you know, the one that just finished its true freshman season – four already have entered the transfer portal.
Here's a breakdown by class; five-star recruits are marked with an asterisk.
2021 (12)
2020 (13)
2019 (18)
2018 (21)
Note: Okie was known as Eyabi Anoma until this year.
The four 2022 top-50 recruits who already are in the portal: No. 2 ATH Travis Hunter (transferring from Jackson State); No. 23 CB Denver Harris (Texas A&M); No. 24 WR Chris Marshall (Texas A&M); and No. 36 WR Aaron Anderson (Alabama to LSU). The first three were five-star prospects.