On3 Impact 300: Week 3 performances shuffle top quarterback rankings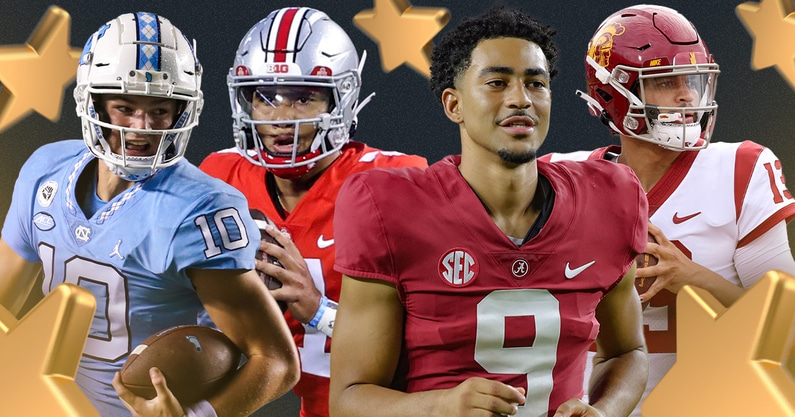 On3's top 25 quarterbacks in the On3 Impact 300 are on the move again after Week 3 performances added more data and anecdotes to consider.
The On3 Impact 300 has been re-analyzed and re-ranked to provide the best picture of the top quarterbacks across the country. The On3 Impact 300 rankings also factor into the calculations for the On3 NIL Valuation.
Thanks to some exceptional play, the first seven quarterbacks remain in their slots from Week 3 without movement. There were two quarterbacks, however, that opened analysts' eyes to their potential after several weeks of good play.
CLICK HERE to subscribe for FREE to the On3 YouTube channel
Arkansas QB KJ Jefferson threw for 385 yards on Saturday versus Missouri State and accounted for three scores, rising to No. 8 in the new rankings. Meanwhile, Washington signal-caller Micheal Penix came in from outside the top 25 to No. 9 going into Week 4. Penix is now second in the nation in passing yards after throwing for 397 yards and four scores in the win over Michigan State.
After the Week 3 shakeups, Jake Haener, Anthony Richardson, Spencer Rattler, Clayton Tune lost their top-25 spots.
LSU's Jayden Daniels, Ole Miss's Jaxson Dart and Tulsa's Davis Brin debuted in the rankings after leading their teams to key Week 3 wins. Daniels had his best game of the season so far in the divisional matchup versus Mississippi State. He threw for 210 yards and a touchdown while also accumulating 93 rushing yards and another TD with his feet.
Check out the new top 25 quarterback rankings in the On3 Impact 300 ahead of Week 4.
On3 Impact 300: Top 25 Quarterbacks after Week 3