Where Alabama commits and targets stand in the new 2023 On300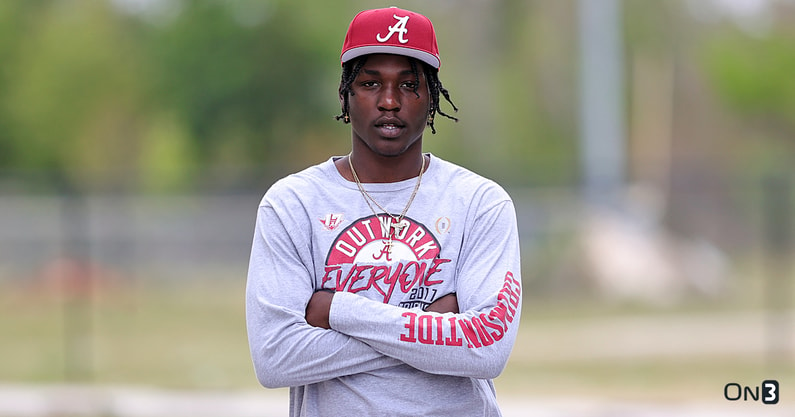 On Monday, On3 updated the On300 football prospect rankings for the 2023 cycle. This rankings release marks the fifth update this year and is primarily driven by full senior season evaluations, with plenty of Alabama commits and targets cracking the list.
Not a member? Get access until Aug. 31, 2023, for just $10, or get one month for 50 PERCENT OFF!
In the story below, BamaInsider highlights where Crimson Tide pledges stand in the latest rankings release. We also take a look at where some key targets in the 2023 class check in at following today's update.
Also be sure to join the conversation about this week's rankings update on the Talk of Champions message board!
Previous Ranking: No. 11
On3 Player Comparison: Eric Berry
On3 Scouting Report on Downs: "Extremely well-rounded safety who has been one of the top prospects in Georgia regardless of class for much of his high school career. Shows a complete skill set as a cover safety. Has the range to cover hash to boundary with ease. Also is fluid and natural in man coverage."
Read the full report HERE
Previous Ranking: No. 60
On3 Scouting Report on Pierre: "Twitchy pass rusher with a high-end first step and violent finishing ability behind the line of scrimmage. Shows the ability to burst off the snap. Gets into the backfield quickly due to his initial burst. Capable of redirecting at the line of scrimmage. Shows early signs of a budding arsenal of pass rush maneuvers, including a spin and up and under move. Shows outstanding closing speed."
Read the full report HERE
Previous Ranking: No. 39
On3 Player Comparison: James Bradberry
On3 Scouting Report on Hurley: "Taller cornerback with high-end coordination and ball skills. Advanced as a ball tracker at corner with the ability to turn and locate the ball in coverage. An instinctual defender who sees things quickly. Also lined up at safety, receiver and even took some direct snaps as a junior. Does not give up many catches in coverage over the course of his sophomore and junior seasons."
Read the full report HERE
Previous Ranking: No. 48
On3 Player Comparison: Damien Harris
On3 Scouting Report on Haynes: "Well-rounded, highly productive running back with few holes in his game. Has a developed, muscled frame at around 5-foot-11, 195 pounds… Has a strong base. Runs with high-level contact balance, regularly running through arm tackles and bouncing off defenders at the second level. Shows good vision as a runner, making decisive reads and cuts at the line of scrimmage."
Read the full report HERE
Previous Ranking: No. 56
On3 Scouting Report on Formby: "Tackle prospect who can bend, move and strike at a high level with an elite frame. Prototype build for an offensive tackle… Plays with strong balance and body control for his size. Shows excellent spatial awareness in pass pro and initiates contact consistently with his length. Has surprisingly good bend and hips for his size, allowing him to gain leverage with ease and bolstering his ability to anchor once engaged."
Read the full report HERE
Previous Ranking: No. 65
On3 Scouting Report on Renaud: "Tenacious run stopper who plays the game with his hair on fire. Long arms allow him to keep his chest clean against the run consistently. Flashes raw power as a pass rusher with his bull rush and snatch-pull. Has some heavy footedness but shows hip fluidity and balance to compensate. The body control and leverage stems from this hip looseness."
Read the full report HERE
Previous Ranking: No. 72
On3 Player Comparison for Mitchell: Keanu Neal
On3 Scouting Report on Mitchell: "One of the bigger top safety prospects nationally at around 6-foot-2, 180 pounds. Has maintained and continued to develop his coverage skills and is among the more technically refined cover safeties in the 2023 cycle. Comfortable covering receivers in man situations. Uses his fluidity and length to make plays on the ball."
Read the full report HERE
Previous Ranking: No. 114
On3 Scouting Report on Hale: "Checks in at 6-foot-0.5, 185 pounds with a 32.5 inch arm. Has natural explosion and ability to go up and high point the football. A starter for the basketball team. Needs some refinement in his route running and sinking at the top of his routes, which should come with collegiate coaching. Has upside to be a difference-maker at the college level, but will need to refine his game."
Read the full report HERE
Previous Ranking: No. 81
On3 Scouting Report on Hill: "Stands in at a shade under 6-foot-3, 285 pounds with a 6-foot-8 wingspan and 10-inch hand. Threw 46 feet in the shot put during his junior track and field season. Has the strike and pop teams covet amongst interior defenders. See some explosion in his get off. Ran an electronically-timed 5.00 40-yard dash, 4.65 shuttle and jumped a 28-inch vertical during the spring camp circuit before his senior year."
Read the full report HERE
Previous Ranking: No. 75
On3 Player Comparison for Young: Rashard Mendenhall
On3 Scouting Report on Young: "Physically-developed running back who emerged as a national name as a high school underclassman. Has a good combination of play speed and power. Has a muscular upper body with room to add mass in his lower half. Uses his leg drive to run through tackles at the second level. Shows well above average speed, which is validated by his track times (around 11.1 seconds in the 100 meters)."
Read the full report HERE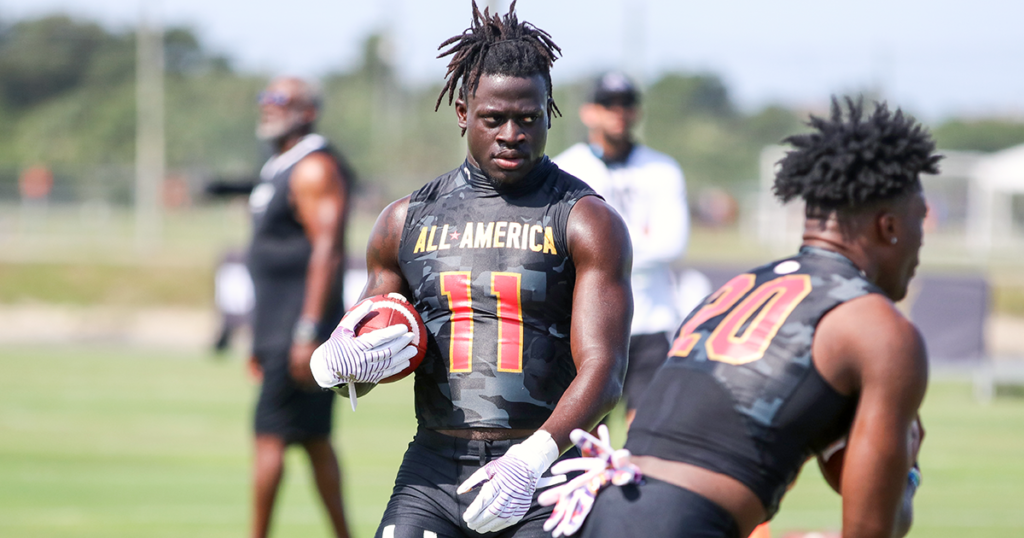 Previous Ranking: No. 120
On3 Scouting Report on Holstein: "Physically developed and filled out, checking in at 6-foot-3.5 and around 225 pounds with a 10-inch hand. Shows a good arm in camp settings and on Friday nights. Excels in the short and intermediate passing game. Able to quickly read defenders' leverage and deliver accurate passes. Strong in the RPO game. Well-schooled and capable of going through multiple progressions."
Read the full report HERE
Previous Ranking: No. 152
On3 Scouting Report on Osborne: "Has good length for the position with a 6-foot-8.5 wing-span. Plays defensive end for one of the better talent-producing high school programs in Alabama. A naturally strong athlete who wins with power. Takes on and sheds blocks to make plays in the backfield. Shows the ability to beat double teams with a straight-line power rush."
Read the full report HERE
Previous Ranking: No. 123
On3 Scouting Report on Lonergan: "Talented passer who doubles as a standout on the gridiron and the baseball diamond. Highly touted baseball prospect who holds multiple Power 5 baseball offers, with the possibility of being a MLB Draft pick. Shows touch and accuracy as a passer at all levels of the field. Layers the football well, but can turn up the heat if needed on tight window throws. Productive while facing strong competition."
Read the full report HERE
Previous Ranking: No. 277
On3 Scouting Report on Alinen: "Adequate length with 33-inch arms. Plays at a prep school in Connecticut. Mauls opposing defensive linemen at the point of attack. Shows heavy hands and a significant punch. Moves fairly well when working to the second level. Looks to be generally coordinated with his hands."
Read the full report HERE
5-star Alabama targets in the new On300
Keon Keeley (No. 3) kept his previous ranking and remains the No. 1 EDGE prospect in the 2023 class. The 6-foot-6, 245-pounder recorded 17 total sacks and 23.5 tackles for loss in his senior season.
Montgomery (Ala.) defensive lineman James Smith stayed at No. 8 in the newest update. Carver High School teammate Qua Russaw fell six spots from No. 19 to No. 25, but retained his five-star status.
Five-Star Plus+ cornerback and Miami commit Cormani McClain, who Alabama is still in touch with, rose one spot to No. 17. Texas A&M defensive lineman pledge David Hicks checks in one spot ahead at No. 16.
Uncommitted prospects Daevin Hobbs (No. 20) and Duce Robinson (No. 21), both of whom officially visited Alabama in October, were also labeled as five-stars.
Other Crimson Tide targets of note
Gainesville (Fla.) product Jaren Hamilton enjoyed another big bump in today's update. After going from unranked to No. 140 in the previous update, the priority wide receiver target jumped to No. 106 in today's rankings release. Hamilton is also scheduled to officially visit Alabama this upcoming weekend.
Georgia tight end commit Lawson Luckie also received a significant rise in the new rankings. Luckie, who will visit Alabama this weekend as well, went from No. 222 to No. 158.
Iowa offensive lineman commit Kadyn Proctor, who Bama is still in contact with, fell eight spots to No. 44. Fellow 2023 o-lineman Samson Okunlola went from No. 71 to No. 73 in this update.
ICYMI: Father of Georgia TE commit Lawson Luckie opens up about where things stand with Alabama
Along the defensive line, October official visitor Jordan Hall went from No. 27 to No. 29. South Florida target Rueben Bain fell just one spot to No. 111 in the new On300 update.
READ: Elite 2023 DL Jordan Hall opens up about Alabama interest, next steps in his recruitment
ALSO: Priority 2023 DL target Rueben Bain sets up return visit to Alabama, talks latest with the Tide
In-state defensive linemen Kelby Collins (Florida commit) and Peter Woods (Clemson commits) also dropped slightly in the rankings. Woods fell from No. 46 to No. 48, while Collins dropped nine spots to No. 133.
Another flip target for Alabama, Suntarine Perkins, jumped from No. 80 overall to No. 78. The Ole Miss linebacker commitment is expected to unofficially visit Bama for the Iron Bowl.
Sticking with linebacker targets, recent Memphis linebacker decommitment Arion Carter was one of the biggest risers in the latest update. The Tennessee-based recruit went from unranked to No. 181 overall in the nation.
Looking at the secondary, IMG Academy cornerback Desmond Ricks lost his five-star status today. Ricks went from No. 23 in the country to No. 47, but he does have an On3 grade of 96.
READ: 5-star CB Desmond Ricks is ready to get down to the details on official visits
Texas pledge Malik Muhammad stayed at No. 38 in the new rankings. Muhammad, who had the Tide in his top three before his July 20 commitment, is looking to visit Alabama before his signing day next month.
Fellow cornerback target Damari Brown fell just 14 spots from No. 233 to No. 247. Brown recently spoke with BamaInsider about why the Crimson Tide made his top four and when he may visit Tuscaloosa again. Click HERE to read!
Not a member? Join BamaInsider.com today!
Have you subscribed to BamaInsider.com? You can sign up now for $10.00, which will include a year subscription! Or, you can also get four months of access for just $1.00. Get access to premium articles covering the University of Alabama athletics, recruiting content and also join thousands of Crimson Tide fans on the Talk of Champions message board! CLICK HERE!