John Calipari on coal miner story: "You're bringing light to a good man"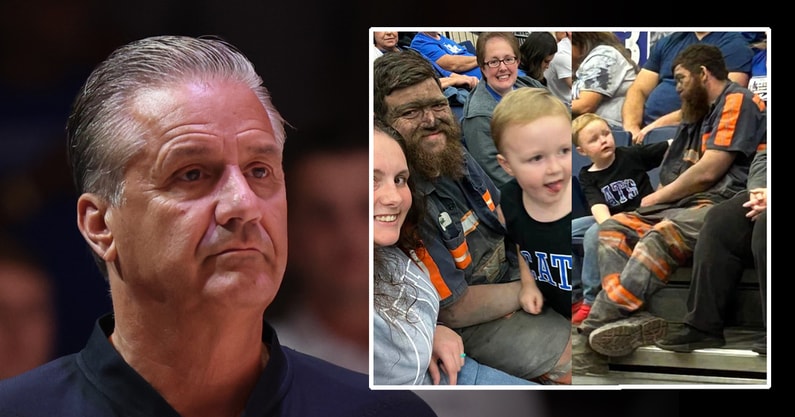 Yesterday, John Calipari and Kentucky Basketball went viral for a very good reason. As you've surely heard by now — the story is everywhere — Calipari was shown a picture of a coal miner sitting with his son at the Blue-White Game, clearly straight off his shift at the mines. The picture hit home with Calipari, whose grandfather worked in the mines, so he took to Twitter to find the man and offer him and his family a VIP experience at Rupp Arena this season. The Big Blue Nation helped Calipari track down the miner, Micheal McGuire, and the feel-good story of the season was born.
As you might expect, Calipari was asked about the story to start his Media Day press conference.
"I was sent the picture and never even looked at who sent it to me because when I saw the picture, I was like — it hit me right between the eyes when I saw it," Cal said.
"We know the power of basketball in our state. We all know it. You saw it when I went out this summer [on my statewide tour] and you see it, but my thought was, that's what this is all about. He wanted to be there so bad that he was willing to leave without showering, without changing. Just get in his car and go because he got out of the mine late. What about that? He wanted to be there with his son. That's why I did it."
"He hasn't heard yet. He's still underground"
With the help of the BBN, UK found McGuire's wife Mollie, and Calipari gave her a call.
"We talked for a while," Cal said. "Mollie's comment to me is, 'My husband is humble. He's hard-working. This is hard work but he makes enough being there that I don't have to work and he's a great father. He's done this many times.' She said, 'Do you know his beard is red?' I said, 'What do you mean? 'That was coal dust, in his beard.'"
"I said, well, what did he say?"
"He hasn't heard yet."
"What?"
"He's still underground."
Mollie and Micheal called Calipari back when Micheal was off work and told the story of how he got the news that he was suddenly a celebrity.
"They called me to the office," Calipari recalled Micheal saying. "First of all, I thought I did something and I come out and they're cheering me. What are you people doing?"
Watch the latest John Calipari press conference on the KSR YouTube Channel.
"We go down together and we come up together"
Yesterday, Calipari called his father to talk about his grandfather's work in the coal mines in Pennsylvania. Cal has visited mines before, including the one McGuire works in. He said he was so moved by the experience he used it as a message for his team.
"The American dream started in a coal mine in Clarksburg, West Virginia," Calipari said. "Backbreaking work. I went underground in West Kentucky and I believe I went underground in that mine he was in.
"The mine, there were parts of it that were five, six feet high, seven feet high. And then there were parts of it that were like three feet high. They said it's a duck walk. So I looked at the guy and said, 'Do you go up to have lunch or go to the bathroom?' That's when the guy, I can't remember his name but he looked like John Wayne. He said, 'We go down together and we come up together.'
"And when I got back I put it on my team's wall and just said, 'Guys, this is us. You know why they hold each other accountable? Do you have to have the manager down or do they hold each other accountable? It's life or death. If you're not pulling your weight, someone's gonna say something. If you're not ready to be there, one of the other miners will say something. That's when a team is empowered.'"
Calipari showed his current team the picture of Micheal and his son yesterday as another lesson.
"I talked about hard, backbreaking work that's honorable work, but he makes time for his son, even when he knew he couldn't shower. It wouldn't matter what he looked like, he just wanted to be with his son. Believe me, it hit home as soon as I saw it. Within five minutes, I called TJ [Beisner] in and I said, 'Let's go. This one here, I'm taking care of this guy and his family.'"
"You're bringing light to a good man."
Calipari said that hotels, restaurants, and even car dealerships have reached out to help make the McGuires' trip to Lexington as special as possible. For the McGuires, the past 24 hours must have been a whirlwind. For Calipari, it's been a needed reminder of the makeup of the Big Blue Nation, a fanbase with which he is committed to reconnecting.
"You guys know me. For two years, I couldn't go anywhere [because of] COVID. Couldn't be out, couldn't — just awful for everything. I've done some things that have been fulfilling for my wife and I but this, you'd have to say, you're bringing light to a good man. A hard-working Kentuckian, a coal miner who does everything he can to make time for his family, his son, and his daughter. Come on. That's what it ends up being. That's the story."