Good Morning CaneSport 12.8.22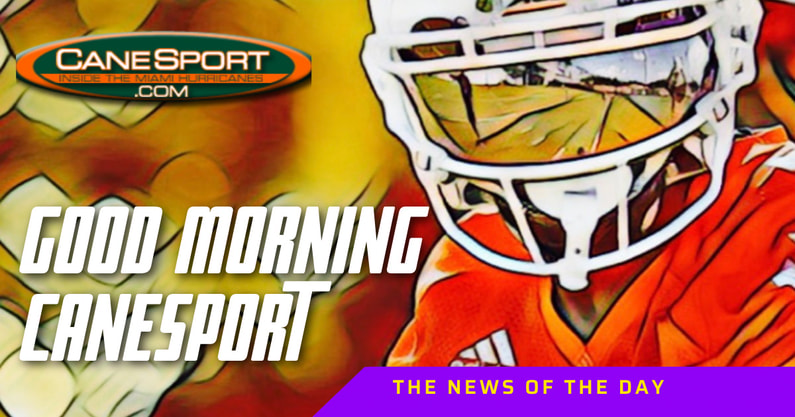 FOLLOW BREAKING MIAMI HURRICANES NEWS: SIGN UP FOR THE CANESPORT NEWSLETTER
WHAT'S UP TODAY
First up this morning in your Miami Hurricanes news?
There's The Lamar Thomas Show podcast from last night up on the site, so if you missed it you can still tune in.
And we continue to update our portal tracker daily as the Miami Hurricanes continue to look to upgrade their roster not just through recruiting but also by adding transfers.
Along those lines we build on a message board post to give you an in-depth analysis of where the talent/depth gaps lie in this program with the portal process in full swing. So don't miss that.
This morning we also have recruiting updates for you.
First up is a closer look at Stanquan Clark and his situation. With the Louisville coaching shakeup there may be an opening for Miami, so we update where things stand here and have a closer look at what's at stake with his recruitment.
Then we catch up with Connor Lew for an update. Some of what he has to say might surprise you.
From yesterday?
Of course there was our recap with team reaction off the game against Cornell.
And we had an interesting update on Ja'Keem Jackson, a Gators commitment that Miami is pushing hard to flip – the team sent up Jahmile Addae to see him on Tuesday.
We also updated the status of 5-star commit Cormani McClain, who has Alabama trying to steal him away. So you can check that out, too.
And don't miss our coverage of the Miami basketball team's crazy 107-105 win over Cornell. We have your recap with reaction as well as 5 takeaways off the game you don't want to miss.
And, as always, stay tuned today for any news that may come up.
TODAY'S MIAMI HURRICANES TOP HEADLINES
CaneSport's Big Board: Dissecting the debate on Miami's positional needs
Stanquan Clark getting big final push from Hurricanes, another Miami visit possible
Lew considers himself firmly committed to Miami but is expecting a late push by some rival schools
Tune in: The Lamar Thomas Show
Miami pushing to flip Gators commit Ja'Keem Jackson, Jahmile Addae visiting him
'Bama working to steal 5-star Cormani McClain away from Miami
Isaiah Wong's 36 points leads way in 107-105 offensive explosion in which Miami blows 21-point lead but hangs on to beat Cornell
5 Takeaways: Miami Hurricanes vs. Cornell, a crazy night at the Watsco Center
Miami Hurricanes Portal Tracker

MESSAGE BOARD POST OF THE DAY
Big concern from my perspective … Posted by Cane thing 67
As a lot of UM talent hitting the portal, but if we don't bring in a lot of high profile transfers within a few weeks for spring training, we will have the same result next year as we did this year as far as our record. A lot of pressure on the coaching staff at this point in time.
MIAMI HURRICANES QUOTE OF THE DAY
"Generational talent that would easily be a 5 star if he was a big camper early in his high school career."

Colonial Heights (Va.) Life Christian Academy coach Charles Scott, describing his star player/Miami commit Kaleb Spencer
• Click here for a limited time, register and get 12 months for only $10.00
• Talk about stuff inside Gary Ferman's War Room
• Watch our videos and subscribe to our You Tube Channel
• Listen to our podcasts at Apple Podcasts
• Follow us on Twitter @CaneSport
Advertise with us. Email CaneSport[email protected]
Lastly, Have a great day!