South Carolina football adds tight end pledge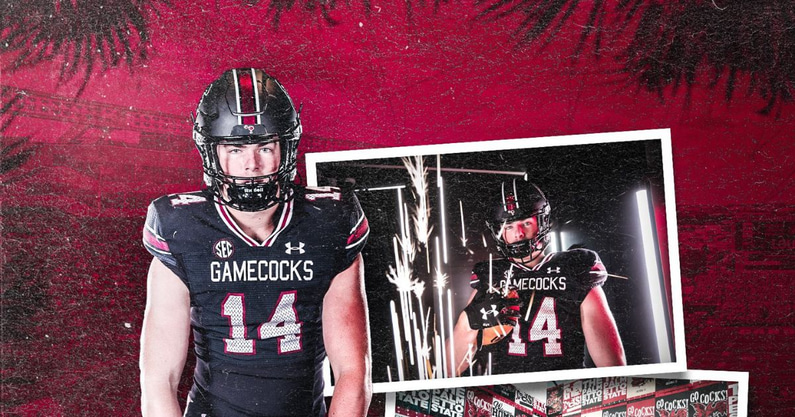 South Carolina football added to its second public commit of the day Sunday afternoon when Jacksonville (Fla.) The Bolles School three-star tight end Connor Cox announced a commitment to the Gamecocks.
Cox made his pledge while on an official visit to South Carolina.
The 6-foot-5, 225-pounder was recruited to the Gamecocks by tight ends coach Jody Wright.
Cox chooses South Carolina over offers from Boston College, Texas, Louisville, West Virginia, Minnesota, Vanderbilt, Memphis and Maryland, among others.
The On3 Consensus – a complete and equally weighted industry-generated average that utilizes all four major recruiting media companies – ranks Cox as the No. 32 tight end, No. 625 overall prospect and No. 102 state of Florida prospect in the 2023 class.
Cox is the fourth public commitment in the Gamecocks' 2023 class, joining Atlanta (Ga.) Pace Academy On3 four-star OL Trovon Baugh, Laurel (Md.) St. John's three-star DB Zahbari Sandy, and Fort Myers (Fla.) Lehigh four-star WR Kelton Henderson, who also committed to the Gamecocks Sunday.
The Gamecocks are amidst their first of two major June official visit weekends and hosted 13 official visitors on campus this weekend.
List of Gamecocks' official visitors
Four-star DL Kelby Collins
6 – 5 / 278
Gardendale (Gardendale, AL)
On3Consensus: 94.3 rating, No. 51 overall, No. 7 DL.
Four-star QB Dylan Lonergan
6-1 / 220
Brookwood (Snellville, GA)
On3Consensus: 93.0 rating, No. 82 overall, No. 8 QB.
Four-star WR Jaden Greathouse
6-2 / 219
Westlake (Austin, TX)
On3Consensus: 92.0 rating, No. 123 overall, No. 21 WR.
Four-star EDGE Desmond Umeozulu
6 -6 / 222
Charles Herbert Flowers (Upper Marlboro, MD)
On3Consensus: 91.2 rating, No. 163 overall, No. 22 EDGE.
Four-star EDGE Jaybron Harvey
6-2.5 / 215
Southern (Durham, NC)
On3Consensus: 90.60 rating, No. 212 overall, No. 26 EDGE.
Four-star RB Dontavius Braswell
5-11 / 190
Washington County (Sandersville, GA)
On3Consensus: 89.67 rating, No. 292 overall, No. 19 RB.
Four-star WR Carmelo Taylor
5-11 / 165
Patrick Henry (Roanoke, VA)
On3Consensus: 89.50 rating, No. 309 overall, No. 45 WR.
Four-star S Jalon Kilgore
6-1 / 190
Putnam County (Eatonton, GA)
On3Consensus: 89.00 rating, No. 370 overall, No. 31 S.
Four-star ATH/WR Kelton Henderson
6-0 / 180
Lehigh Senior (Fort Myers, FL)
On3Consensus: 88.90 rating, No. 380 overall, No. 20 ATH.
Three-star (On3 four-star) OL Oluwatosin Babalade
6-5 / 300
DeMatha Catholic (Hyattsville, MD)
On3Consensus: 87.67 rating, No. 523 overall, No. 37 OT.
Three-star TE Connor Cox
6-5 / 220 pounds
The Bolles School (Jacksonville, FL)
On3Consensus: 87.00 rating, No. 622 overall, No. 32 TE.
Three-star CB Braylon Johnson
6-0 / 167
Highland Springs (Highland Springs, VA)
On3Consensus: 85.50 rating, No. 836 overall, No. 69 S.
Three-star S Cameron Upshaw
6-2 / 165
Taylor County (Perry, FL)
On3Consensus: 84.67 rating, No. 962 overall, No. 81 S.