A look at Tennessee's current commits in the 2024 recruiting class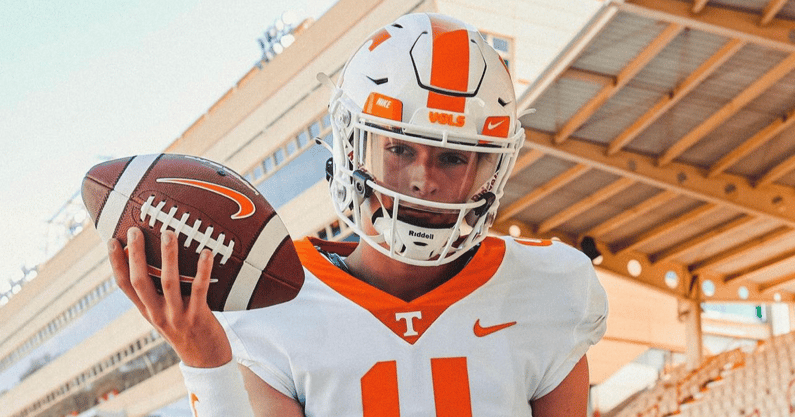 Important dates are coming up on the recruiting calendar for programs across the nation. Tennessee will host an important group of targets for a Memorial Day recruiting event, followed by official visits starting in June. Ahead of the busy days on the recruiting front, Volquest looks at the current commitments in Tennessee's 2024 class. 
Quarterback Jake Merklinger (Calvary Day School-Savannah, Ga.)
Committed 03/30/2023
On3 Ranking- 112th overall, 8th QB, 15th GA
Merklinger was an important recruiting win for Tennessee in this cycle. The Vols are coming off signing Nico Iamaleava, On3's top-rated prospect in the 2023 class, so landing another highly touted quarterback seemed like it would be difficult. Josh Heupel and Joey Halzle honed in on the Peach State signal-caller coming out of the winter and grabbed his commitment. Merklinger is a key piece of the class, as Tennessee looks to add several elite skill prospects around him. 
TE Jonathan Echols (IMG Academy- Bradenton, Fla.)
Committed 07/04/2022 
On3 Ranking- 164th overall, 11th TE, 25th Fla.
Echols was Tennesse's earliest commitment in the class, and he is another important one. The Vols beat out Alabama, Georgia, Florida and others last summer for his commitment. These schools are still pursuing him, and he will take an official visit to Florida. Echols has remained committed to Tennessee and has built a strong relationship with Alec Abeln to this point. 
CB Kaleb Beasley (Lipscomb Academy- Nashville, Tenn.)
Committed 10/21/2022
On3 Ranking- 154th overall, 21st CB, 4th TN
Beasley was another prospect who came off the board early. Tennessee was the long-time favorite here, and a strong relationship with Willie Martinez allowed Beasley to pull the trigger early. Notre Dame was active in trying to flip the standout prospect earlier this year, but he has remained firmly committed to Tennesse to this point. He also stars on the track and basketball court at Lipscomb Academy.
WR JJ Harrell (North Panola High School- Sardis, Miss.)
Committed 02/27/2023
On3 Ranking- 109th overall, 17th WR, 1st MS
Harrell committed to Tennessee in February over Alabama, LSU and others. His stock soared after a monster junior season on the gridiron. Other schools have not stopped calling, especially Ole Miss, and Harrell has maintained his process is open, but to this point, the only official visit he has scheduled is with Tennessee. Harrell is viewed as an important part of this class as the Vols look poised to bring in a standout group of wide receivers. 
EDGE Kellen Lindstrom (Glendale High School- Glendale, Mo.)
Committed- 05/05/2023
On3 Ranking- 252nd overall, 25th EDGE, 6th MO
Lindstrom is the newest commitment on this list and another big addition for the Vols. He is a prospect the staff coveted in recent months, and they beat out Oklahoma to land his commitment. The Tennessee staff have worked hard in the state of Missouri in this cycle, and to get a player of Lindstrom's caliber at a premium position is a nice start for Tennessee in the "Show-Me state."
CB Marcus Goree (Bradley Central High School- Cleveland, Tenn.)
Committed 02/18/2023
On3 Ranking- 267th overall, 26th CB, 7th TN
Tennessee identified Goree early in the process and prioritized him until landing his commitment in February. Goree is a lengthy cornerback with the upside to play multiple positions in the secondary. Since his commitment to Tennessee, Goree has picked up an offer from Alabama, but he has remained firmly committed to the Vols. 
Safety Edrees Farooq (St.Frances Academy- Baltimore, MD)
Committed 04/16/2023
On3 Ranking- NR nationally, 73rd Safety, 19th Maryland
Farooq visited Tennessee in January, and he almost committed to the Vols then, but he took his time in the process. He visited Penn State, Michigan and others before returning to Tennessee the first week in April. After reaffirming his feelings, Farooq committed to the Vols. He is a safety prospect that thrives around the box for one of the nation's top high school programs. 
OT Gage Ginther (Fossil Ridge High School- Fort Collins, CO)
Committed 04/08/2023
On3 Ranking- NR nationally, 49th OT, 3rd Colorado
Ginther only needed one trip to "fall in love" with Tennessee and commit to the Vols. He connected right away with Glen Elarbee and is a prospect thatprovides plenty of versatility along the offensive line. Ginther can play tackle or guard at the next level, so this is another reason he is important to a Tennessee offensive line class that will be important to the future success of the program. 
DL Carson Gentle (McCallie School- Chattanooga, Tenn.)
Committed 07/23/2022
On3 Ranking- NR nationally, 39th DL, 17th TN
Gentle worked out for Tennessee during an on-campus camp last summer, and shortly after he was committed to the Vols. The Chattanooga area prospect has been a X-factor on the field for McCallie School. He also excels as a wrestler. His best football appears to be ahead of him. 
OT Jesse Perry (Middle Tennessee Christian School- Murfreesboro, Tenn.)
Committed 04/07/2023
On3 Ranking- NR nationally, 34th OT, 15th TN
Speaking of someone's best football being ahead of them, Jesse Perry is a massive offensive tackle who is just scratching the surface of his potential. Perry's recruitment exploded in the winter, and he picked up over 20 Division 1 offers. It did not take long for him to decide he wanted to stay home and play for the Vols, however. Perry will benefit greatly from having the opportunity to grow and develop over multiple years under the instruction of Glen Elarbee. 
DL Jeremias Heard (Model High School- Rome, Ga.)
Committed 04/21/2023
On3 Ranking- NR nationally, 121st DL, 122nd GA
Heard measures in at an impressive 6-8, 290 pounds. He has only played football for one season, as he has been a star on the basketball court at Model High School. He can play on the defensive line or offensive tackle at the next level, and he is open to both. Alabama wanted him to come workout as a tight end, but he didn't want to wait any longer to commit to Tennessee. The Vols extended him his first offer and kept a strong belief in his potential. He is the true definition of a "jumbo athlete."