13 days until Texas Football: Jordan Whittington and Jaylon Guilbeau
Inside Texas is putting a new twist on long-time photographer Will Gallagher's time-honored countdown to Texas football kickoff. In addition to Will's great pictures, the Inside Texas staff will go through every player on the roster by jersey number and offer a season outlook on each, from five-star to walk-on. 
[Join Inside Texas today and get the best Texas Longhorns insider team info and recruiting intel!]
We'll also look back at other greats to wear that day's number, with special reverence to some of Texas' best. 
Today is 13 days until kickoff. No. 13 for the Longhorns this season will be worn by Jordan Whittington, a senior wide receiver, and Jaylon Guilbeau, a sophomore defensive back.
Jordan Whittington season outlook
Whittington has played in 27 games with 17 starts in his four years on the 40 Acres. He has amassed 1,081 yards and four TDs on 81 catches and 28 yards on two carries in his oft-injured career.
Whittington was named a 2022 honorable mention All-Big 12 selection by the league's coaches. He garnered Academic All-Big 12 First Team honors in 2020 and 2021, was named to the Academic All-Big 12 Second Team in 2022 and is a four-time member of the Big 12 Commissioner's Honor Roll (spring 2019, fall 2019, spring 2020, spring 2022).
Jordan Whittington as a recruit
Jaylon Guilbeau season outlook
Guilbeau played in eight games with three starts last year as a true freshman, producing 19 tackles (eight solo), half a sack, four quarterback hurries and two pass breakups.
Jaylon Guilbeau as a recruit
Recent player to wear No. 13: Michael Dickson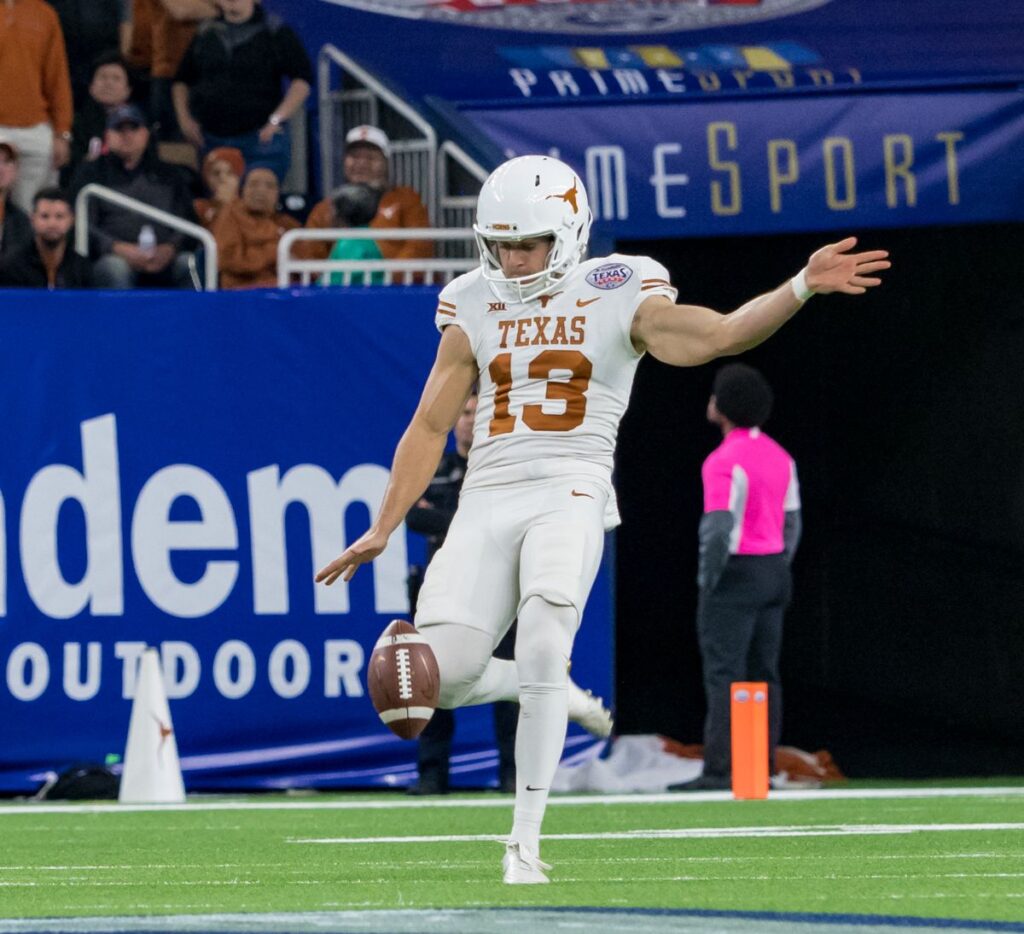 The Australian-born punter finished his three-year career as Texas' all-time leader in punting average at 45.32 yards per kick while punting a school-record 226 times for a school-record 10,242 yards. He was the recipient of the Ray Guy Award in 2017, the same season he was named a unanimous first team All-American (AFCA, AP, FWAA, SN, WCFF), just UT's 21st all-time.
Dickson was the 2016 and 2017 Big 12 Conference Special Teams Player of the Year and was cited as first team All-Big 12 at punter in both 2016 and 2017. He named 2017 Big 12 Football Scholar-Athlete of the Year and an Academic All-Big 12 First Team member.
Dickson was a four-time member of the Big 12 Commissioner's Honor Roll (fall 2015, spring 2016, fall 2016; spring 2017) and was also named to the Academic All-Big 12 Rookie Team (2015-16). 
[Sign up NOW for the Inside Texas newsletter for Texas Longhorns daily updates and breaking news in your inbox!]
All-Americans to wear No. 13
Kris Stockton, PK, 2000
Michael Dickson, P, 2016 and 2017