IT Roundtable: Iowa State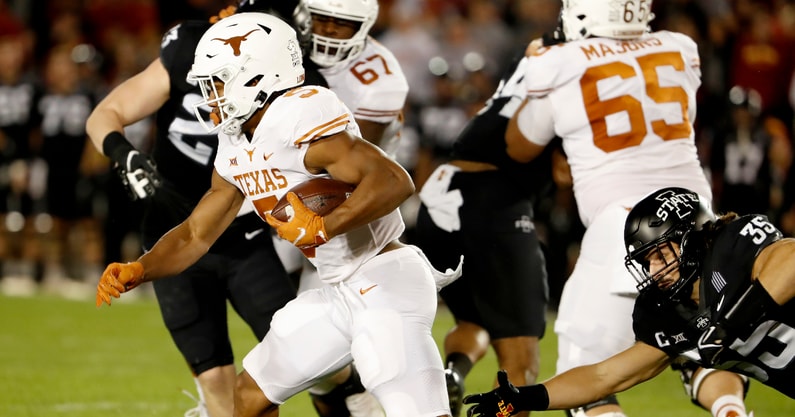 The No. 22 Texas Longhorns play host to the Iowa State Cyclones on Saturday at Darrell K Royal – Texas Memorial Stadium. Here are predictions from the Inside Texas staff for the game's top players, the final score, and more.
[Get FOUR MONTHS of Inside Texas Plus for $1!]
1. After pasting OU 49-0 at the RRS, what are your team expectations heading into Saturday's tilt with Iowa State?
Eric Nahlin – I think Steve Sarkisian has the understanding and the weapons to put the Iowa State defense on its heels. On defense, Texas should play a clean, physical game. Overall, Texas has nearly all the matchup advantages. I think they'll play like it.
Justin Wells – I expect to see a team that's pissed at the fact they haven't beaten Iowa State in years. Texas is building confidence day by day and week by week. This matchup should challenge the Texas offense, and if Quinn Ewers plays well, should tell us more about UT's chances at Oklahoma State next Saturday.
Joe Cook – The under. ISU has a stout defense and an ineffective offense. Texas is going to grab its points. The Longhorns just have to make sure they have to defend against explosive plays because ISU is not likely to matriculate the ball down the field.
Ian Boyd – I think the Longhorns should be the class of the league and have a chance to demonstrate it against a very tough defense which has caused problems for them in the past.
Paul Wadlington – I expect the Texas offense to figure out pretty quickly that the defense across from them is a significant upgrade over West Virginia and Oklahoma. They'll need to level up and it will be a nice proving ground for Ewers. Defensively, the worst thing Texas can do is respect Iowa State too much. Don't get ball controlled. Force the issue. 
Gerry Hamilton – I expect a confident, but not overconfident, team with a terrific home crowd behind them Saturday. And I expect the Longhorns to continue to execute at a high level offensively. Defensively, getting off the field will be huge. Iowa State will want to condense the game with long possessions. 
Bobby Burton – I have the expectation that Iowa State's defense will be tough. But I also have the expectation that Steve Sarkisian is learning how to call games against the 3-3-5. Still, this feels like a defensive game for me on both sides.
2. Iowa State has had Texas' number over the last few years. What is different about this UT squad that'll get them over the hump?
Eric Nahlin – Texas is mostly playing to its talent level, and the raw talent level is the best it has been in a very long time. Good coaching and player development means Iowa State's three-game win streak should come to an end on Saturday.
Justin Wells – Experience. The Horns bring more talent and experience in the matchup this season. Plus Brock Purdy, Breece Hall, and Charlie Kolar aren't walking through that door.
Joe Cook – The right combination of aggression and cohesion exists on offense. Aggression (or lack thereof) cost Texas against ISU in 2019 and 2020. Cohesion cost them in 2021. That's not a problem area for the Longhorns this season, especially under Steve Sarkisian.
Ian Boyd – They can protect the quarterback and throw the ball efficiently down the field, the thing Iowa State is most afraid of facing.
Paul Wadlington – Better coaching and a team that appears to take football seriously. 
Gerry Hamilton – Confidence. Confidence in the quarterback, the schemes, improved physicality on the offensive line and a crowd that will help the confidence build. Texas knows they have Big 12 Championship goals in front of them. This game matters a lot, and it will show. 
Bobby Burton – Two keys: Texas is smarter on defense and has a lot more firepower on offense.
3. Most important player for Iowa State to have a chance in Austin on Saturday is _______.
Eric Nahlin –  Iowa State has three guys who are obvious candidates, with Edge Will McDonald and wide receiver Xavier Hutchinson being two. I'll go with quarterback Hunter Dekkers. He probably needs the game of his life for Iowa State to pull the upset. I think they're going to need to run him and I'm not sure if he's ready for hero ball.
Justin Wells – Will McDonald. The leader of possibly the Big 12's best defense will be a great test for Christian Jones and Ewers.
Joe Cook – Hunter Dekkers. If he plays like he normally does, ISU shouldn't be much of a problem for the Longhorn defense. If he plays out of his mind, well, all bets are off.
Ian Boyd – The Cyclones need Edge Will McDonald (fourth of that name) to be in Quinn Ewers' face all night, hurrying him up and making him uncomfortable.
Paul Wadlington – If Will McDonald and his cohorts can get pressure and stop the run with a light box, they'll have a good chance of limiting explosive plays. 
Gerry Hamilton – Quinn Ewers. Iowa State needs Ewers to have a couple of turnovers early in the game so Iowa State can control clock. Thus making the game boring and taking out the crowd. Creating some doubt is so key here. 
Bobby Burton – Will McDonald. Ewers faced elite pass rushers against Bama but the Crimson Tide didn't really blitz him in his only quarter of action. Expect Iowa State to attempt to pressure and McDonald is a big part of that.
4. Texas has had its fair share of defensive performers in 2022. Who needs to stand out to beat ISU on Saturday?
Eric Nahlin – Whoever is on Xavier Hutchinson. They like to find him space so the DBs are going to have to communicate and trade him off accordingly.
Justin Wells – Ryan Watts. This is the game he nets his first interception for the Horns. He might house it too.
Joe Cook – Jaylan Ford. The man in the middle has been a tremendous boost for the Longhorn defense this year. If he can help limit the Cyclone offense to short conventional down gains, the rest of the Texas defense will feast. 
Ian Boyd – This would be a good game for Barryn Sorrell to re-emerge. The Iowa State tackles can be had and he should get his chances.
Paul Wadlington – If D'Shawn Jamison and Ryan Watts prevent Xavier Hutchinson from converting half of his targets to catches, Iowa State can't won't convert 3rd downs.
Gerry Hamilton – Feels like a DeMarvion Overshown game for me. He should make plays behind the line of scrimmage and be disruptive. If Texas can get Iowa State working behind the chains, the results will be very good. 
Bobby Burton – Jaylan Ford. Expect Iowa State and its quarterback Hunter Dekkers to try to put the Texas middle linebacker in a conflict situations. Does Ford come up to stop the QB run game or stay with his man in coverage? If Ford answers the call adequately, Texas should fare well on D overall.
5. Texas-ISU predictions/ outcome?
Eric Nahlin – Texas 34, Iowa State 13.
Justin Wells – Texas 31, Iowa State 17.
Joe Cook – I said in a recent On Texas Football episode the Longhorns would cover 16.5. So, 35-17 Texas sounds like the right score to me.
Ian Boyd – Texas chews up the Iowa State defensive backfield and get a few short fields from defense and/or special teams to win. Texas 37, ISU 13. 
Paul Wadlington – Texas 30, Iowa State 14
Gerry Hamilton – Texas 34, Iowa State 14. Texas moves to 5-2, and the next two games will be absolutely huge in terms of the program officially turning the corner under Steve Sarkisian. Winning on the road against a quality opponent is a massive step needed for this team and program next week.
Bobby Burton – You know the drill. The reverse hex is on.  Iowa State 20 – Texas 19.