2023 Quarterback Unit Rankings: USC, LSU reign supreme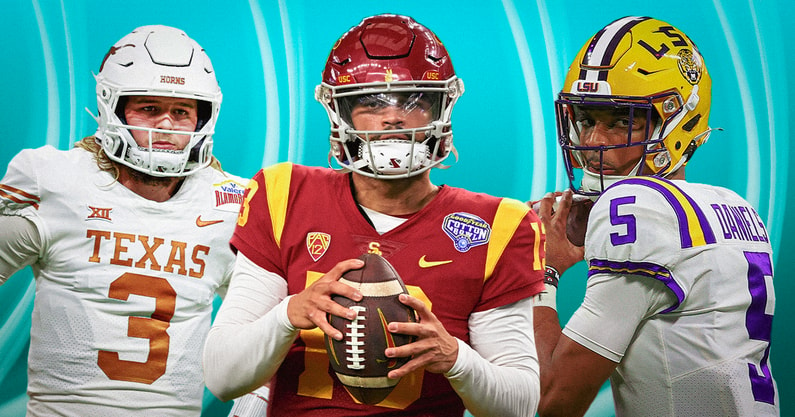 With spring practice in the books and the second transfer portal window closing, it's the perfect time to evaluate some pre-summer 2023 positional unit rankings. 
We'll kickstart the series with quarterbacks. 
Duh. 
Notably, this is not a Top 5 QBs rankings. We're taking into account a school's entire QB room. So while guys like Michael Penix, Jordan Travis and Sam Hartman would all slot highly on an individual list, the options behind them don't compare to some other QB rooms in the country. 
So, the Top 5 quarterback position groups in 2023…
Lincoln Riley is considered the current quarterback whisperer for good reason — the dude just grooms and develops Heisman Trophy contenders and 1st Round QBs. 
Caleb Williams returns as the unequivocal best quarterback in the country this fall, but the Trojans have some nice *break glass in case of emergency* depth behind the reigning Heisman winner in Miller Moss, a former blue-chip recruit, and 5-star freshman Malachi Nelson. 
If not for the brilliance of Caleb Williams, you could make a strong case that Brian Kelly has the best QB room in America with two very viable options in Jayden Daniels and Garrett Nussmeier. 
Daniels continues to show growth as a passer and leader, while Nussmeier, who lit it up in the SEC Championship, would be the most sought-after transfer QB if he ever decided to enter the portal.
Steve Sarkisian has stacked a trio of blue-chippers on top of one another, building an envious QB room in Austin. 
Quinn Ewers grabbed the starting job by the horns this spring, but Maalik Murphy looked like one of the best backups in America entering the summer, too. 
Oh, and then Texas also has Arch Manning waiting in the wings as insurance, just a 5-star third-stringer with real tools and legit upside. 
The Tar Heels have real boom or bust potential at QB in 2023, but that's how highly I think of Drake Maye's talent.
The options behind Maye aren't all that exciting — Conner Harrell or Tad Hudson — and UNC might be screwed if Maye gets hurt, but Mack Brown has a QB1 who in most years would be viewed as the No. 1 quarterback in the country and top NFL Draft prospect.
While Brent Venables' top offseason priority is to fix the Sooners' leaky defense, Oklahoma should feel really good about its two QB options entering 2023. 
Former UCF transfer Dillion Gabriel is back for a second season in Norman after throwing for over 3,100 yards and 25 touchdowns last season, but the veteran is being pushed by 5-star freshman Jackson Arnold, who some consider one of the most ready-made QBs in a loaded 2023 class. Either way, Venables has two nice options entering a pivotal fall for the Sooners. 
THE BEST OF THE REST
Georgia, Oregon, Tennessee, UCLA, Ole Miss
The Bulldogs don't have much returning experience at QB, but Kirby Smart & Co., seem very confident in a room that includes Carson Beck, Brock Vandagriff and Gunner Stockton — guys with multiple years of development in the same system. 
At Oregon, the Ducks have an established QB1 in Bo Nix, who projects to be one of the best starters in the country in 2023, plus a high-upside backup in freshman Austin Novosad. The Vols have a bit more volatility at QB with Joe Milton as the presumed starter, but with Milton's high ceiling (see: Anthony Richardson-esque intrigue) and On3 No. 1 overall prospect Nico Iamaleva, most teams in the country would kill for that 1-2 tandem. 
Rounding out the rest of the honorable mentions includes Chip Kelly's 2023 QB room with the Bruins and Lane Kiffin's three-headed battle in Oxford. 
UCLA has three quarterbacks still competing for the starting spot — former Kent State starter Collin Schlee 2022 backup Ethan Garbers and 5-star freshman Dante Moore. Similarly, Ole Miss has a trio of viable options to start in the fall, with former USC 5-star Jaxson Dart looking to beat out LSU transfer Walker Howard and Oklahoma State veteran Spencer Sanders.