NIL Deals of the Week: Dylan Lonergan launches partnership with KYMIRA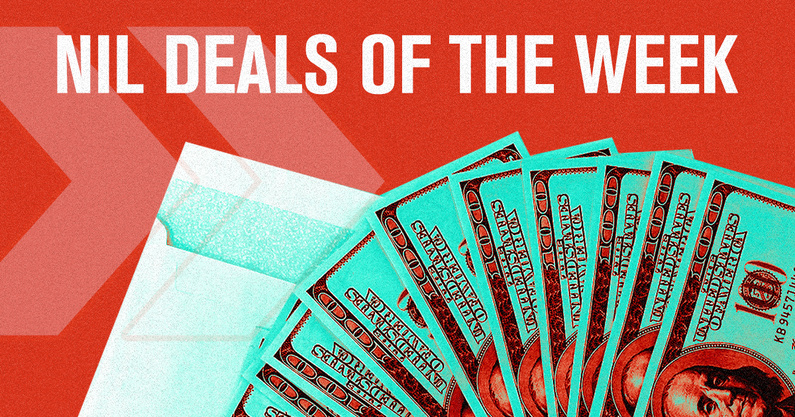 NIL was always going to be the first step towards college athletes gaining more rights. The slow march to athletes being designated as employees appears to be moving forward, though.
National Labor Relations Board (NLRB) Region 31-Los Angeles Regional Director Mori Rubin issued a complaint Thursday against USC, the Pac-12 Conference and the NCAA as joint employers of Trojans football and men's and women's basketball players. Rubin's issuance of the complaint represents NLRB General Counsel Jennifer Abruzzo's decision to litigate the case. There will be a hearing with an NLRB Administrative Law Judge on Nov. 7, 2023, in Los Angeles.
On Friday, On3 received a draft of Congressional legislation that is being circulated throughout collegiate stakeholder groups that would establish an NIL clearinghouse, which would have the power to fine anyone, sue anyone and ban anyone from participating in college athletics.
Change may not be immediate — it probably won't come from Capitol Hill — but college athletics' current model will not last forever.
As a reminder, feel free to submit info on your NIL deal to On3. You can send an email to [email protected] or reach out via DM or comment on Twitter to @On3NIL or @deals_nil. Direct messages are open, too, on the @On3NIL Instagram account.
Let's get to the deals that highlighted this week in NIL.
Alabama quarterback Dylan Lonergan launches partnership with KYMIRA
Dylan Lonergan signed his first NIL deal this past week. The Alabama quarterback announced a partnership with KYMIRA Sports across his social media channels on Tuesday morning. The brand has worked with notable professional leagues like the NBA, NFL and Premier League to develop bio-responsive and bio-tracking clothing products.
In a post on Twitter, Lonergan referenced how he has used KYMIRA's clothing to help his body recover between training. The company claims to create apparel that help athletes train better and recover faster. On the company's website, the former four-star quarterback prospect promoted the men's recharge recovery T-Shirt, which helps, "your upper body perform and recover more effectively."
KYMIRA's work stretches past athlete recovery. The United Kingdom-based company has worked with the European Space Agency and Innovate UK to research cutting-edge technologies and e-textiles for healthcare.
"It's been great coming onboard with KYMIRA," Lonergan said in a statement on the brand's website. "I've noticed a big difference in recovery post-workout and in my sleep routine. This has really helped with getting used to the college schedule both on and off the field."
The quarterback and KYMIRA are also offering a 20% discount when using the code "lonergan20."
The Alabama quarterback has a $197,000 On3 NIL Valuation, which sits in the top 275 of the college football NIL rankings. Lonergan has roughly 10,000 social media followers spread throughout Instagram, TikTok and Twitter. He has not publicly announced any NIL representation.
Colorado's Travis Hunter inks NIL deal with NXTRND
Travis Hunter may turn out to be one of the top players in the Pac-12 this fall. But he is currently blazing a path in the NIL space, picking up new partnerships by the week. The former On3 Five-Star Plus+ prospect in the 2022 recruiting cycle added an agreement with NXTRND to his resume. He announced the deal on Instagram.
Also known as "Next Trend" the football equipment company makes everything from back plates to gloves to visors. The company traveled out to Boulder, Colorado, for a full photoshoot with Hunter. The 6-foot-1, 165-pound sophomore is now on the front page of the brand's website, promoting the company's hood and leg sleeves.
A popular brand at the high school level, NXTRND's Instagram page has become a place to promote some of the top high school prospects.
"NIL deal signed," Hunter wrote on Instagram. "Been rocking NXTRND for a minute!"
The former No. 2 recruit in the country has found plenty of NIL success. He signed a multi-year deal with digital banking platform Greenwood back in July. Since then he has aligned with brands like Celsius Drink, the Michael Strahan Brand, Actively Black and SoHoodie. The two-way player has a $1.7 million On3 NIL Valuation, which ranks No. 3 in college football.
USC quarterback Malachi Nelson joins House of Victory
Malachi Nelson set the precedent for what high school athletes can achieve in NIL. Now at USC, the former On3 Five-Star Plus+ quarterback prospect was able to begin building a brand and monetizing his publicity rights during his time at Los Alamitos High School. He aligned with the The h.wood Group, a hospitality and lifestyle company based in Los Angeles, last summer. FaZe Clan, the lifestyle and media platform, followed Nelson around throughout his final high school season filming a documentary.
On Thursday, the Trojan-focused House of Victory collective announced a partnership with Nelson. Launched just last month, the nonprofit collective is meant to service all Trojan athletes, with a focus on football and basketball. Alumni-led and board-operated, the collective has a flavor of BLVD LLC, which was launched back in August 2022 as the official NIL entity at USC.
Signing Nelson exemplifies the emphasis House of Victory is putting on working with freshmen and roster retention. Making sure freshmen know they will have NIL opportunities immediately is a necessity, especially after coaching staffs discuss the possibilities during the recruitment process.
Represented by Klutch Sports and The Network Advisory, Nelson is prioritizing the long-term play over short-term money. His $813,000 On3 NIL Valuation ranks in the top 30 of college football.
Bella Rasmussen signs with Leaf Trading Cards
Bella Rasmussen has already achieved so many firsts. The Laguna Beach (California) High School product was the first girl to score two touchdowns in a California varsity football game. In December, she also became the first female football player to sign an NIL deal.
On Wednesday, she became the first ever female football player to appear on a Leaf Trading Card. The trading card released on Tuesday was made possible through an NIL deal between Rasmussen and Leaf.
"Leaf is excited to knock down another barrier in the space as we launch the first-ever female football player NIL trading card in collaboration with Bella," C.J. Breen of Leaf told On3. "Bella checks all the boxes when it comes to being a role model. She is somebody we pride ourselves in working with."
Breen said Leaf CEO Brian Gray has been working to bring the "historic card to market" over the past few months. The signed rookie card is now available on Leaf's website for $24.99. There will be a maximum production of 510 cards in total.
Honorable Mention
On3's Jeremy Crabtree contributed to this story