Trio of international prospects set to visit Michigan this week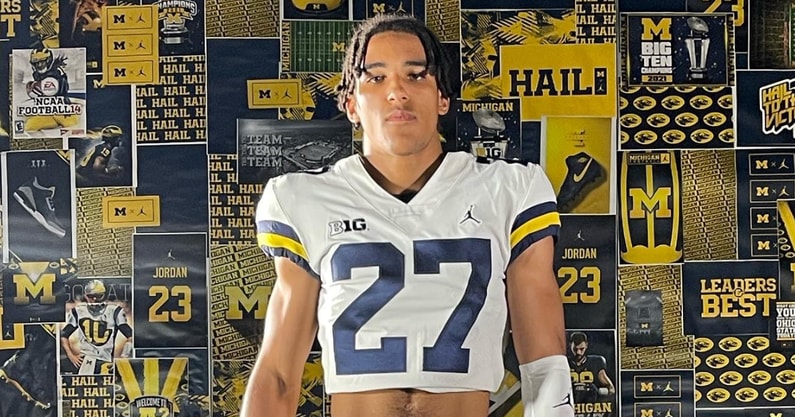 Michigan will host three international prospects for unofficial visits this week.
Brandon Collier, who founded PPI Recruits in 2016 as a way to get international prospects more exposure, is set to bring 2023 quarterback Lukas Kottstorfer, 2023 defensive lineman Farradj Titikpina and 2024 linebacker Justin Okoronkwo to Ann Arbor. All three prospects hail from Germany.
Okoronkwo measured in at 6-foot-3, 205 pounds and clocked a 4.49 40 at one of U-M's on-campus summer camps and notched an offer from the Wolverines on the spot.
Now, he's excited to get another look at Ann Arbor.
"I'm just looking for a great meeting with the staff at Michigan and to see what the campus and university has to offer," he said. "Michigan is an elite program, and I look forward to meeting and building more relationships with the coaching staff."
Okoronkwo also holds offers from Maryland and Penn State.
Michigan is still in need of a couple of more defensive linemen this cycle and may take a closer look at Titikpinka. The 6-foot-4, 305-pounder runs a 4.85 and has notched offers from Ole Miss and Temple.
Kottstorfer does not have any offers at this time but could emerge as a late riser.
One of Collier's first big names was German defensive lineman Julius Welschoff, who signed with Michigan as part of the 2018 recruiting class. A big reason the Wolverines were able to land Welschoff was through Collier's connection with former U-M defensive coordinator Don Brown — Collier played for Brown at UMass.
Michigan parted ways with Brown in 2020 after a lackluster season, and Michigan's contact with Collier fell off. However, that all changed this offseason with the hiring of new defensive line coach Mike Elston.
"My relationship with Michigan started back when Don Brown first got to Michigan," Collier said earlier this year. "Julius helped grow that relationship. It's been a couple of years, but I'm excited Michigan is offering our kids again. Coach Elston helped out a lot. I had a great relationship with him at Notre Dame, and he recruited our kids a lot. He's a great coach and always keeps in contact."  
Elston was instrumental in helping Michigan land two of Collier's pupils this year — 2023 French EDGE Aymeric Koumba and 2024 German defensive lineman Manuel Beigel.
With Collier finding more and more talented prospects overseas, Michigan's relationship with PPI Recruits will become increasingly important over the next few years.