2023 4-star Derion Gullette announces commitment to Texas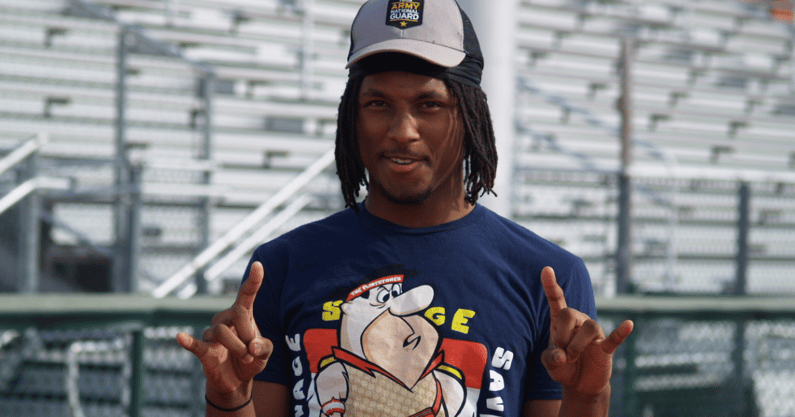 On3 Consensus four-star LB/EDGE prospect Derion Gullette is staying close to home for college.
The 6-foot-3, 225-pound ultra athletic three-sport star committed to Texas on Friday over Texas A&M and Ohio State.
[Get a 50% off an Inside Texas Plus subscription!]
Gullette made an official visit to Texas on June 24 following official visits to Oklahoma and Ohio State earlier in the month. He then took a trip to Texas A&M at the end of July, but ultimately decided to join Steve Sarkisian's program.
"I chose Texas because I felt like I could go anywhere and be successful, but at Texas, they can prepare me best for life after football," Gullette said. "I love broadcast journalism and Texas has one of the best in the nation."
Who helped Gullette make his big decision?
"My dad, my family, and former coach (Charles) Hitchens from Marlin," said Gullette. "Jaray Bledsoe, DeMarvion Overshown, Jaylan Ford, and Derrick Brown were really helpful as well. I can't wait to get there!"
Texas held a commanding lead in the On3 Recruiting Prediction Machine prior to Gullette's commitment.
Gullette's commitment comes at a true position of need. The two most important positions defensively in the 2023 class are linebacker and EDGE. Both are positions that Gullette could play at the next level.
The Longhorns had two linebackers in the fold prior to Gullette's pledge. On3 Consensus 4-stars S'Maje Burrell and Liona Lefau.
How he fits at Texas
Gullette is the sort of dominant, mobile athlete who would play Mike linebacker back in the day. In fact, he played Mike linebacker for Marlin High School, but 6-foot-3, 225 pound high schoolers with explosiveness and power like Gullette possesses don't play Mike linebacker in college too often. He's an ideal and obvious prospect for Pete Kwiatkowski's EDGE positions, where his length and twitchiness can go to work both in setting the run and in rushing the passer. He looks like a future Buck right now who rushes the weakside and drops into coverage now and again. – Ian Boyd
Coach Says
Strengths — Good height with a frame that's begging for more muscle. Long arms jump off the film. Excellent acceleration and good game speed. Noticeable lower body explosiveness is apparent in both pass rush and pass defense. Good upper body strength on film. Plays mostly from an off-the-ball position, usually at the Mike. Good eye discipline. Good head-up play and scrapes over gaps with ease. He has a great second gear once he diagnoses the play and has more than a couple of highlights running down the ball carrier from the backside. Stays square to the line and will square up in a form tackle more often than not. Pass defense shows plus-range and has a good feel for the pass concepts. Attacks the catch zone and competes for the ball. Very good catch motion and will try to bring the ball into his body with soft hands. Special teams highlights show good open field vision and athleticism.
Areas for Improvement — Will do well with a S&C program. His non-form tackles are the bumper car variety and that doesn't seem effective (think BJ Foster). Needs a bit of work on diagnosing plays and opponent film shows numerous examples of him slow to read or flat-footed. Opponent highlights show some low effort plays in red zone. Would like to see more blitz tape.
Gullette is the 21st member of Texas' 2023 class.
Justin Wells co-authored this story.