As Beard figures out rotations, defense drives Texas to 68-44 win over Cal Baptist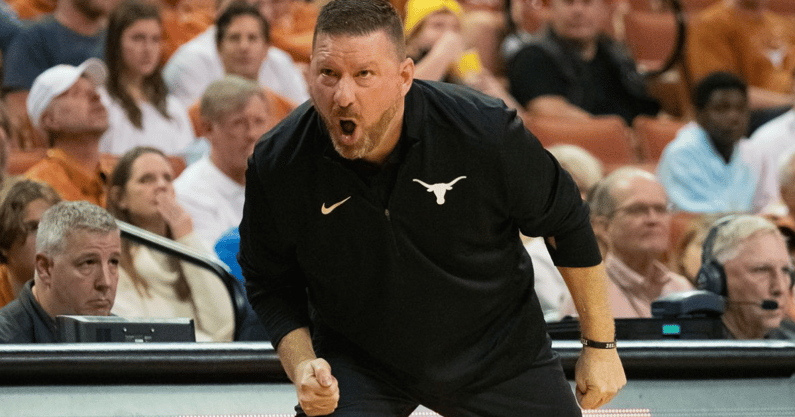 In the final game of the Abe Lemons Classic versus California Baptist, the Texas Longhorns didn't run-and-gun their way to a victory against the undefeated yet overmatched Lancers. Chris Beard's team only managed seven fast break points in 60 possessions.
The Longhorns wore CBU down on the defensive end, keeping the Lancers under 50 points, forcing 23 turnovers including 11 steals, and holding them to 13 percent from beyond the arc in a 68-44 victory.
[Subscribe to Inside Texas right now and get 50% off an annual or monthly membership!]
Texas outscored CBU 35-16 in the first half then 33-28 in the second. The Longhorns lost only two media-timeout-to-media-timeout segments, a method Beard uses to divvy up games.
"It was our best defensive game of the year, there's no doubt about it," Beard said. "Anybody who knows about basketball sees that."
No Lancer reached double-figures in scoring, and only one CBU player managed to bring down more than five rebounds. Six of CBU's 17 made baskets were assisted, with the nation's leading assist man Taran Armstrong dishing one dime. CBU had zero fast break points.
A team averaging 80.0 points per game and shooting 50 percent from the floor were held well under their early season marks by the Texas defense.
Marcus Carr may not have made a field goal during the game, but his work against Armstrong drew immense praise from Beard. He had three steals Wednesday night, tied for the game high with Timmy Allen.
"We were dialed in," Beard said. "I want to recognize Marcus Carr's defense. Marcus did a lot for himself tonight, I would think, with NBA scouts."
The Longhorns have recorded double-digit steals in four-of-five games this season with the loss to No. 1 Gonzaga the lone exception.
"You know, it starts on defense," Texas guard Andrew Jones said. "The emphasis of getting that ball, getting out in transition, trying to get steals, trying not to let my man score, and offense is second nature. Right now I need to just focus on not giving up as many points so my grade out is good and I don't get yelled at."
On the other end, Texas was efficient in the half court and forced the issue by reaching the foul line. The Longhorns were put in the double bonus in both halves, and hit 17-of-21 shots from the charity stripe.
It wasn't Texas' best offensive game, with Beard ignoring a question about the offense in his postgame press conference. But his players understand they can turn defensive stops into points on the other end, even if they don't always come within the first 10 seconds of the shot clock.
"It's going to take some more time," Jones said. "As soon as our defense ramps up a little bit more, our offense is going to thrive even more. I've got to take a little bit more pride in not getting scored on, and the entire team. Our offense is going to come."
Upon hearing that, Beard raised his hands above his head in delight.
Jones and Allen added 15 points apiece, with Allen pulling down eight rebounds. Jones also had a game-high five assists.
Courtney Ramey scored 12 points and became the 40th player in program history to score 1000 career points.
"I want to say welcome to the club little bro," Jones said. "It's about time you got here."
Christian Bishop joined that trio in double figures, scoring 12 points and making all four of his free throws.
Beard's team is more comfortable within the new defensive system compared to the offensive system, CBU's 44 points being good evidence. It also could be the result of growing cohesiveness.
Four players — Allen, Jones, Carr, and Ramey — played over 25 minutes even though the Lancers were rarely within 15 points. Behind that foursome were Jase Febres, Tre Mitchell, and Christian Bishop as the only other Longhorns with more than 15 minutes of playing time.
A rotation seems to be developing, and Dylan Disu will factor into it when he is fully cleared. But Beard said postgame he is evaluating at this stage in the season, saying it's still early and he has six or seven starter quality players.
"I confidently tell you that everybody on our active roster, 12 players right now and Dylan would be 13, everybody's in play here," Beard said. "Everybody's in play, no doubt about it. We're not settled on a rotation yet, and I don't consider that a bad thing."
One area that could be settled is Jones' role. After starting in the first three games of the season, Jones has taken on a sixth-man role in the last two contests. It's a job he asked Beard for in order to get a better view of the game and to take a little more patience to the floor.
"As that happened, I'm able to see the game a little better from coach's eyes instead of a 'go get my own bucket one-on-one' perspective," Jones said. "I think it's going to play out in the end and I think we're going to be really hard to guard."
Texas' next matchup is Monday versus Sam Houston State. The Longhorns will return to Gregory Gym for a regular season game for the first time since the 1976-77 season.
When the Longhorns show up in front of the all-student crowd, they'll have a chance to gain more data about rotations and offense. But if the early season games are any indication, the defense will make its way to the on-campus venue.