2022 Big 12 contender or not? Kansas State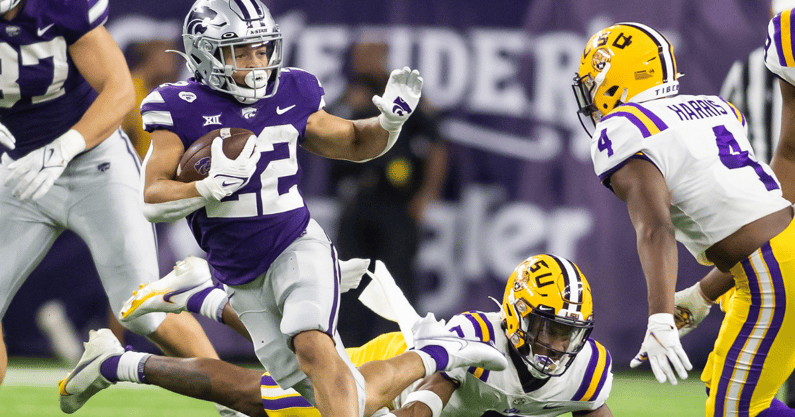 This is going to be one of the toughest seasons to prognosticate in Big 12 history.
Used to be you could etch Oklahoma into the title game and one of the top two slots with acid. Then Lincoln Riley bailed on coaching Oklahoma into the SEC era in exchange for dominating (probably) the Pac-12 at USC for a huge pile of money.
The other team has typically been a team with the best base pass-rush. In 2021 lots of teams had a pretty good pass-rush but OSU was definitely near or at the top. Then Baylor was the other participant, a team who didn't have much of a base pass-rush but was one of the best four-man zone blitz teams in the history of the league. Probably the very best but I don't want to spend the time trying to qualify that claim, suffice to say it's Aranda's game and Terrel Bernard and Jalen Pitre were exceptional at it.
The typical media strategy in a given year is to rank next year's teams by picking Oklahoma and whichever 1-2 schools were competitive the previous year. This generally fails because the middle of the league has heavy churn every year.
The difference in talent between teams 2-7 or so is generally marginal and things come down to who has pass rush, a good quarterback, or is healthy.
So we're going to play "Big 12 title contender or not?" with some of the obvious candidates, maybe even all 10 teams, we'll see how it goes.
Today our question is, why not Kansas State?
Roster infrastructure
When K-State hired Chris Klieman I noted his approach from North Dakota State was a slower process which might be a great fit for Manhattan but would take some time. In particular, along the offensive line.
If you happened to watch North Dakota State win their umpteenth FCS Championship last Saturday, you'll notice they did so because of a completely overpowered offensive line. Here's how it looked.
Left tackle: 70 Cody Mauch. 6-foot-8, 301 pounds. Redshirt junior. Came as a 221-pound preferred walk-on from ND
Left guard: 66 Nash Jensen, 6-foot-4, 328 pounds. Redshirt junior. Came as a 337-pound 2-star from MN.
Center: 72 Jalen Sundell. 6-foot-5, 298 pounds. Redshirt sophomore. Came as a 250-pound 2-star recruit from MO.
Right guard: 63 Jake Kubas, 6-foot-4, 302 pounds. Redshirt sophomore. Came as a 254-pound walk-on from ND.
Right tackle: 67 Cordell Volson, 6-foot-7, 313 pounds. Redshirt senior. Came as a 242-pound 2-star from ND.
What do you see there? Lots of redshirts and formerly skinny, lower-ranked guys who were bulked up into monsters who could do this:
When Klieman came to K-State he began following a similar program, snagging a lot of skinny athletes from the high school ranks who could be bulked up into powerful athletes down the line. The guys he took who fit this description in his inaugural 2019 class will be redshirt juniors in 2022.
The offensive line from 2021 will be losing center Noah Johnson and guards Josh Rivas and Ben Adler but will be plugging in Klieman guys like big sophomore Hadley Panzer r. Personally, I'm pretty excited about the Wildcats running iso/power next season with Jax "the destroyer" Dineen at fullback and Panzer executing combo blocks inside.
Panzer isn't really a ND State type, he's a solidly built former wrestling champ who came in with all the power and expertise needed to do battle in the trenches. The Klieman types coming up the ranks are guys like Andrew Leingang and Carver Willis, who are trying to break into the starting lineup.
The Wildcats are getting closer and closer to being able to build out the heart of the program (the blockers) through Klieman's process.
Then there's the addition of Adrian Martinez from Nebraska.
He had a pretty good 2021 season and is a perfect fit for what K-State has been trying to do on offense. Obviously what they're doing may evolve some with Collin Klein taking over, but surely only to an extent.
Martinez is a close facsimile to Skylar Thompson, who was also 6-foot-2, 220 pounds but had knee problems which kept ruining seasons. Thompson had one really good, healthy season in four tries, the 2019 effort. Martinez has also never played 12 games in a season, but played 10 or 11 games in three of four seasons and played in seven games the fourth year.
Martinez is a pretty intriguing prospect overall for a college offense. He has a strong arm and in 2021 showed he can consistently hit receivers down the field and outside. He also ran for 13 touchdowns, mixing his effectiveness as a scrambler with some normal quarterback option plays like draws, zone-follow, and more pure quarterback iso. He's similar at this stage in his career to J.T. Barrett but with a stronger arm yet poorer decision-making. Martinez threw 10 interceptions in 2021, not awful, but not great. He lays the ball out on deep throws at times and just doesn't protect possession as well as you need from an option quarterback.
Nevertheless, he can do most of the things Skylar Thompson did, he can do a lot of them better, and he tends to stay healthier.
K-State's defensive infrastructure is admittedly a little less solid. They filled out their lineup last year with transfers and sixth year players. If you list the top 11 tacklers from the 2021 roster you'll find about half are likely to return for 2022.
They still have several of their main cogs back though. Nose tackle Eli Huggins is back, as is end/tackle Jaylen Pickle. Daniel Green returns at linebacker after leading the team with 89 tackles, 16 of them for loss and three of them sacks, and strong safety Ross Elder is back after plugging in a lot for them in 2021. Elder is a former walk-on who's a reliable tackler, their bigger impact safety was transfer Russ Yeast who has run out of eligibility.
Of great interest to me is the addition of blue chip linebacker Branden Jennings from Maryland. Jennings was a part of Maryland's rotation last year as a true freshman and landed a huge lick on Leddie Brown to knock the ball out and cost West Virginia that game. He'll join Daniel Green to bring a lot of size and disruptive capacity to the middle of their Flyover defensive design.
I'm sure they'll add more pieces through the portal as well, it's a part of their strategy at this point.
Space force?
The skill talent in Manhattan next year will be the best it's been since Chris Klieman arrived. Mostly because it's all coming back from the 2021 roster and consequently it'll be hard for them to get worse. The return of Deuce Vaughn is obviously a big win (unless he's poached in free agency) but pairing Phillip Brooks and Malik Knowles with a solid passing quarterback who can stay healthy is another potentially big win for the program.
Martinez will benefit from being able to throw to a tight end (Sammy Wheeler) after doing some of his best work on play-action/misdirection/RPO tosses to the tight ends in Nebraska. The Wildcats still really need a receiver to emerge, it's been one of the bigger holes in Klieman's project with Knowles never quite putting it together. He'll get another chance though.
Offensive tackle looks as good as it's ever looked for K-State, Cooper Beebe has been solid and is back again along with right tackle Christian Duffie. Neither are going to play tackle in the NFL but they're solid and have been at this for a while. Ideally someone like Carver Willis would emerge to bring more length and upside to tackle and then Beebe could slide inside and be a dominant guard.
The defensive space force is where things get really interesting for K-State.
Felix Anudike-Uzomah was a force last year with 50 tackles, 14.5 tackles for loss, and 11 sacks. Granted a lot of it came against a TCU who'd given up and Southern Illinois but he also landed sacks on Oklahoma, Ok State, West Virginia, Tech, etc. He's a great player.
Khalid Duke also has a lot of promise (two sacks in two games before injury), as does Nate Matlack, and both return in 2022. There's a lot of pass-rushing on this team, an awful lot. Out at cornerback Ekow Boye-Doe and Julius Brents are back along with Justin Gardner and another incoming transfer. Do they have anyone who can reliably play man coverage? Unclear. No glaring bald spots though at least.
Can K-State contend in 2022?
The Wildcats are going to be good at running the ball and playing defense in 2022. There's just too much going on for both sides of the ball for them to not be pretty good. Too many disruptive players in the front five on defense, too much experience in the secondary, too many experienced blockers, and Deuce Vaughn and Adrian Martinez spear-heading the backfield.
Here's a nightmare play we'll likely see in 2022 with this lineup: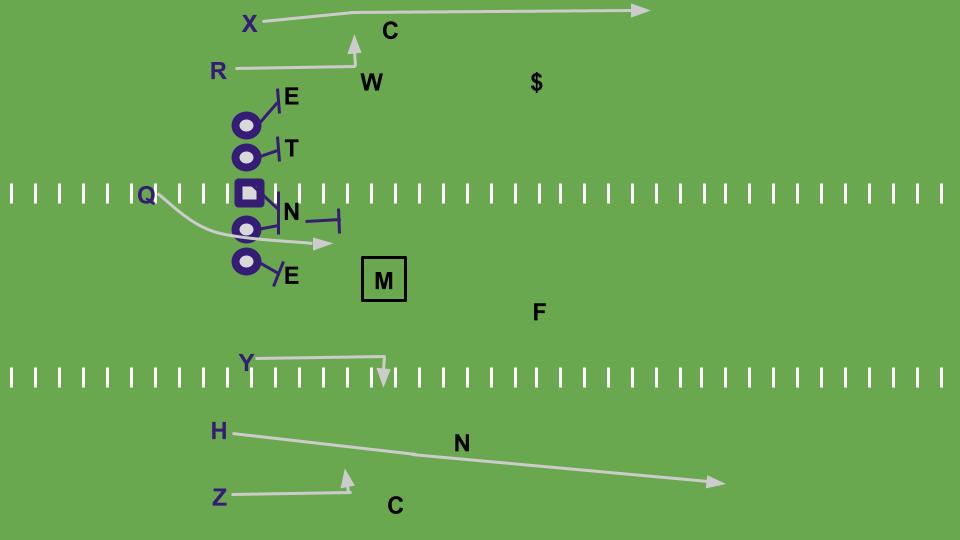 Quarterback draw RPO. You have Deuce Vaughn flexed out running a quick out (or you get Jax in the backfield as a lead blocker) and then have someone running a stick route. If the Mike linebacker covers the stick, the quarterback pulls the ball and runs, otherwise he throws the stick route. K-State has run this a lot to get Vaughn isolated on the weak side but they could mix in a lot more draws with it and really give opponents something to think about.
Overall they have the pieces to essentially mimic the formula Oklahoma State followed in 2022. Be confusing on defense, rally to the ball well, rush the passer, and then run the ball and get timely playmaking from your quarterback in the run game on third down and the red zone.
Can they win the league with their own version of that formula? Probably not, but it might be close. Then if you add some extra features, you're cooking. Can Martinez protect the ball better than Spencer Sanders or better than he's done in the past? Can Malik Knowles be Tay Martin or better? Can they find a top cornerback from among their returnees or incoming players?
Right now K-State looks like a team who could hang around the rim and make a move in November if other teams have issues or injuries with some higher upside if Martinez-to-Knowles is a real thing. Much like the 2021 Spencer Sanders Cowboys.
Is K-State a potential contender in 2022? Discuss for free on the Flyover Football board!