Bijan Robinson on playing for Texas in 2022, elbow injury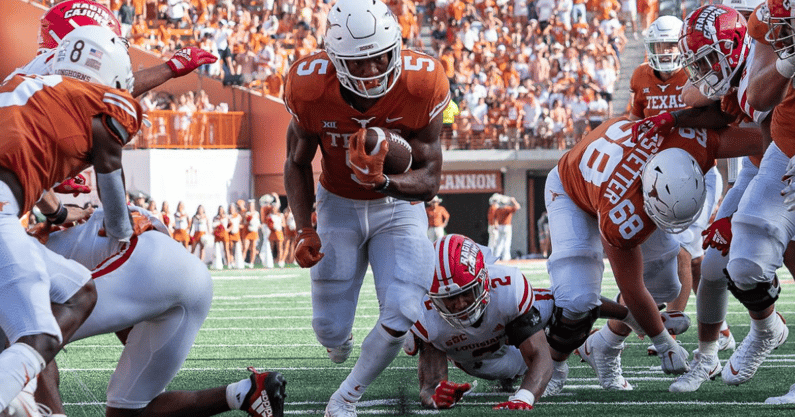 Texas star running back Bijan Robinson has been out since he left the Longhorns' loss to Kansas due to a dislocated elbow, but he still was made available to the media on Monday.
[Subscribe to Inside Texas right now and get 50% off an annual or monthly membership!]
One of the questions asked, and one that has become relevant in the age of the transfer portal and sitting out games, was would Robinson return to the Longhorns for the 2022 season.
"I know there's so many rumors saying I'm going to leave, or transfer, or sit out," Robinson said. "But I'm going to stay. I know this is God's plan for me, and I know there's big things that happened. I just have to stick to that plan, and I can't let anything come in between it."
With Texas' six-game losing streak and players often in search of greener pastures, Robinson was asked why he plans to run in burnt orange next season. One reason was because he believes he can get better by playing in games. Another? The camaraderie of a locker room.
"A lot of people ask me that question," Robinson said. "I know there's some scouts that talk to agents and stuff that say I shouldn't play this next year, but I'm going to play. I just love playing football so much and being a part of that team. It would just be hard for me to sit out and watch week to week when I could be out there contributing. I'll be playing next year."
Robinson also expressed confidence in the program Steve Sarkisian is attempting to build, one Robinson mentioned he takes an active role in recruiting other players to join.
"Now that I see what Sark is trying to do and who he wants, I'm trying to be that guy to come in from behind, say my little two words to them, and encourage them to come here as well," Robinson said. "Sark is just really invested, and you can tell he's really invested in all areas of this team. He wants things to happen now."
Regarding his recovery, Robinson said he expects to be cleared in less than a month after dislocating his elbow against the Jayhawks.
"There was no break," Robinson said. "There was no lingering. Thank God nothing happened. It was just a dislocation."
Robinson's return will be crucial for what Sarkisian calls a run-first offense. It also provides Robinson a chance to continue to move up the Texas record books and cement a place in Longhorn history.
Before his season ended, Robinson rushed for 1127 yards and 11 touchdowns and added 295 receiving yards and four touchdown catches. He currently sits at No. 21 in Texas history in rushing yards, one spot behind Sam Ehlinger and one spot ahead of Keaontay Ingram.
With another 900 yards, Robinson would move into the top 10 in school history in rushing.
It would come in a season Robinson has budding confidence in.
"I hope to feel great about it," Robinson said. "Getting a lot of new guys, just a new team structure with what Coach Sark is doing and how he's managing everything, how he has a plan to change a lot of things, as it should happen, and to bring a new environment into this program."